The end of 2016 was a super busy time for me. With trying to get gifts ready, preparing for travel and starting my new job, I didn't have as much time or energy as I'd hoped to post here on the blog. But, things have calmed down and I'm starting to find my rhythm, so I'm going to start posting again.  I'm going to try and keep a once a week schedule with posts on Mondays.
We're picking up this week with a post I'd originally intended to publish before Christmas – some sweets I made as Christmas gifts for my friends and family. I started out by making caramels with a Canadian twist – maple salted caramels. I'd never made candy before, so it was a true learning experience. My husband took jars of the caramels to his work and they disappeared pretty quick, so I think they were a success. I also made a variation with walnuts, wherein I just slightly under cooked the caramel, froze it, then dunked the caramels in dark chocolate. These were my favorites, by far.
The recipe I used was originally found here but is no longer available. I imagine there are a number of similar recipes to be found on Google, but wanted to give credit where it's due. 🙂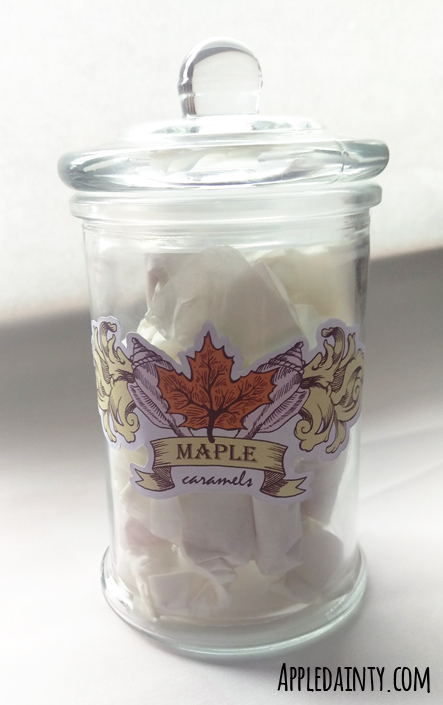 Once the caramels were out of the way, I wanted to make something for my Dad. I normally buy him a bag of M&M's every year to restock his collection of M&M dispensers, but I wanted to change it up this year. He's also a big fan of peppermint patties, and I saw a video on Facebook about homemade peppermint patties and thought I would give it a shot.
I scoured google for a recipe that I thought would work well, which you can find here. I made a few changes – I used almond meal instead of cashew meal. I also felt like the mixture was not sticking together well, or was too dry, so I doubled the amount of coconut oil. I also melted the coconut oil in the microwave before using, and used brown sugar instead of coconut sugar.
My husband is a big fan of milk chocolate, so I used milk chocolate instead of dark which my patties are not vegan, but they are delicious. I wanted the patties to be a bit more like almond joys, so I added whole almonds to the top of some of them after dipping them in the chocolate.
They turned out great, and I got to use the natural outdoors of Sasktchewan as my freezer while making these chocolates.
Even though my sweets are homemade, I wanted them to have a professional feel. So, I popped over to the Dollarama and picked up some cute glass jars for the caramels and repurposed a cleaned and emptied ferrero rocher container for my peppermint patties.
I also designed some labels to go with my chocolates – similar to the ones I made for my bottles of vanilla extract. If you like my labels, you can find the peppermint patty labels here and the labels for the salted maple caramels here. They are free to use, just make sure that you send me pictures of you decide to use them. I love seeing what other people do with them!