It's been a busy Easter weekend, which is why this post is coming to you a bit later than usual. I had planned to have an art post today, but I got caught up in a new jerky making experiment. It turned out pretty good, if I say so myself, so I'm excited to share it with ya'll.
After perfecting my Jalapeno Maple Jerky recipe, I've been experimenting with new flavors. First, I tried an orange-ginger flavor, which turned out so-so; not really good enough to share. But, this weekend I was struck with a brainwave and decided to try one of my favorite flavors – cherry.  Anyhoo, here's the recipe: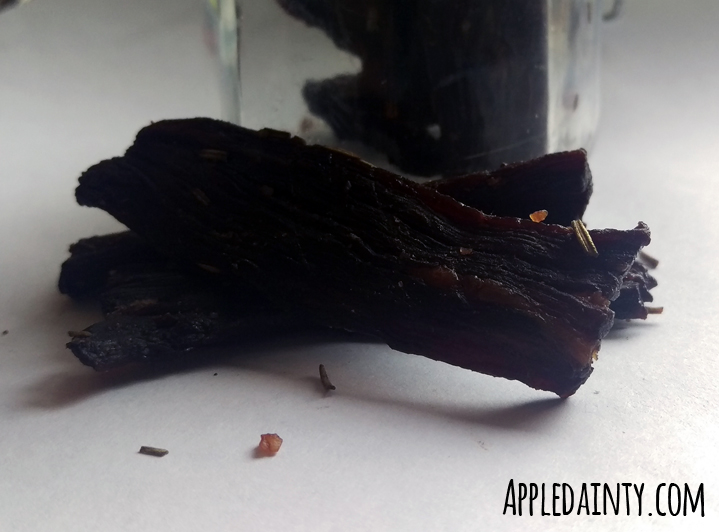 Ingredients
2.5-3lbs flank or eye of round steak
1 cup cherry juice
1/2 cup soy sauce
2 tbsp walnut puree
1 tbsp crushed rosemary
1 tsp meat tenderizer
1/4 cup brown sugar
3 drops liquid cherrywood smoke
1 tsp umami paste (optional)
Instructions
Slice meat thinly – 1/4 inch slices.
Mix all ingredients together in a bowl and add meat to the marinade.
Marinate sliced meat 8 hours, or overnight, in the bowl. Mix halfway through marinating time to ensure even coating.
If you're using a dehydrator, you want to dehydrate on high (260F) for at least 3 hours, rotating your trays if needed. Then, switch to a medium heat until the meat is dried. If you're going to dehydrate in the oven, you'll need to set the oven to 260 degrees, and prop the door open slightly to allow condensation to escape. Many ovens don't get down to a low enough heat to do this, so you'll want to make sure your oven can.
Note: Do not add curing salt if you are using liquid smoke, as this will cause an adverse chemical reaction.
I have additional tips and tricks for jerky making with a dehydrator on my previous recipe, if you would like to learn more.
This recipe is a lot simpler than my previous one, but still achieves a nice depth of flavor.  The only difference between the recipe listed above and my first batch of cherry walnut jerky is the rosemary. I didn't use crushed rosemary, but I feel like it would work a bit better in its crushed form.
Anyhoo, that's all I've got for today. If you try this recipe, I'd love to hear how it turned out. Let me know what you think in the comments!