A few weeks ago I was browsing through the Craftster website and saw this post about making homemade vanilla extract as a Christmas gift. All you need to make your own extract is a strong vodka or bourbon (80+ proof), bottles, and vanilla beans.  Over the years we've stored up quite a bit of booze that we never really drank, and I thought it sounded like this would be a perfect easy project for Christmas.
So, I ordered a box of 24 4 oz amber bottles from Uline, and 20 vanilla beans from Silk Road Spice Merchant. Both these companies were great and my items were delivered in less than two days from when I ordered.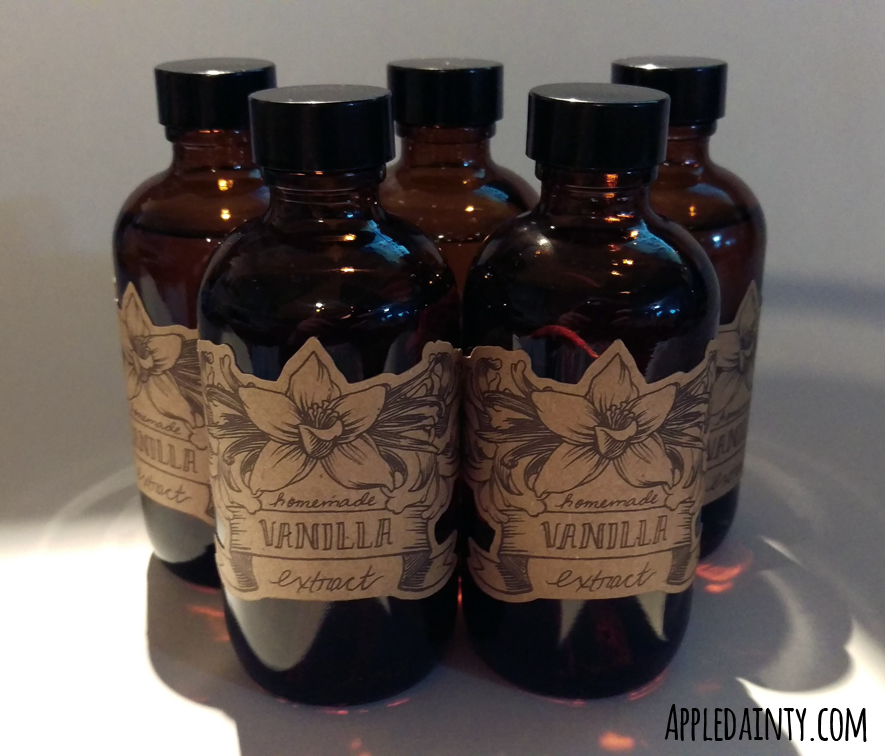 Once the bottles were clean, I sliced each bean in half, then again lengthwise to expose the 'caviar' inside. I put a whole bean inside each bottle and poured the alcohol on top. It took me maybe an hour to do, if you include the time it took to clean the bottles.
Once everything was bottles, I went about designing a label. I love retro labels and ornate frames, so I took elements of both and slapped them together to create some labels. I printed them onto brown kraft sticker backed paper and cut them out with my ever-useful Silhouette Curio. If you like my label designs, you can download a .zip file with .jpg, .psd and silhouette file formats for your own use from here.
Most tutorials I've read recommend letting the extract sit for at least two months in a cool dark place. So, I put mine in a cabinet and give them a shake once in a while to encourage the extraction process.
By the time Christmas rolls around I'll have a nice little stock of vanilla extract for gifts and for personal use!
Have you ever made vanilla extract before? If you haven't, I really recommend giving it a try. If you decide to try out my labels, please let me know! I'd love to see the results.