Last year I blogged a little bit about my wedding, which actually took place in October.  Mostly about the planning process and little projects I did for it.
Since February is the month of Valentine's and love, I figured that taking a look back at our honeymoon might be a good way to round out the month.  Also, I thought you guys might enjoy seeing some pictures because they are Final Fantasy related!
My husband is a very private person and hates to be photographed.  But, he makes special exceptions when it comes to having photos taken of us together.  We had amazing wedding photos taken by Jenn Lewis Photography and Stephanie Dalton, but for Dave it was all about our honeymoon photo shoot.
We decided to honeymoon in Japan because, duh, we're huge nerds.  We love anime, manga, comics, gaming, all things that are, as they say, big in Japan.  A few months before we started planning our honeymoon we saw some pictures of the amazing Eorzea Cafe that had just opened in Tokyo, and knew we had to go there for lunch.  Then I had the idea to maybe do a photo shoot during our honeymoon, and do it at the Eorzea Cafe.
Knowing that my husband is not a fan of taking photos, and I generally forget to take photos because I'm too busy looking around or eating things, I figured this would also be a great way to ensure that we would have photos from our honeymoon.
The first thing I did was reach out to Inside Japan Tours, who I had used once before to plan a trip when I was actually living in Japan.  They did an amazing job then, and they did an amazing job for our Honeymoon too! I highly recommend them.  My tour planner, John Kane, was very patient and accommodating with crazy photo shoot request and last minute changes and selected the most amazing hotel and ryokan for us.
It took a month or two of back and forth negotiation with the restaurant that went all the way to Square Enix Headquarters, but in the end we were granted permission to have our photoshoot done at the Eorzea Cafe restaurant.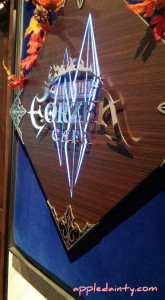 It was an incredible experience.  I got up early and had my hair and make-up done by Shinobu of Sin Den while Dave had breakfast, we got dressed in our wedding wear, then we met our tour guide Tyler and made our way to the Eorzea Cafe in Akihabara.  Tyler was also awesome and translated for us with the restaurant staff and photographer, and also took us on a tour of Akihabara afterwards. We were allowed into the restaurant an hour early and were met there by our photographer, Masato Kubo of Kuppography, who took these amazing photos:
In the end the staff brought out a special moogle cake for us complete with a sparkler!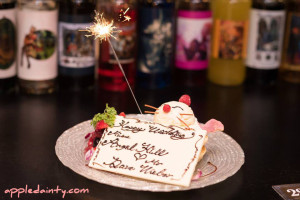 We had lunch at the restaurant immediately following the photoshoot.  It was really interesting.  When you arrive you get to choose a job coaster. I picked bard, Dave picked paladin and then we picked White Mage for Tyler.  Then when you order your food you also get a random monster coaster for each food or drink item that you order.  We ended up with a pretty good variety of coasters.  Here's a couple of the coasters.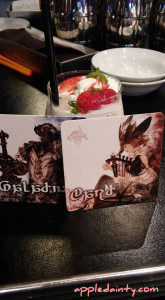 They also have a little 'contest' along the theme of the Mini-Cacpot at the gold saucer in Final Fantasy XIV.  You get a little numbered card, and if they call your number you win a prize.  They had three prize rounds, and we got really lucky – I won one with my card and Tyler won another with his.
The first prize was a cute Sabotender button.  The other prize they told us it would take an hour or so to prepare, so we had our lunch and oogled all the cool decor for a bit while we waited.  Dave actually signed into his FFXIV account from one of the stations in the restaurants so he could brag about being there to our guildies.  Unfortunately, Riggors was not online and that's who he really wanted to brag to.
As things were winding down and we were finishing up our food, our prize finally arrived.
It was an amazing 'cake' made to look like the gold saucer!  It was really large, and featured half a loaf of bread, pancakes, icecream, whipped cream, what I think were fritos, fruit, and a sabotender wafer.
Cafe Eorzea was just magical for us.  I don't think we could have found a better way to start our lives together.