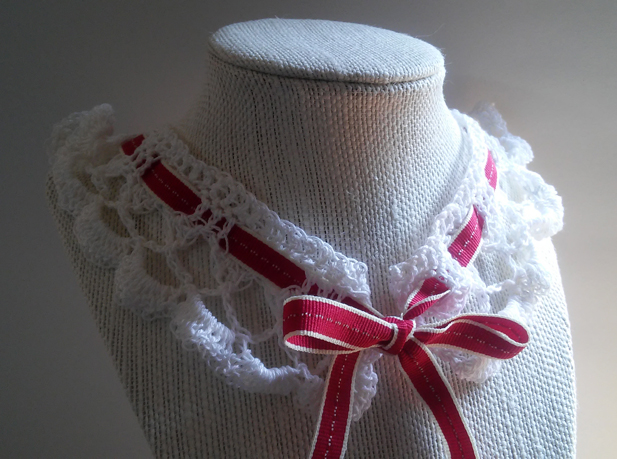 A while back, Dave went on a business trip to Toronto. While he was gone I had a bit more free time than I usually did, and I wanted to find a productive way to spend it. Of course, even though I already have a bunch of projects going, I decided to I could fill this new found time by starting a couple new projects.
I didn't want to break the bank with my new projects, so I scrounged around through my art supplies and the things my mother-in-law didn't need in my craft room closet. I ended up finding some lace weight crochet thread that she wasn't going to use. I figured it would kill two birds with one stone; help de-stash the craft room closet and sate my desire to work on a new project.
I've been crocheting since I was a child, but I haven't done it on a regular basis.  Normally, I work on crochet projects during the winter months.  That's when nice warm gloves, hats and scarves are needed, and they make great gifts. Since I'm not particularly familiar with lace making, I did a little research on basic lace patterns.
The first piece I made was a 2 and a half foot and 2.5″ wide lace edging. The second one was a 5″ wide and one meter long lace edging. My stitching is loose compared to some of the example pieces I saw, probably because I need a smaller hook, and I didn't bother blocking any of them, but I feel happy with how they look.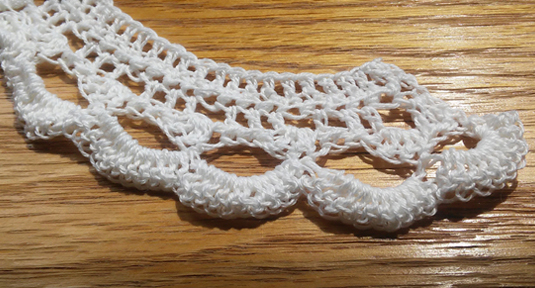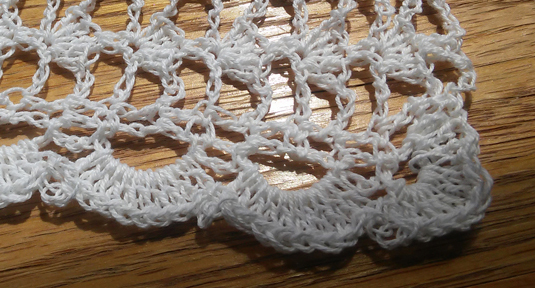 These two pieces gave me a decent foundation, I started experimenting with making my own pattern for a lace collar. I probably restarted the first collar I made several times before I finally finished it. The second one was much faster and less stressful; I think the most stressful part was trying to get an accurate stitch count for my base chain.
I'm thinking about posting a tutorial with my collar pattern at some point. Writing a pattern will be a good exercise in any case, since I'm generally terrible at writing down my crochet patterns. Would you like to see a lace collar pattern here on the blog?
In the end I did end up having to spend a little bit of money to finish my lace collars; I bought some cute ribbon from Michael's to tie them together with.  If you are interested in these collars, they are now available in the Shop.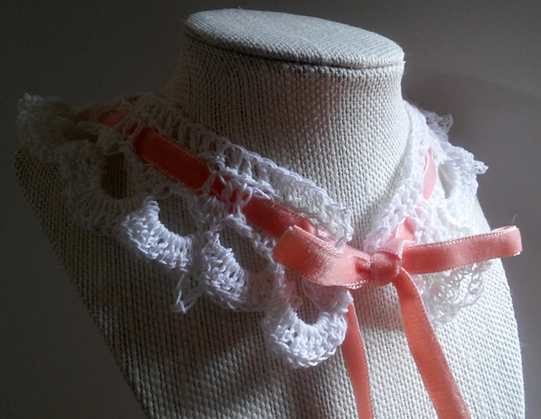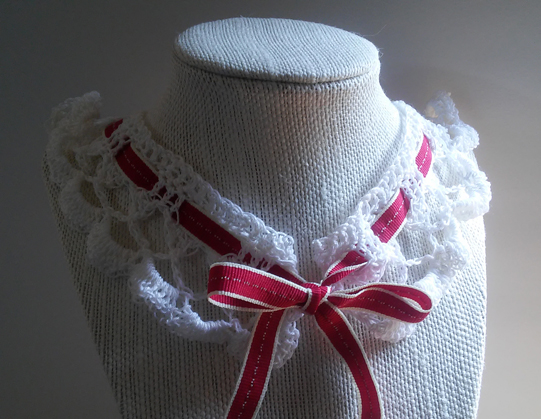 Speaking of shopping, I recently found out that I was accepted to a juried Made in Canada pop up market for Etsy sellers. I think I will be making a few more of these for the market. Other than time, they don't cost me a whole lot to make, and I still have a ton of crochet thread and ribbon left.
Now my problem is figuring out exactly what to bring to the market; I have so many different crafts that I like to produce. I don't want to spread myself thin trying to do too many projects and end up having a disjointed or overloaded looking table. So far I've decided that I want to bring lots of hana kanzashi and tsumami zaiku boxes since they are pretty unique and I don't think anyone else at the market will have them. I also want to bring pieces from my Flora and Fauna Collection.
What other crafty items do you think I should have at the Made in Canada Market?
Anyhoo, that's all for this week. Check back next week for more crafty projects.