Every once in a while a friend will ask me to draw a piece for them. I love doing commissions, so when my friend Mary asked if I would do one for her I was happy to oblige.
She's a big Disney fan, and she asked for a drawing of Moana and Rapunzel getting ready to go on an adventure together. At the time, I hadn't even seen Moana yet, so getting this commission gave me a good excuse to finally sit down and watch it. It was really good; I enjoyed it a lot. I'm originally from Hawaii, and I've always felt a special connection to the islands. It's also nice to see someone who looks like as the main character of a film.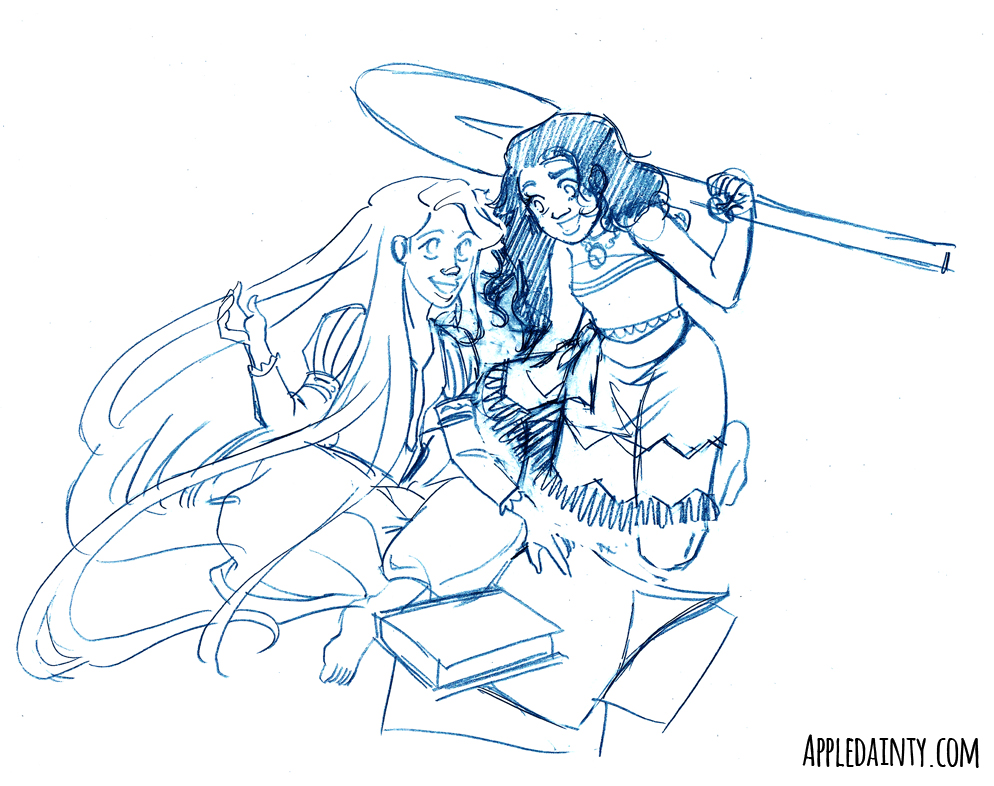 Anyhoo, I came up with a few thumbnails and eventually landed on a version with Moana and Rapunzel looking over some books and maps.
I do a lot of pencil sketches, but when I want to finish a drawing I usually do a rough sketch – I'm a very messy drawer – a tight sketch, then finished pencils before moving on to ink and color. That's why the lines for this drawing are blue – I turned the rough sketch blue in Photoshop, lightened it a bit, then printed it out so I could draw a tighter version over the top of it.
Some artists also draw their initial sketches in non-photo blue pencil, which achieves the same effect without having to scan anything in. I've never been a fan of non-photo blue pencils; the ones I've used in the past have been waxy and difficult to draw over. I will eventually have to try it again and see if I feel any different about it, or if maybe it was just the brand of non-photo blue pencil I was using.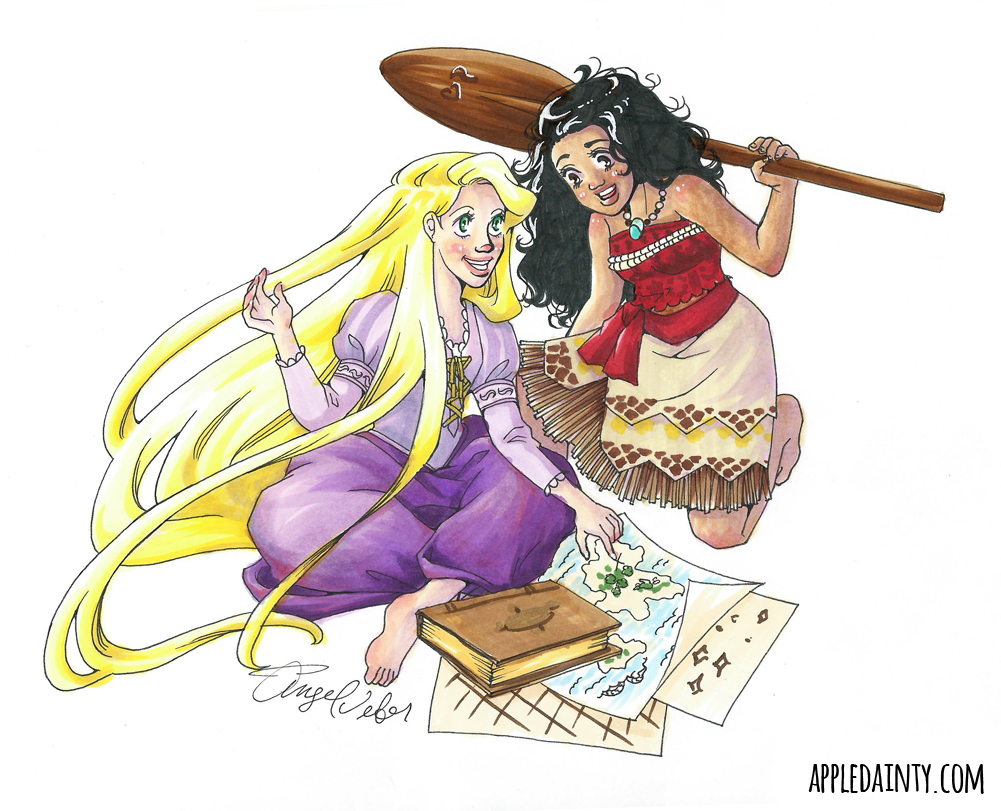 I chose to finish this drawing with copic markers, which is my favorite way to color. I can do digital color, but I don't consider it my strong spot. Also, since I was going to be shipping the completed drawing to Mary, I felt like it would be better to have the original colored.
Overall, I'm happy because Mary was pleased with the end result. Hopefully her friend will enjoy it as well.
That's all I've got for this week's blog post, but make sure to check back next week for more arts and craftsy goodness. And, if you're interested in commissioning me for your own piece, you can reach me at angelnicoleweber@gmail.com or through the form on my Custom Orders page.