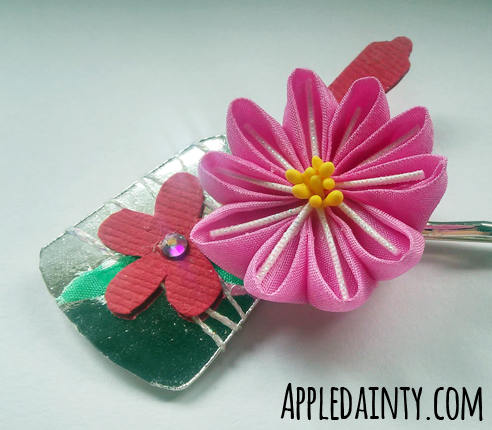 I have always been a firm believer in making the most beautiful work I can, and I also have a tendency to lean toward complicated pieces made from fine materials. That can make my work a bit pricey.  While the amount of time, creativity and love that goes into my work makes my pieces worth that price, I know that as a shopper I prefer to have some less expensive options.
That said, my goal for this week – and for the next few weeks – is to make some smaller kanzashi pieces. I want these pieces to be just as beautiful and unique as my larger pieces, without being a difficult purchase for the average shopper.
It's also a great way to fill in my kanzashi calendar and try out new designs and techniques without having to spend oodles of time on a single piece. Since I wanted to start from the beginning of the calendar, I decided to make asters with hagoita and folding fans – all of which are popular motifs for the month of January. Pine, bamboo and plum (the three friends of winter, said to bring happiness in the New Year) are the most popular theme for January, and I'll probably be doing some of these in the future.
Asters come in a wide variety of colors, but I chose pink and a deep plummy red. Since plum blossoms are also a popular flower for both January and February and I figured I could do several pieces in these colors without having to dye a ton more fabric. I'm actually really happy with how the dye turned out. I've trying dyeing dark, rich colors before and had a very hard time with it; this time the colors came out right the first time.
The first hairpin is a pink aster with white glitter mizuhiki (paper cord), yellow millinery stamen buds, and a hagoita. Hagoita are a type of paddle traditionally used for the game of hanetsuki, although nowadays they are more often dressed up with silk figures or painted and used as decoration.
The hagoita was made with silver foil paper for the body and red textured paper for the flower and paddle handle. I also used some white sparkly thread, a tiny piece of green silk for a leaf, and a swarovski rhinestone for the center of the paper flower.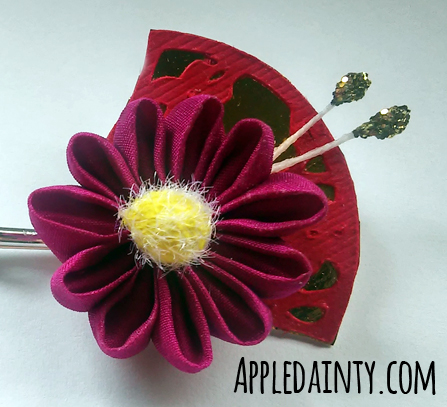 The second hairpin I made is a deep plum red aster with a fluffy millinery stamen center, gold millinery stamen buds and a red and gold folding fan.
I made the fan by designing and cutting out some textured red paper into a fan shape with a branch of flowers using my ever-so-useful Silhouette Curio. I then glued the red paper to some gold foil paper and cut the backing gold out by hand. I'm definitely going to be using this fan design again. I am really pleased with how the fans turned out, and would like to feature them in a larger design.
These pins turned out almost exactly how I pictured them, and have given me some great ideas for future pins and clips. If you like these pins, they are now available in The Shop.
That said, what kind of flowers would you like to see next?