Continuing with the theme from last Friday, I finished up some hair clips with white and pink camellias. Camellias are a motif  worn by maiko (apprentice geisha) during the month of February, along with kusudama like the one I posted about a few weeks ago.
This is a new flower for me. I've made plenty of daisies and chrysanthemums, but I've never made camellias before.  February is actually my birth month, and camellias are really beautiful flowers, so I was excited to work on these hair clips.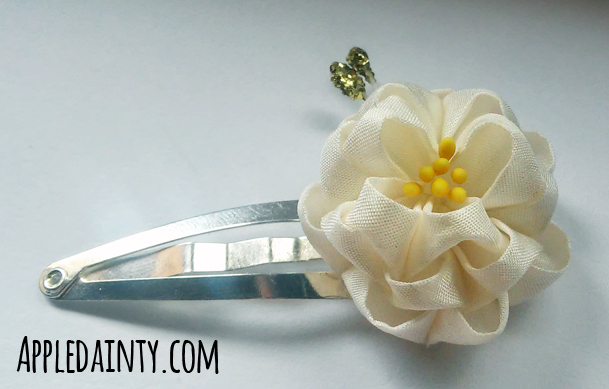 Getting the petals to layer nicely wasn't too bad, and gluing the flower to the clip was no problem, but the first time I tried to open and close the clip the flower fell off of it. I ended up putting the flower on top of the clip (the flowers are built on a round thick cardstock or board base) and a second piece of white backing board behind the clip with glue in between. This gave the clip just the right amount of stability. The flower is still delicate and should be handled accordingly, but now you can open and close the clips without worrying too much about it falling off. I've had plenty of clips and pins that needed re-gluing at some point, and I wanted to make sure that my pins and clips would be relatively stable.
If you like these hair clips, they are now available in The Shop.
I am really happy with how these camellias turned out, but I think I want to try making a larger one later on. I attempted a new petal fold when I was making these camellias, but the squares of silk were a little too small for me to get the look I wanted from them.
Now, you may have noticed that this post is appearing on Monday instead of my usual Friday posting; it's not because I won't be posting on Fridays, it's because I've moved to twice a week posts – at least for the next few weeks. I'm not sure if it'll be a permanent change, especially since I'm looking for a full time job, but for now I've got so many projects going on that it just makes sense.
How often would you like to see new content on the blog?