Happy Monday, dear readers. It's now September, which means that it's crunch time. The Etsy Made in Canada Market is on the 24th and 25th at the Saskatoon Farmer's Market. I'm super excited to have been selected for this show, so I've been busting rump to get ready for it.  I'm sure you've all noticed, haha.
My last few posts have been larger kanzashi pieces, so today I wanted to rotate back to smaller pieces. First, I made a couple of clematis alligator clips. Clematis are traditionally worn by maiko during the month of June, and come in all sorts of colors and shapes.
The first two clematis I made were aqua blue and white. I've always found the pointed petals easier to do (although I've heard many people find the round petals easier) so these were a breeze to make. I didn't even have to dye any new ribbon since I still have some pale aqua leftover from older projects.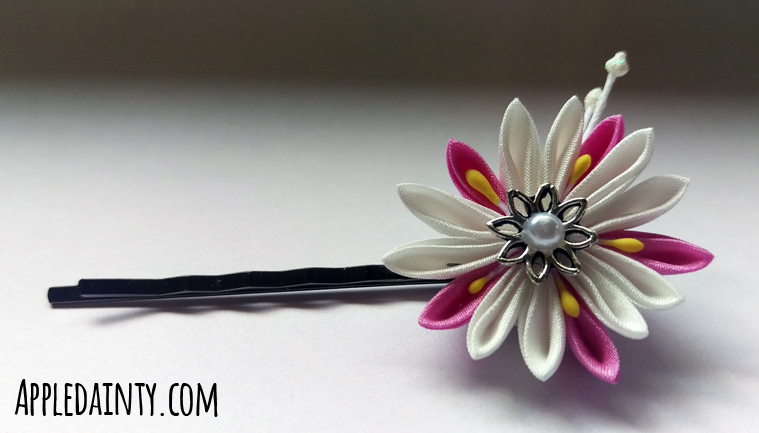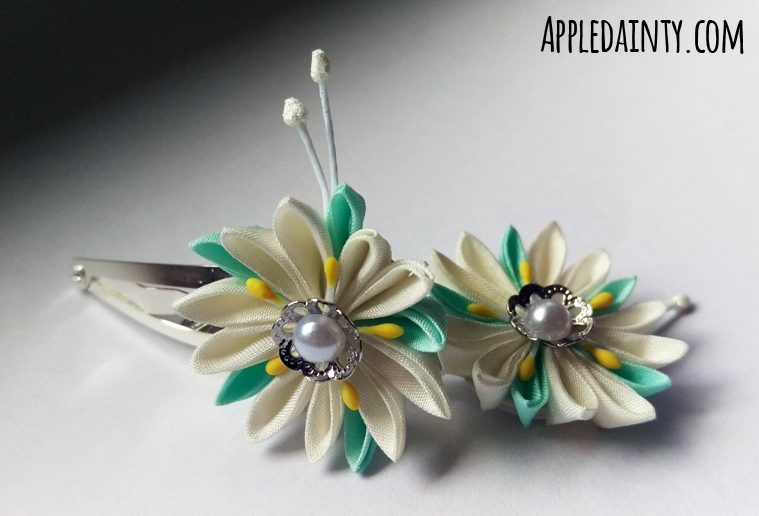 Then, I decided to make a third one with pink after I got in some new hairpin blanks. My previous pin blanks were silver toned. Being slightly obsessed about everything matching, this made me feel uncomfortable about using gold tone bead caps, wire and mizuhiki (which I did anyways). So, I decided to go with a more neutral gunmetal color. I like it. I feel like it could blend well with multiple hair colors.
Anyhoo, that's all for today's post. If you like these clematis hair clips, they are now available in the shop. I hope you guys have a great weekend, and come back 'round on Monday for a fresh new post.