It's been a long week. I've been working on many projects at once, and have been trying to get my house in order before my Mom and Aunts visit in August.  Even though I'm fairly organized, and keep lists of things that need to get done, it's been hard to stay focused and not get overwhelmed.  I got myself buckled down this weekend and finished this new wisteria kanzashi, worked on some commissions, and made significant progress on my kitchen cabinet doors.
This is my first wisteria piece kanzashi. I actually own a pink and white two-toned wisteria that I bought from a Japanese kanzashi vendor, but I've always felt intimidated by the thought of making one myself.  I didn't want to do one exactly like the piece I already had, and knew I wanted to incorporate a resin butterfly. This piece turned out how I envisioned it in my mind, but I feel like it's not as full as it should be. Luckily, I made two of these purple butterflies, so I'm going to do a second version more similar to the shide-style wisteria so popular with maiko.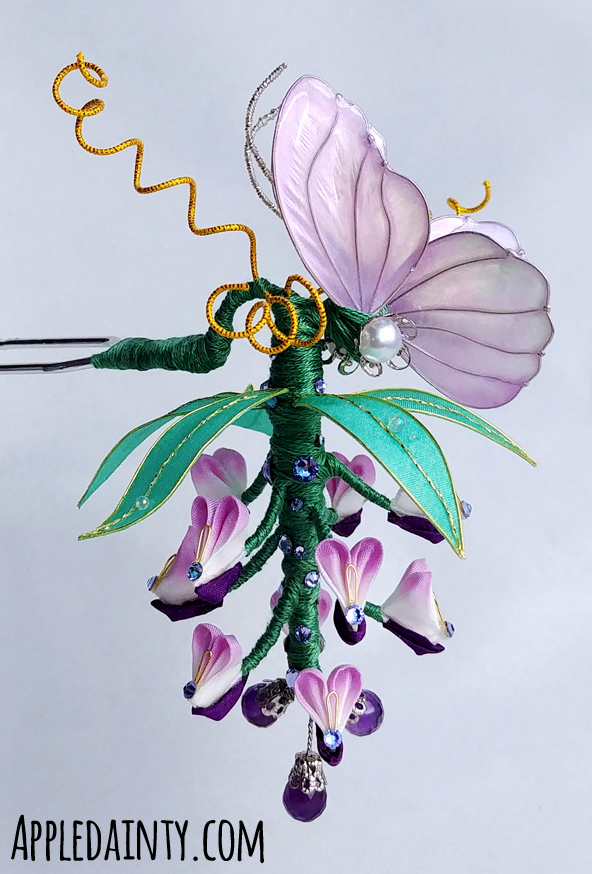 I really like how the leaves and butterfly turned out. I'll definitely be using this style of foliage and resin work in the future, although I will probably do some resin leaves at some point as well. I'm always looking for new and varied ways to create kanzashi, but I also try to hold on to traditional elements. I think that is the crux of my work – finding attractive ways to blend blend modern and traditional motifs and materials.
I'm not sure how I feel about the amethyst briolette wisteria buds. I was excited about them at first, but looking at them now as part of the finished work, I'm not sure how well they fit into the design.  I have lots of these briolettes left, and some ideas for how I want to use them, so they definitely won't go to waste.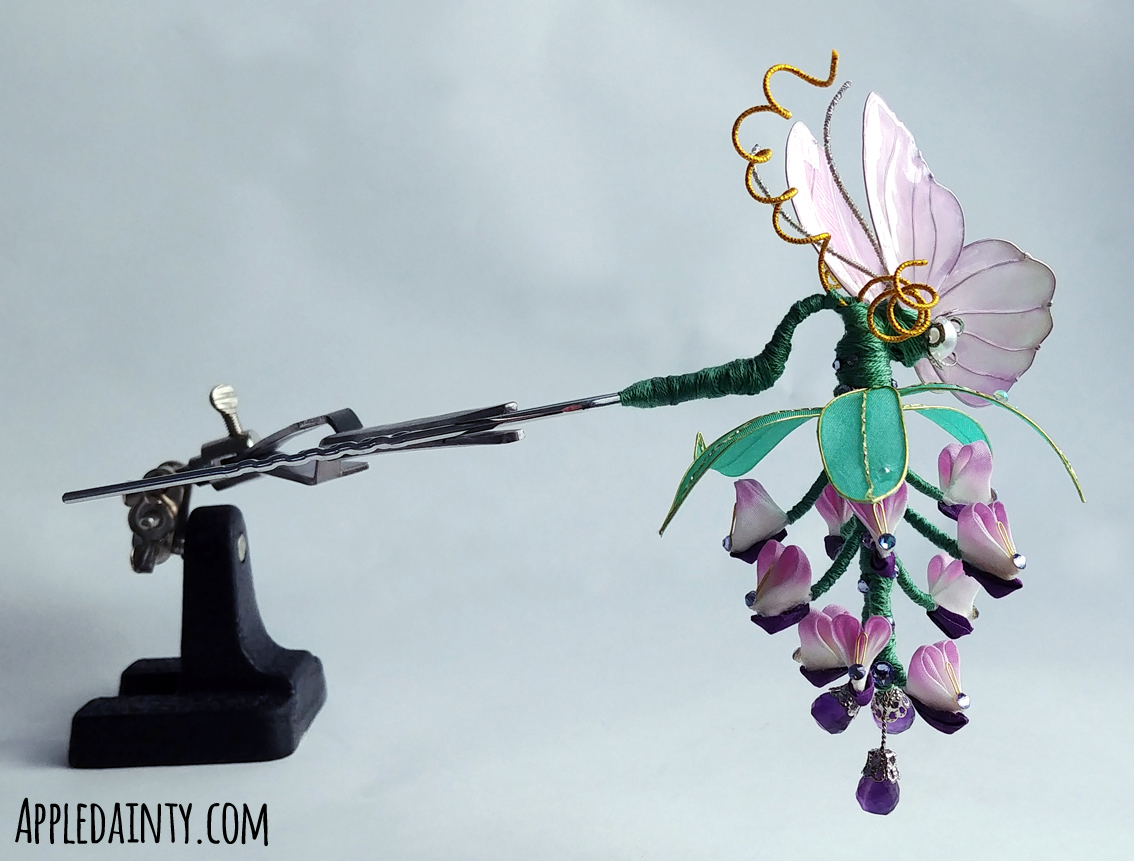 This week is going to be dedicated more toward commissions and house-oriented projects. I'm not sure how much I'll have to share as far as finished projects go next week, but I'll probably be making some posts to social media of works in progress and getting my shop back up and running now that convention season is almost done.
Anyhoo, that is all I've got for this week. I hope to see you at SaskExpo in September, or back here on the blog next week! If you like this blog and want to help support it, consider buying me a coffee. Your support is greatly appreciated, and I hope that you check back again soon for more art, crafts, and creativity.