I think it's pretty clear that my husband and I have wild and varied nerd interests. So, when we bought our townhouse, I knew that I wanted the house to be a reflection of us. I'm very pleased to be able to share with our lovely readers the first finished space in our house – the entryway – which has a loose 'theme' of fantasy creatures.
I don't think it's unfair to say that the house looks more like me, at least on the main level, but I try really hard to take Dave's likes and dislikes into account (it's his house too!). That said, my plan for the main level started out with a color scheme. I like white, and Dave is a big fan of blue and green. It was easy enough to land on a cool pale green color that would play well with blue and white.
I had originally imagined that we would use rose gold as a metallic detail color, but Dave vetoed that. He thinks rose gold is tacky. In the end we decided on yellow gold and I ended up adding in some darker tones – black iron and rubbed bronze (a nice dark brown, almost black). I feel like these darker tones help warm things up in fairly chilly looking space. I'm really excited about getting a new dark blue loveseat for our living space, which I really think will help ground everything; but that is discussion for a later blog entry!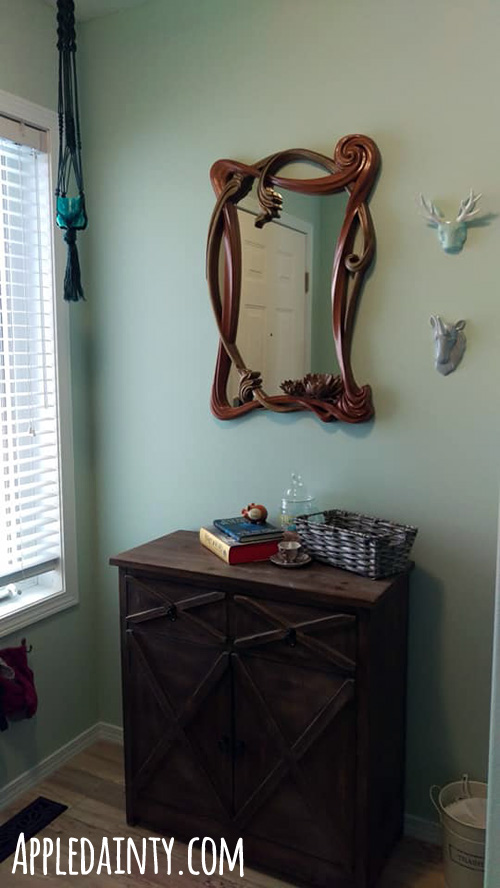 Dave is also a really big fan of natural wood, and I knew we were going to need a piece of furniture for shoe storage and sundries, so the first piece of furniture I picked up for the entryway was the wood cabinet. I went to three stores before landing at Pier 1. I saw this rustic feeling cabinet with a barn-wood type feel, and wrought iron fixtures, and said to myself, "Yep, that's the one."  We took it home the same evening.
When we moved that cabinet into place that was the first time I really felt like this was our home, and not just generic living space.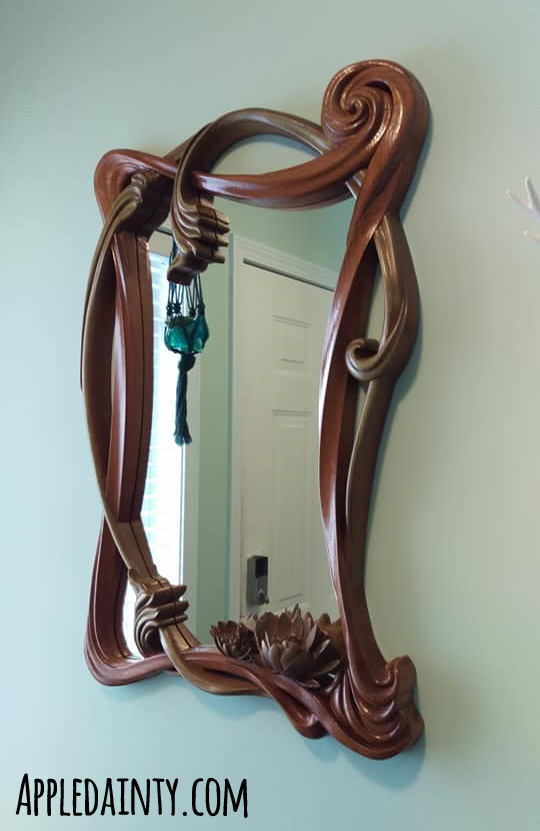 The mirror was the first piece of 'art' that I purchased for the house. I actually had it custom made, and requested it just after we closed on the house, hoping it might come before we got possession several months later. It came slightly later than expected due to my own change requests, but it ended up working out since we had to paint the main floor and buy a cabinet before we could hang the mirror.
I commissioned the mirror frame via Etsy from Ornamentum Wood, who did a truly fantastic job. The design was modified from an art nouveau design I spotted on google images. Unfortunately, a trawl of current google image results and reverse image searching didn't turn up where the inspiration frame came from, otherwise I'd be happy to credit them here.
The changes I requested were the addition of lotus blossoms, and highlighting some sections of the frame in gold. We had the mirror cut for us here in Saskatoon at Showtime Glass, who were very accommodating and had the mirror done lickity split.
I think in the end, the mirror is what really makes this space. As an artist, I think it's important to support other artists.  Every time I see it, I feel privileged to have such a beautiful piece of handcrafted work in my home, and hope that we can continue to support both local and international artists.
The fantasy creature heads are a bit kitsch, but so are we. They are from immliving and are supposed to be jewelry hooks, though we don't feel comfortable hanging things from them. The ceramic feels a bit too delicate to really hang things from, and I'm rather clumsy. Dave didn't say it directly, but we both know if I kept putting things on, and pulling them off, I'd probably break them at some point. In the end, they are just decorative, and we bought a basket from Dollarama to hold our keys.
I bought the jackelope some time ago, because it reminded me of my Uncle Rocky and Aunt Angel (who I'm named after). My Uncle was a hunter, and had a man cave that he called the Bad Boy Room. The Bad Boy Room was where he kept hunting trophies, old guns, and antiques – including a large bear that my parents frightened me with as a kid. No one expects to walk into a room and see a bear! I'm not the hunting type, but I am a big fan of fantasy creatures, and I figured ceramic fantasy creatures would be a little less off putting.
The unicorn is not as cool as the jackelope, but I  thought the jackelope needed a friend to balance him out visually.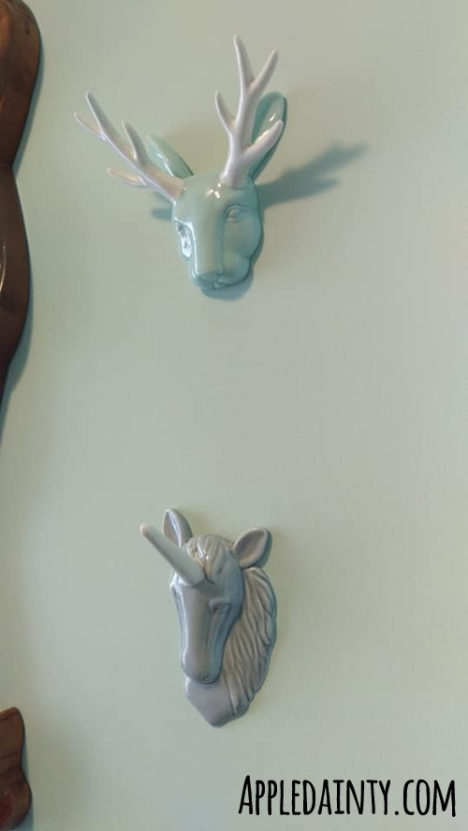 Speaking of visual balance, after we got the cabinet in place, the mirror up, and the ceramic creatures on the wall, I realized I needed to hang something on the other side. I also wanted to take advantage of the window, and hang a small plant. I had dark green macrame cord leftover from another project, so it ended up being the perfect time to try out macrame.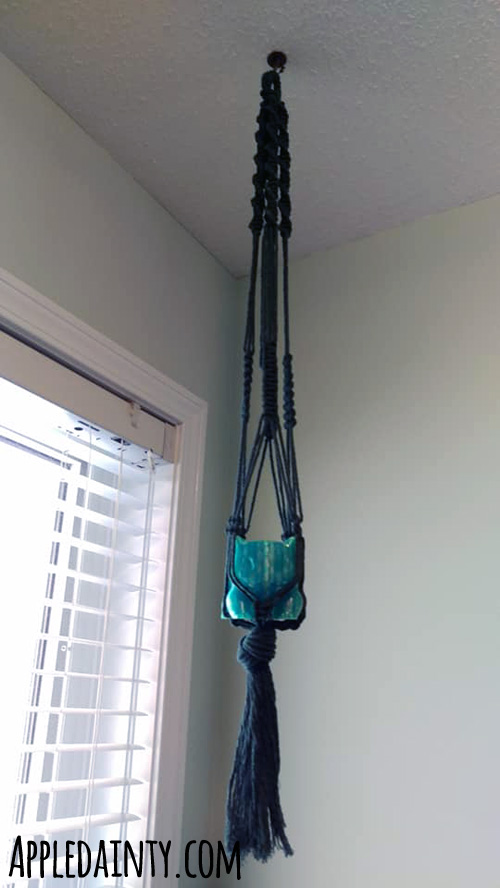 I've never thought of myself as particularly bohemian style-wise, but have always wanted to try doing a macrame project, and pot hangers are apparently a good starting point. I made my first version in a couple hours after spending some time figuring out how the knots work.
I normally prefer to work from picture-based tutorials, but this video tutorial by WOOLANDTHEGANG really saved me. I was struggling to understand which threads I needed to work together. Seeing how their hands moved, and which threads they grasped, really helped me. After finishing my first pot hanger, I realized that it was too short – and ended up modifying the pattern to create bublapot hanger version 2. My wonderful husband got up on the ladder and did the hard part – installing the ceiling hook.
The pot is a medium sized aurora blue bulbasaur planter from Solid Factory. I wish it was a little bit bigger, but overall I really love how shiney and holographic it is. Hopefully they will come out with a bigger one soon! For a first macrame-er, I think I did a pretty ok job giving the bulbapot a place to hang out. Badum-pish!
We also added some hooks under the window and above the heat register, which we hang our gloves from. It just adds a bit of functionality in a space that can easily get cluttered; and it keeps our gloves warm!
The last project that I did for this space was a small one; I wanted a mint jar to go on top of the cabinet, just in case we (or our guests) wanted a mint on the way out of the house. I took an apothecary jar that we got from Dollarama ages ago and gave it a glitter gold decal that says 'Stay Fresh,' then filled it with various mints and mint gums.
Anyhoo, that is about all I've got for this week. None of the links above are affiliate links, so I won't get anything from them if you click on them. However, if you like this blog and want to help support it, consider buying me a coffee. Your support is greatly appreciated, and I hope that you check back again next week for more art, crafts, and creativity!