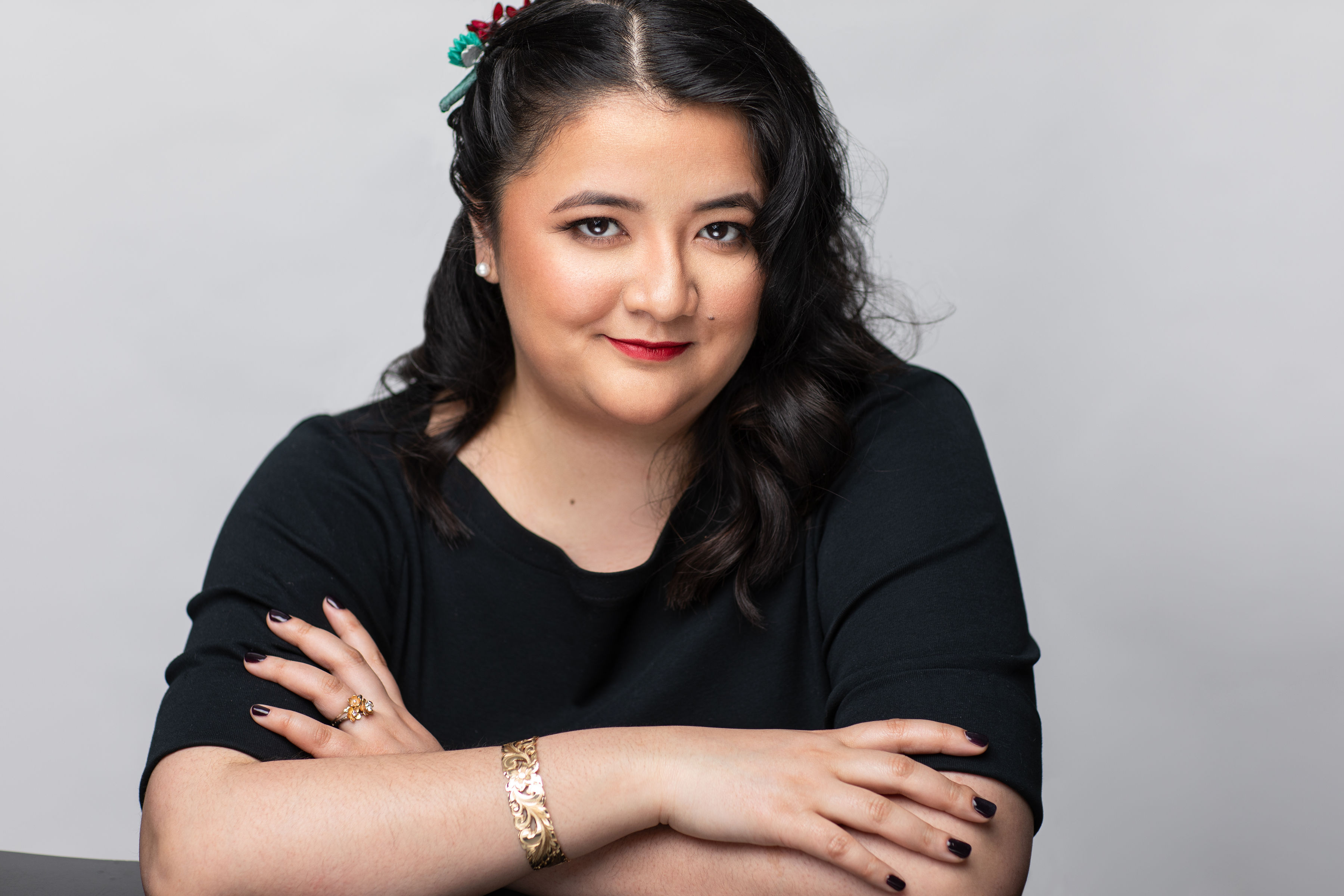 Hi there! My name is Angel Weber. I'm an artist, craftsperson and pastry enthusiast living on the snowy plains of Saskatchewan, Canada.
I like to pretend my degree makes me an authority on comic books, but really it just gives me a lot of knowledge about how comics and animated works are made, and a thorough appreciation of the art form.
This blog is a space where I can post about all my projects, and sell my creations to the public.  If you have any questions, you can find more information on the FAQ page, leave a comment on the blog, or reach me through social media below.
Photo Credit (headshot): Nicole Romanoff 
EDUCATION & PROFESSIONAL ORGANIZATION MEMBERSHIPS
Bachelor of Fine Arts – Savannah College of Art & Design
Saskatchewan Craft Council
Saskatchewan Fashion Association
Canada Council for the Arts
International Tsumami-zaiku Association
SKILLS
Tsumami-zaiku (Japanese silk handicrafts)
Illustration
Graphic Design
Digital Art (Adobe Creative Suite, Clip Studio Paint)
Embroidery
Sculpting
Painting
PUBLISHED WORK
Contributor to Sugar Ninjas, Vol. 1 (anthology comic) 2009
The Gothic Lolita Alphabet (art book) 2008
Featured artist (convention guide) for Anime Weekend Atlanta 2008
Featured artist in Artist Trading Cards Quarterly (magazine) in 2008
English Editor for Airshell by Lia Fiengo (comic) 2005
The Door in the Rock (comic) 2004
EXHIBITIONS & CONVENTIONS
Small Quirks Exhibition (SCC) 2022 – artist
From Scratch Exhibition (SCC) 2020 – artist
Saskatchewan Art Now 2019 – artist
Gallery Momiji (Anime North) 2019-2022 – artist
Anime North 2019 – workshop leader
Ganbatte Con 2018/2019 – panelist/artist
Otafest 2018 – panelist
Sundog Arts & Entertainment Faire 2018 – artist
SaskExpo 2017-2022 – artist
Calgary Expo Holiday Market 2017 – artist
Made in Canada Market 2016 – artist
MomoCon 2005 – panelist/artist
DreamCon 2004 – guest artist
Anime Weekend Atlanta 2003 – 2007 – artist
GRANTS & AWARDS
2023 SK Arts Independent Artists Grant
2022 Creative Saskatchewan Market Travel Grant
2019 Creative Saskatchewan Market Travel Grant
2017 Creative Saskatchewan Market Travel Grant