If I've never mentioned it before, I am a huge fan of Terry Pratchett. My good friend, James, introduced me to his books when we were in college, and I fell in love immediately. As such, I've now read all the Discworld series, except the Tiffany Aching books – I've been avoiding them since Pratchett died because I didn't want the series to end.
One of my favorite Discworld books is Unseen Academicals. One of the main characters from this book is a cook named Glenda Sugarbean, the inventor of the famous Ploughman's Pie. The pie is famous because the pickled onions inside of it stay crunchy even after being baked. As a fan of baking, and pies, the ploughman's pie intrigued me – so I decided to try my hand at making them.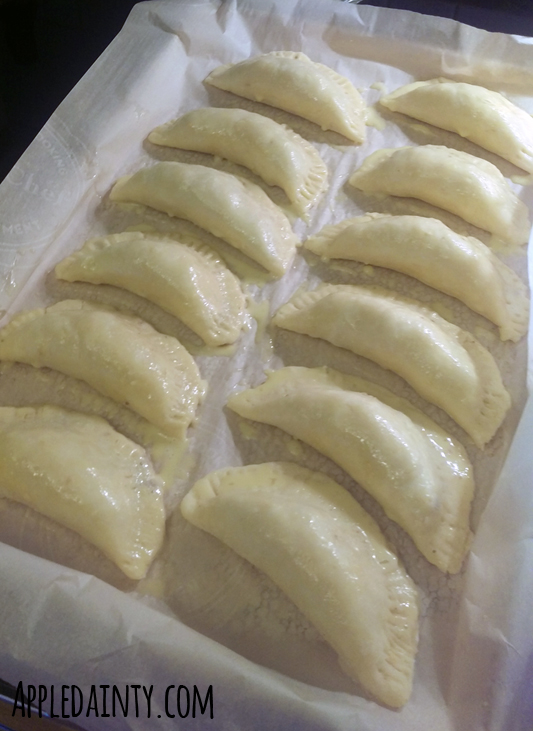 I started by looking for examples; other peoples' recipes. I found this recipe, which was a great starting point.  I wanted to make sure that my pies had all the elements of a Ploughman's lunch – cheese, bread, meat, pickles, and (in my version anyway) apples – and is probably the pie's namesake. I also decided to make them hand pies instead of traditional pies, because they would be a little easier to eat and take with us for breakfast or lunch.
The first thing I wanted to do for my pies was figure out a crust. I decided to go with an empanada dough, the recipe for which can be found here. I hate making pie dough in general, and usually use pre-made – but I managed to convince my husband to make the dough for me. Score! Once he finished making the dough, I set it aside in the refrigerator while I prepared the filling.
Here's my filling ingredient list
1 apple, diced
cinnamon
1 tsp vegetable oil
1 potato, diced
chopped garlic
salt
pepper
rosemary
2.5 cups of ground beef (half a packet, roughly)
1/2 pickled onion
1/2 cup gherkins, chopped
1.5 cups of shredded cheese
Pickle your onions. I used this recipe for my onions – but I used a yellow onion instead of red. I feel like red onions are a little sweeter, and I was already intending on adding a sweet element with apples.
Peel and dice the potato and apple. Chop the garlic and gherkins.
Put the vegetable oil in the bottom of the pan and par-cook the apples with a little cinnamon. Remove the apples from the pan and set them aside, then par-cook the garlic and onions together with salt, pepper and rosemary to taste.
Brown the ground beef with salt and pepper to taste.
Once the pickled onions are ready, place them on a pan and put them in the freezer.
When the pickled onions are frozen and the potatoes, apples, and ground beef cooled, combine all ingredients in a large mixing bowl.
After my filling was finished, I rolled out the dough and started forming my hand pies. When my grandma made empanadas, they were usually fairly small. I wanted these to be more substantial, big enough to fit comfortably in hand.
I didn't have a round cookie cutter at my disposal, so I just divided the dough into balls and rolled each one out – I ended up with about 12 hand pies per batch of dough and used two batches of dough.
Once all the hand pies were formed, I basted them with a eggwhite wash and popped them in the oven at 350 for 20-25 minutes, or just long enough for them to become golden brown.
You can also freeze the pies for later, if you don't want to eat them all at once. I placed some of the uncooked pies on a pan and popped them in the freezer. Once they were frozen through I put them in a bag and stuck them back in the freezer. They stay good for about three months.
In the end, the pies turned out pretty good, and the pickles were most assuredly still crunchy. I'm looking forward to making them again, or at least using the ones I still have in the freezer. I think the only thing I would change is that I would chop the pickled onions before freezing them; they were too big when sliced to easily place in the small pies.
Anyhoo, if you decide to give this recipe a try let me know! I'd love to see your results.