Husband (his name is Dave, but I'm sure he prefers to remain mysterious and unnamed) and I have had a super exciting weekend. We went to Saskatoon Comics and Entertainment Expo.  It's been years since I last attended a convention; not because I love conventions any less, but because I haven't really had any new art or books to show at one. I hold quite a bit of shame and guilt when it comes to not having worked on my graphic novel ideas, especially since that's what my degree revolves. This year's been a bit of a resurgence for my art, but I've only poked and prodded at my drawings and scripts; nothing solid has yet to emerge.
Anyway, when SaskExpo announced that Carrie Fisher was going to be a guest this year, there was really no question about whether or not we would attend. Dave is a huge Star Wars fan, so we signed up for a picture with the Princess.  We also got a picture with Bob Morely, who plays Bellamy Blake in the 100. We thought about getting a picture with Tom Felton, since I am a big fan of Harry Potter, but decided against it. Aside from a picture with Carrie Fisher, my husband was most looking forward to the panels with Travis Willingham and his wife, Laura Bailey, voice actors extraordinaire and stars of the fantastic Geek & Sundry show Critical Role. I had never heard of Critical Role, but I had heard of Laura Bailey because she plays my all time favourite anime character – Tohru from Fruits Basket.
Husband decided that he didn't want to get a normal picture signed by the voice actors, with less than a day left before the convention he asked me to draw him a picture of their Critical Role characters. I had never listened to the show, but after some mild googling I had a fair idea of what I wanted to go for. In the end I came up with this drawing: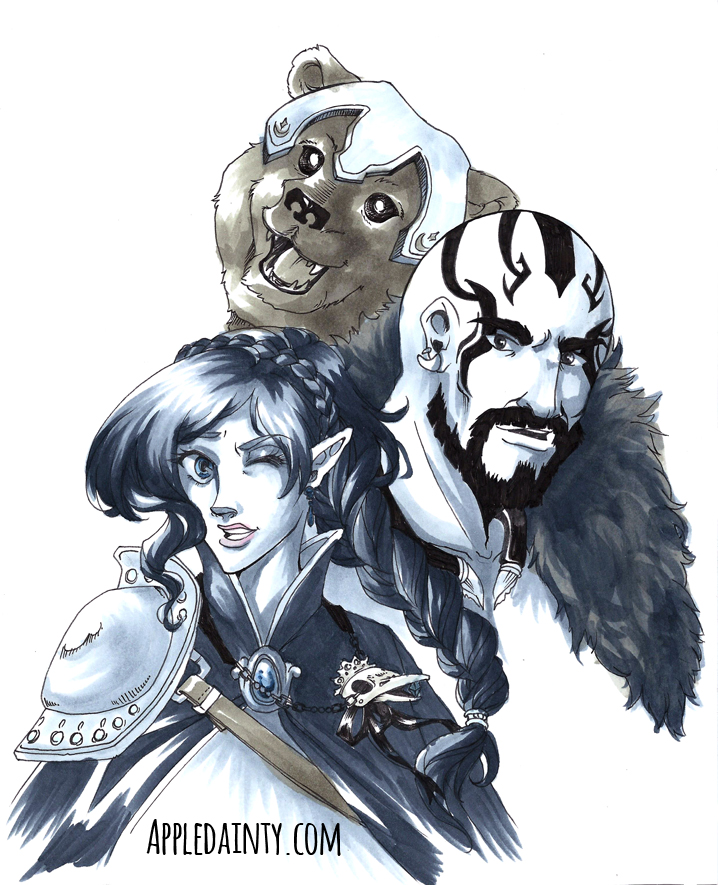 I was up  until 2am getting the drawing done.  It's not my best work, but I'm happy and Husband is happy and that's what matters, eh? Originally I didn't have Trinket the bear in the picture, but Husband insisted that Trinket is important so I got to draw a slightly derpy looking bear. I think my favourite part is the Raven Queen Necklace. I actually decided to try and make a raven queen necklace too, but bailed when I realised it wouldn't get done in time. My sculpting skills aren't good enough to finish sculpting a bird skull in less than 24 hours, or at least not one that I would be happy to gift.
Unfortunately Laura Bailey had to cancel due to a death in the family, so I only got the chance to embarrass myself in front of Travis Willingham. He was very kind and seemed genuinely excited when we gave him copies of the picture I drew. When we told him we wanted to get the entire Critical Role cast to sign something, he told us they were hoping to make an appearance at CalgaryExpo next year. Nothing official yet, but still an exciting prospect. If they do go to Calgary I'm definitely going to make a raven skull necklace. I may or may not have already acquired a (ethically obtained) skull from which to make my raven queen necklace.
SaskExpo as a whole was extremely well organized, or at least seemed that way from my perspective as a con-goer. Signage was easy to read and well placed. The crew was courteous and kept everything moving in a timely fashion, from the panels to the ticket lines. The guests didn't seem over taxed, although I'm sure by the end of the weekend they were exhausted, and the photo lines that we were in moved at a good pace while still getting good photos. It's a small convention, but a good size for a city like Saskatoon, and with amazing guests. I felt like the organisers wanted to focus on the quality of guests, the safety and comfort of guests and con goers, and quality of panels that they could produce instead of trying to going for quantity. These choices really paid off, and we had a great time. There were a few areas that felt crowded, but that's par for the course. I think if I can get something together I will want to go as an artist/vendor next year.
I started listening to Critical Role on Saturday night, and now I am hooked, or as Travis Willingham said "…and now the obsession begins." It will probably be my go-to listening program while I work on arts for the next little while until I catch up. It's probably for the best; my Terry Pratchett audio books can use a break. Husband asked me who my favorite is, and I told him Matthew Mercer the best. I'm probably biased towards other storytellers. Also, he has fantastic hair. Also, also, just realized that Matthew Mercer liked my fanart posting on Twitter! Ermagerd, sempai noticed me.
I started developing my own D&D character, Ellie the Cheerful Barbarian, though I'm not sure if or when Husband and I are going to join a campaign. For now I'm enjoying it as an exercise in character design and development. I'll share more about that later when I've got something I can show, though. Speaking of things to show, I also finished a whole bunch of cherry blossom pins.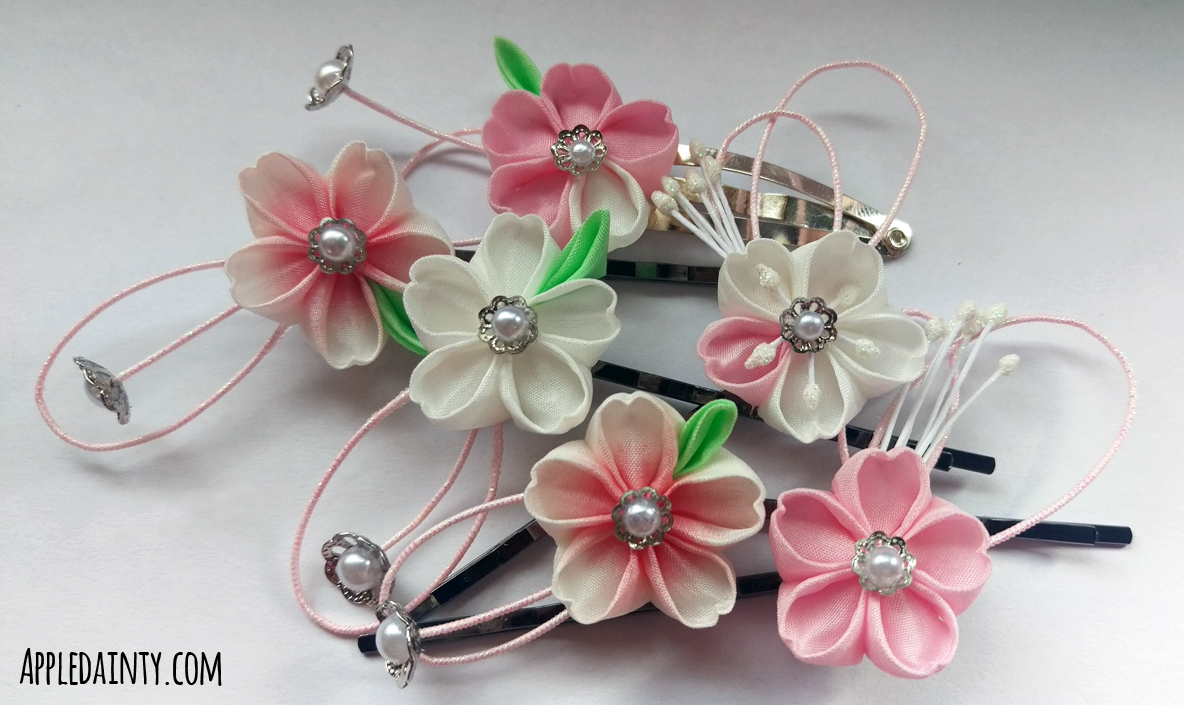 And remember, I'm going to be at the Saskatoon Farmer's Market this coming weekend for the Etsy Made in Canada Market, so if you would like to commission some artwork or pick up some of my fancy floral kanzashi hair accessories come and check it out!