For my birthday, which was last month, my amazing in-laws got me a dehydrator. I'm absolutely in love with it and have been using it pretty much every weekend to make fruit chips and jerky.  I've been tinkering with my own recipes and am finally ready to share with ya'll.
My husband is a big fan of spice. He likes it hot, and will even eat jalapenos on their own. I'm not as adventurous as he is when it comes to spice, but I like a little kick to my food every once in a while. So, I thought it would be fun to do a sweet and spicy combo – jalapeno and maple.
Here's what you'll need: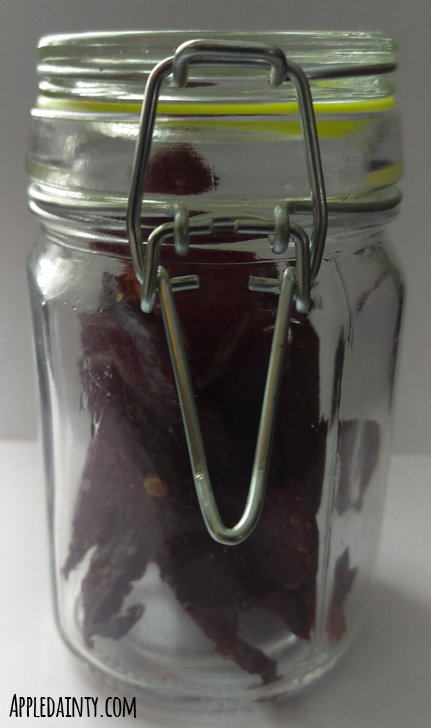 Ingredients
2 eye of round steaks (or flank steak; meat with as little fat as possible; should be around 1.5-2lbs of meat)
1 cup of soy sauce
2 tbsp of Worcestershire sauce
1 tbsp of lemon juice
1/2 cup of maple syrup
1 shot of maple rum
2-3 jalapenos
1 tbsp walnut puree (optional)
1.5 tbsp cayenne pepper
Salt & Pepper
2 tsp curing salt
Directions
1. Put your steaks in the freezer while you prepare your marinade. Having them partially frozen makes them easier to slice.
2. Place your jalapenos on a pan lined with tin foil. Coat lightly with oil, then broil for 10 minutes or until roasted. They should blacken and start to bubble. Roasting will give your jalapenos a bit of a smoky flavor.
3. Slice your roasted jalapenos; the seeds are the spiciest part, so if you want your jerky to be less spicy, use less jalapeno or remove the seeds to retain flavor without boosting spice.
4. mix all the ingredients together in a bowl. You can pour the mixture into a bag once it is thoroughly mixed, if you prefer marinating in a ziplock bag.
5. Remove the steak from the freezer and trim any fat that you can, then slice your steak as evenly as possible with the grain of the meat. You do not want your slices to be larger than 1/4 inch because it will take much longer to dry. The thinner your slices are, the faster they will dry.
6. Add your meat slices to the marinade bowl (or bag) and refridgerate for at least 8 hours or overnight.
If you're using a dehydrator, you want to dehydrate on high (260F) for at least 3 hours, rotating your trays if needed. Then, switch to a medium heat until the meat is dried.
If you're going to dehydrate in the oven, you'll need to set the oven to 260 degrees, and prop the door open slightly to allow condensation to escape. Many ovens don't get down to a low enough heat to do this, so you'll want to make sure your oven can.
The jerky should bend and split, but not crack or crumble. You'll want to monitor your jerky every hour or two to make sure it does not overdry.
I usually heat-treat my jerky once it's done in the dehydrator just to make sure that it is shelf-stable and as bacteria-free as possible. I set the oven to 275 and bake my jerky for an addition 10 minutes to get it to a food safe temperature, then pat the pieces down with paper towel to remove any remaining grease.
Vacuum sealing is the best way to ensure that your jerky lasts, but since we go through it pretty quickly I usually keep mine in an airtight swing-top jar that I got from the Dollarama (Dollarama is life!)
I've found that with two jalapenos, full seeds, the jerky isn't super spicy but it has a nice jalapeno flavor. I have also tried marinating a batch for two days instead of one, and it came out with a nice mild after burn that I actually enjoyed a lot. My husband and co-workers were big fans, so I'll definitely be making more of this recipe, but I think this weekend I'm going to mix it up a bit and go for an asian-style jerky.
If you try this recipe, please let me know how it turns out!