The last few weeks have been really a little hectic. I've been having some computer issues, trying to keep on top of commission work, and I ran out of silk for dyeing new kanzashi colors. Now that I've cleared some things off my board, I can start finishing up things that have been sitting on the back burner for a while.
One of those projects is new illustrations. I wanted to try and finish enough illustrations for a small sketchbook before Saskatoon Expo in September. I'm not quite sure I will get that far, but at least I'll have lots of good material for next year.  This new illustration features the main piece from my Memento Mori kanzashi set.
I started out with a thumbnail sketch before moving on to a more detailed sketch. I use this detailed sketch, on the left, to lightbox a clean version – which is what ends up as the finished piece.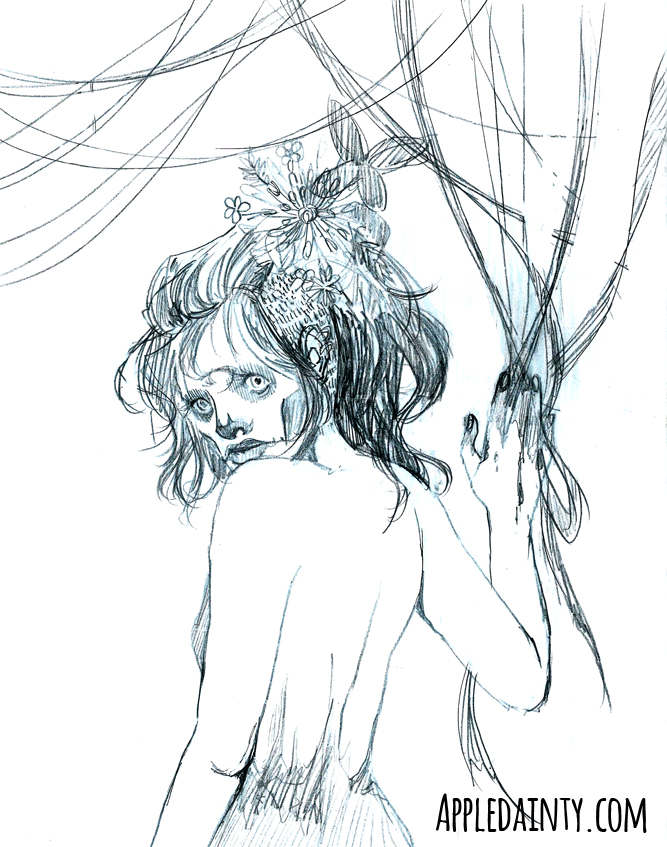 I ink a lot of my pieces using copic micron technical pens, which are refillable and have replaceable nibs. For this piece, however, I used a croquill nib and Deleter Black #4. I have to say, I love this ink. It's very black and has a slight sheen to it. It's the same style of inking that I used for She Persists.
This piece turned out almost exactly how I pictured it would. It's been a while since I've completed a personal illustration and it feels really good. Since I'm waiting on materials to craft more kanzashi, now is a great time to work on other projects – so maybe next week I'll have more illustrations to share.
Anyhoo, that is all I've got for this week. Check back next week for more art, crafts, or cookery!