It's been a while since my last post, and things have been a little crazy around these parts. There's been major upheavals in my work life, and of course the madness that is the holiday season, but now that that's behind me I'm ready to get back at it.
I normally do a self-portrait in January, but this year I decided to work on projects for myself – specifically, making updates to my wardrobe. My first project for this year is customizing a cream cableknit sweater that my Mom sent me for Christmas. I also received a beautiful floral bear necklace from Small Wild Shop, and thought it would be nice to have a top that matches it. Maybe it's a little weird to make a piece of clothing just to match your jewellery, but I think it's fun.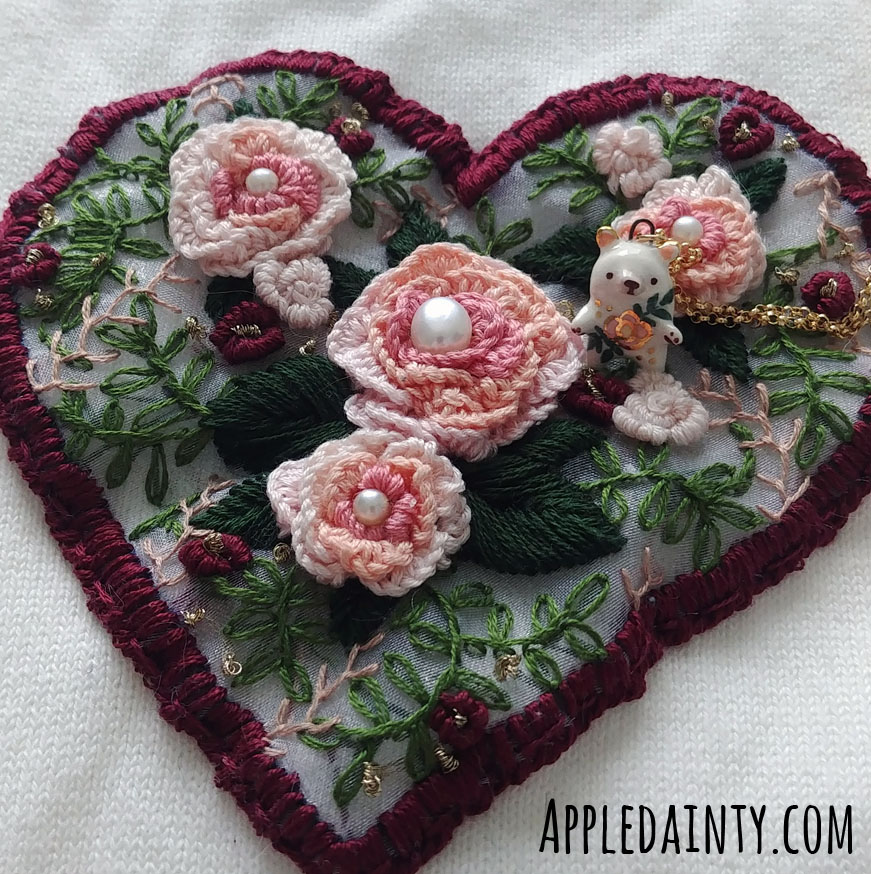 I've always been really fond of interesting details on otherwise basic clothes – and I love elbow patches. After looking at a few elbow patch examples, I decided to go with heart shape, since I am the kind of person that wears their heart on their sleeve. I've been trying to use mostly materials I already have on hand, instead of always going out to buy new materials.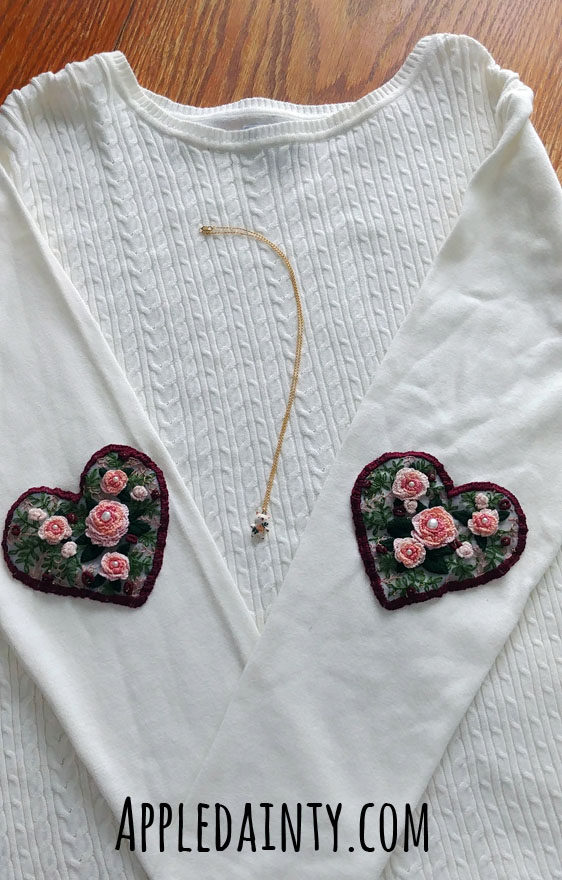 I received a mass amount of embroidery thread as a gift several years ago, the organza backing fabric I've had for years – and even used some of it for my wedding. The pearls are real pearls – the small ones I inherited from a stash of my Grandfather's old work materials (he was a jeweler and horologist), and the larger ones are from a freshwater pearl necklace and earring set my Mom got from a garage sale.
After struggling to finish projects the last few months, I feel relieved to have gotten through this one in a relatively short span of time – just a couple weeks. I'm by no means an expert at embroidery, but I feel pretty satisfied by how these patches turned out. They are a bit wobbly in spots where I pulled the threads too tight or stretched the underlying fabric, but they are otherwise pretty solid pieces of hand embroidery.
This sweater isn't the best quality, and I feel like it will probably wear out pretty quickly. In the event that the sweater develops holes or stains, I attached the patches on with a simple running stitch, so they can be easily removed and sewn onto a new sweater.
I've got so many half finished projects that I've been working on that I hope I can share with ya'll soon – embroidery, kanzashi and even home decor. But, that is all I've got for this week. If you like this blog and want to help support it, consider buying me a coffee. Your support is greatly appreciated, and I hope that you check back again soon for more art, crafts, and creativity!