It's no surprise to anyone that I don't draw as much as I used to, and I decided a while back that I was going to take a step back from commissions; they are just a bit too stressful for me. But, that doesn't mean I don't enjoy making things for people.
When my brother and his wife announced their pregnancy last year, I asked my sister-in-law if they had a registry or if she would like me handmade. I never like presuming people will want me to make something, and honestly…buying things is easier. So, I always try to ask. My sister-in-law immediately said she wanted something handmade, which meant that I had a big task at hand; I needed to design and craft something extra special for my niece.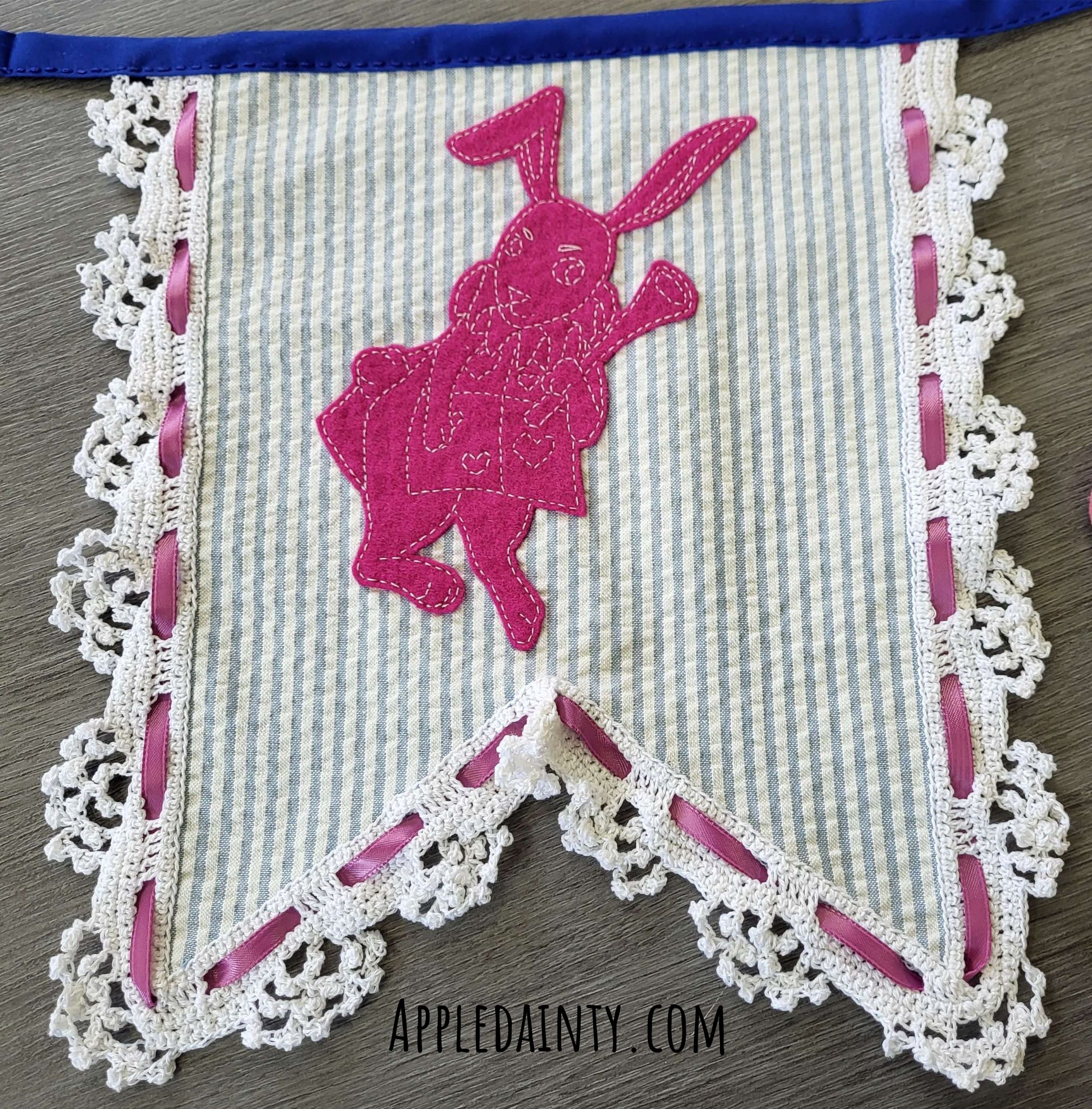 While many of my friends have children, this is the first time a member of my immediate family has had a child. I was very excited to get started, and immediately was drawn to the idea of an Alice in Wonderland mobile. I bought some felt, and even made an Alice doll – but I felt it was a little bit too creepy. I used some vintage mother of pearl buttons for the eyes, and while they are cute in that Coraline kind of way, I also was concerned they aren't really baby friendly. I could have replaced them with child safe black dolls eyes, but something about the doll just didn't feel right.
After waffling for a bit, I decided that I had to move on. Eventually, I settled on the idea of making name bunting. I've always loved bunting, and have been wanting to make some for my kitchen – but never quite figured out what design I wanted. Funny how making a design for my niece's nursery was so easy in comparison; maybe it's because Alice in Wonderland is such a strong design choice – and a story I've always loved.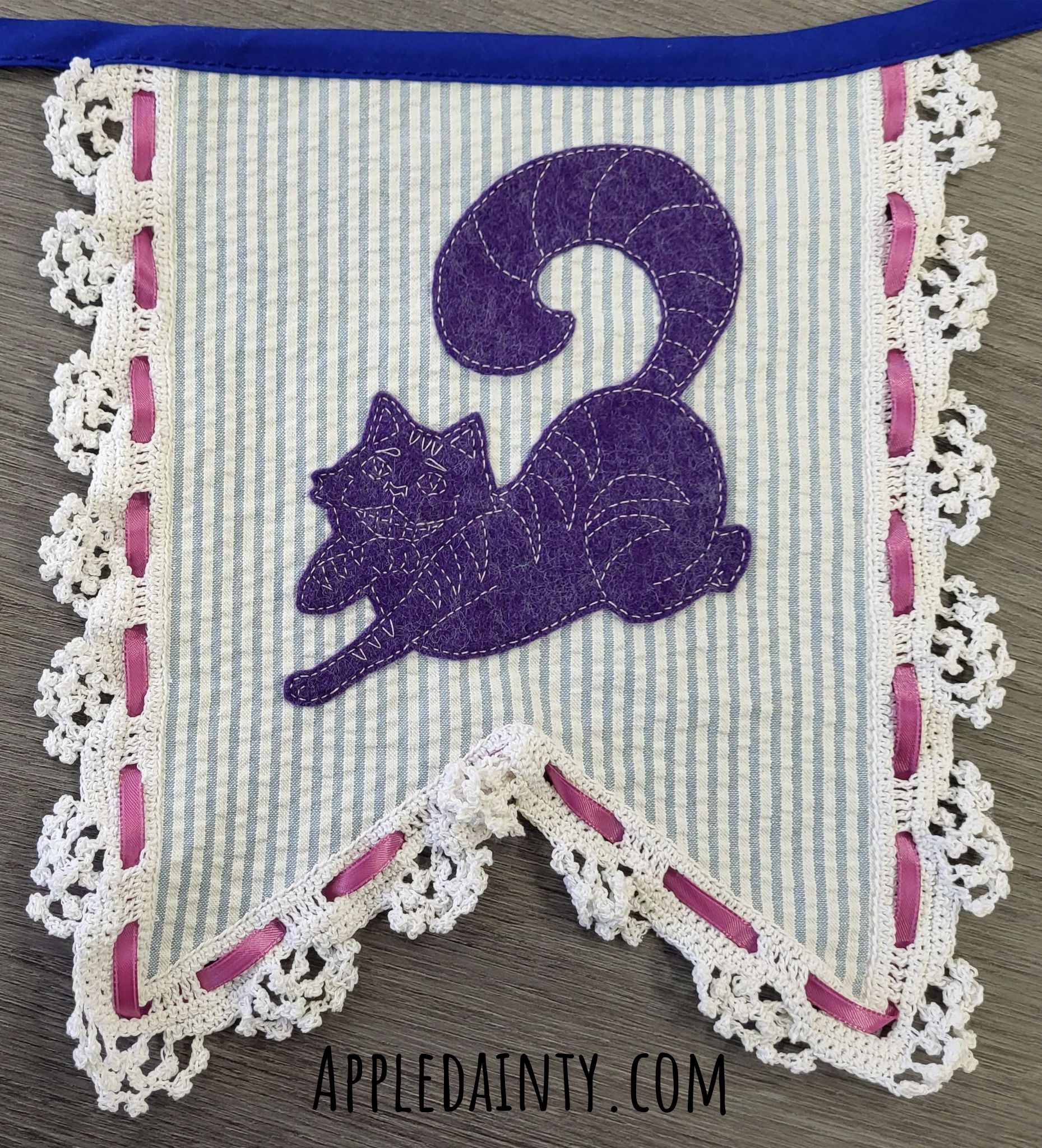 The bunting is entirely hand stitched; I've never been good with sewing machines, and the only one I actually own is a treadle machine. After cutting the flags out, I used a button hole stitch around all of the edges to prevent fraying. Then, I crocheted some lace around the edges of the large swallowtail flags and fed some ribbon through the gaps of the lace for a bit of contrast. Once all the edging was done, I cut the letters and silhouettes of the White Rabbit and Cheshire Cat from felt, glued them into place with a light coat of fabric glue, then stitched them on with a simple running stitch.
Once all the flags were complete, it was easy enough to do up a few lightly stuffed felt hearts, stitch them onto ribbon, and stitch all the flags and heart ribbons together with double sided bias tape.
Sometimes I get frustrated with myself for leaving things until the last minute, but I actually managed to finish this project a few days before we left to visit my family in Florida. Ok, so maybe I didn't finish in record time, but still – at least I wasn't panic sewing on the airplane!
And at the end of the day, what really matters is that my brother and sister-in-law liked the gift. They are getting ready to move, and hopefully once they get settled into their new place I'll get to see what the bunting looks like all strung up in my niece's nursery! I still have some of the striped linen fabric – which I also used for my floral skull rocking chair – and now I'm trying to decide what to do with the bit I have left.
I also realized that I really enjoyed drawing the White Rabbit and Cheshire Cat designs. It's been a while since I've enjoyed drawing something, so I think I might expand on those designs. It wouldn't take much to clean up the lineart, and maybe I can use the designs for other things.
Anyhoo, that is all I've got for today. Check back again soon for more crafty goodness!