As I've probably mentioned before, Sailor Moon is one of the great fandoms of my life.  With the popularity of Sailor Moon Crystal there has been a revival of Sailor Moon related merchandise, which I've been trying not to overindulge in. That said, when my previous fall coat started falling apart last year I thought maybe it would be fun to customize a jacket for myself, and give it a Sailor Moon twist.
I've seen some really awesome punk rock Sailor Moon interpretations, and as much as I admire them, they just aren't very…me. I wanted something that still felt very much Moon Princess, which is more my vibe, but that also had a bit of an edge. So, I went with a bomber jacket, which was a pretty relaxed style, and suitable for fall, and sparkle vinyl with floral and pearl/gemstone accents. My Dad was a naval aviator, and he used to let me wear his green flight jacket when I was in high school. I eventually gave it back to him, but this jacket has a similar coloring and feel so I always think of him when I'm putting it on. It makes me feel like I'm ready to go and fight evil by moonlight.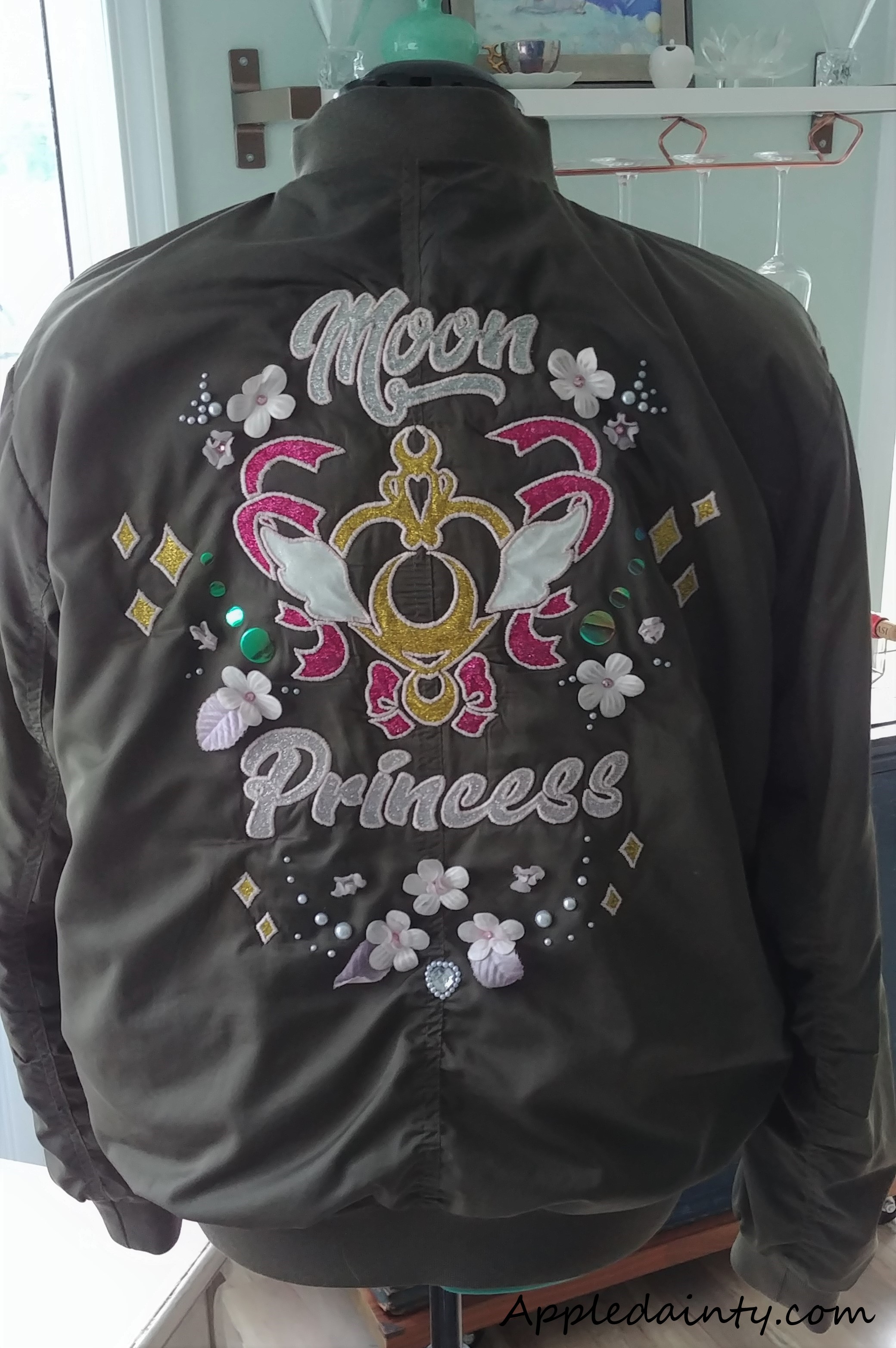 I did not make the bomber jacket myself, but I did draw up the design on the back, inspired by various tattoo flash I found on google. I used my Silhouette curio to cut out the iron on vinyl, and after ironing the vinly in place I hand embroidered the edges of all the vinyl cutouts to ensure they would be secure. I sewed the fabric flowers on by hand as well, and applied the gems and faux pearls with trusty old e6000. If I were to do this again, I'd skip the 3D flowers – I tried to prevent fraying by coating them with glue, but alas they are fraying pretty badly a year on.
I ended up stalling out on this project when it came to the front. I bought these fantastic Luna & Artemis patches from Sugarbones. They are supposed to be iron on, but the iron on glue is not great and the patches fell off. So, after roughly 6 months of procrastinating, I finally sewed them on by hand last week, along with ironing on and embroidering around the sparkles on the front (I did the letterman A initial last year with the back of the jacket).
After getting the patches and sparkles in place, all that was left was clipping on zipper pulls and placing my pins. The cute black cat with the moon pin came from Sparkle Collective and the reflective Moon Kingdom pin came from Kuma Crafts. The jacket will probably continue amassing pins and patches until there's no room left on it, but for now I am considering this jacket done.
You can use pretty much any trinkety type thing as a zipper pull with jump rings or latch findings. The left sleeve zipper pull on my jacket is a re-purposed cell phone charm I got from Amazon in the shape of an Eternal Sailor Moon (I think?) heart locket, and the front zipper pull is a re-purposed keychain from a set of cookie-looking keychains that I got from the local comic book shop.
Overall, I am pleased as punch with how this jacket has turned out, and I'm looking forward to watching it evolve over time.
Anyhoo, that is all I've got for this week. If you like this blog and want to help support it, consider buying me a coffee. Your support is greatly appreciated, and I hope that you check back again soon for more art, crafts, and creativity!