Like many people, I often start more projects when I still have some that need finishing. It's the bane of every craftsperson; getting distracted by the newest, shiniest project. While I do happen to finish a lot of projects, and have fairly good focus, I still find some projects really difficult to complete.
This is one of those projects. I've had this outstanding charity commission for two years now, and only just now sent it out. It's actually been sitting on my desk, almost entirely complete aside from the chain, for months. I finally made myself sit down and finish it, but then got sidetracked again – this time by getting sick. Now that the illness has passed, aside from a lingering cough, I'm so glad that I can finally put this piece to bed.
The rabbit of the moon is a popular figure in east Asian folklore, and I have done a hair pin based on this concept before. The person who kindly donated to my Worldbuilders campaign to get a commission from me expressed their love of this particular piece, but noted that they don't really do hair pins. So, I thought, maybe we can do it as a wall hanging instead.
I used most of the same techniques on this piece that I did on the previous iteration, but decided to have the rabbit in a sleeping position instead of a running position.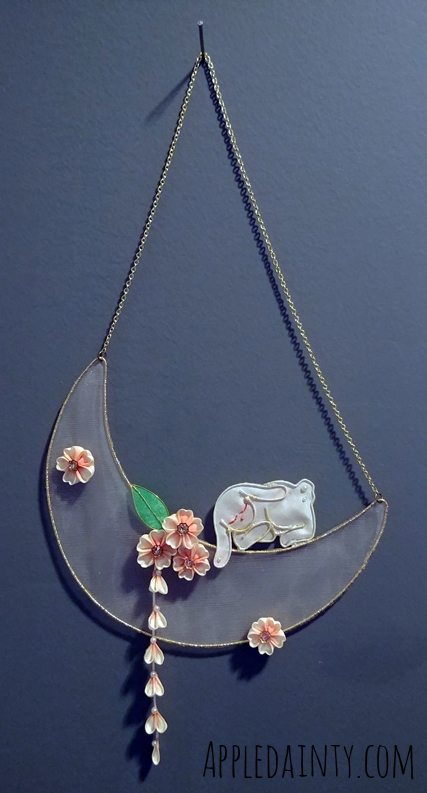 The only downside is that the resin I used to adhere the wire yellowed a bit. I corrected it the best that I could with paint, and I think it still looks pretty good, but I do wish it could have been better.
That's another thing all artists seem to have in common; we are always striving for perfection. I think that's why I sometimes struggle with finishing things; if it's not coming out the way I thought it would, I struggle with moving forward. But, that's something that's not just part of art, but part of life – we are always trying to find new and better ways to solve problems.
I've got some new projects in the works, but that's all I've got for today. 🙂 Thanks so much for reading, and I hope you check back again soon for more crafty goodness!