I feel like I've finally gotten back into the full swing of thing. Projects that have spent a long time on the back burner are finally coming to completion, including this one. As I mentioned in my previous post, I have a set of vintage suitcases. I picked them up at an estate sale back when I was still living in Florida, and knew I wanted to do something with them – I just wasn't sure what at the time.
The first and largest suitcase became a coffee table, and this week the smallest (aside from a toiletry case, which I will probably leave as is) became a new bed for the cat – or as she probably thinks of it, a new throne.
This case was in roughly the same condition as the coffee table was – with bumps, bruises, and the interior a bit dank with the smell of mold and age.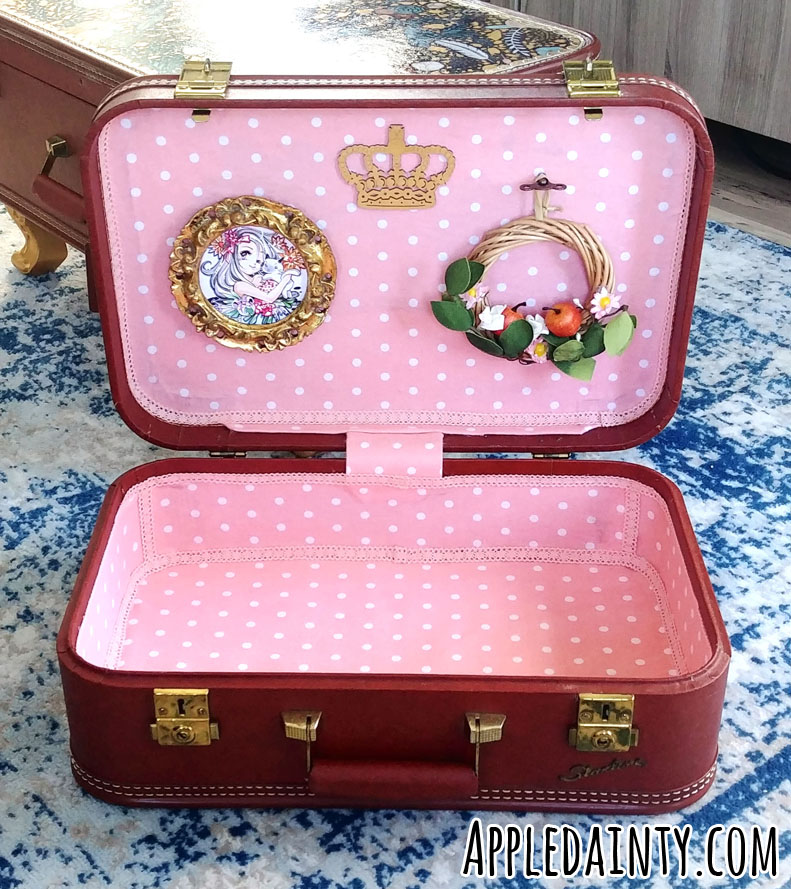 So, I took out the old lining, gave it a good cleaning, and relined it with a few layers of cotton batting on bottom and new soft flannel fabric in a polka dot pattern. I got this fabric on the cheap from a remnants bin at the fabric shop. Keeping with my desire not to do any sewing, I covered the raw edges of the fabric with lace ribbon.
I was thinking about making a pocket to store some of the cat's toys and treats in on the lid, but in the end decided to just give it  a bit of a decorative treatment.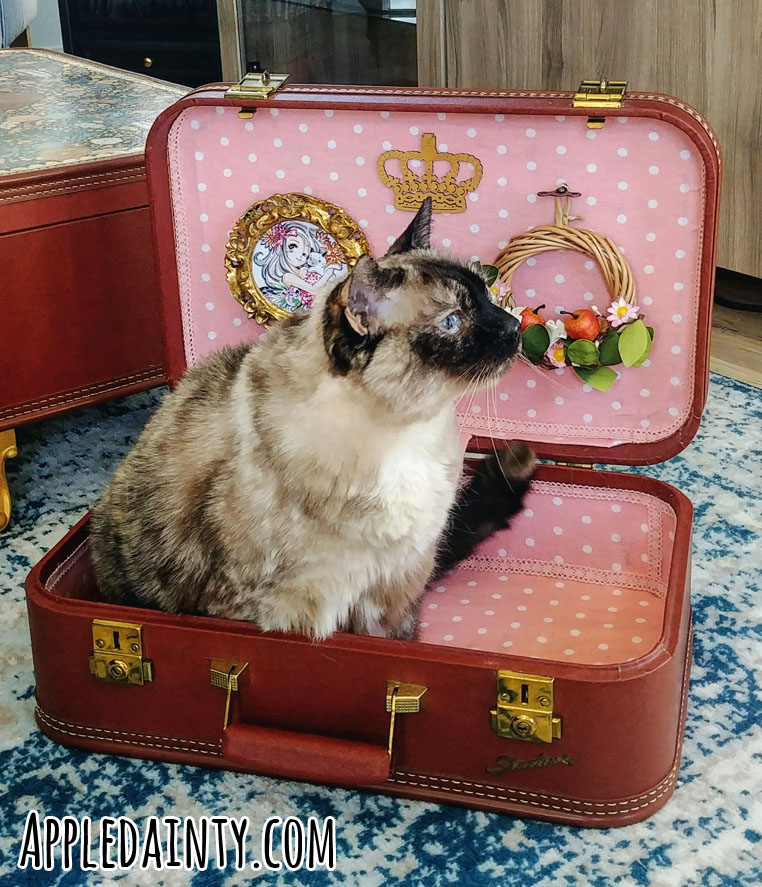 The drawing is one I commissioned from Schin Loong at Anime Weekend Atlanta in 2007, when Hissabelle was only about 9 months old. It only took me thirteen years to get it framed – but I think it was worth the wait. The frame and crown applique came from a lot of frames and other bits and bobs I bought from another craftsperson who was clearing out their garage. The miniature apple wreath I picked up while I was living in Japan, and has survived the journey from Japan to the United States, and then all the way to Canada.
I had originally planned to put feet on this case as well, but I'm glad I decided against it – I don't think the cat would have enjoyed having to step up to get into her new bed. It's funny how things end up working out – all the things I've collected always seem to find their right place in the end.
It took me a little while to convince Isabelle to sit in her new cat bed. She is a bit of a contrarian and though she does seem to like her bed, she only sits in it when I am not looking – and if I do happen to see her sitting in it she gets up and pretends that she was doing no such thing. I'm sure that will change as she becomes accustomed to the new bed.
Anyhoo, that is all I've got for this week. If you like this blog and want to help support it, consider buying me a coffee. Your support is greatly appreciated, and I hope that you check back again soon for more art, crafts, and creativity!