I've always been kind of lazy about taking care of myself. I've never put a lot of effort into how I dress, don't spend a lot of time on hair or skincare, and although I like cooking I often find myself ordering takeout. Why cook when I could work on art instead?
These things are kind seem superficial, but they can go a long way toward self confidence and general well being. I decided this year I'm going to make an effort to take better care of myself – take my vitamins regularly, treat my skin better, drink more water, get up a little earlier, that sort of thing.
No giant leaps for womankind here, but a few small steps toward not getting burnt out on the regular.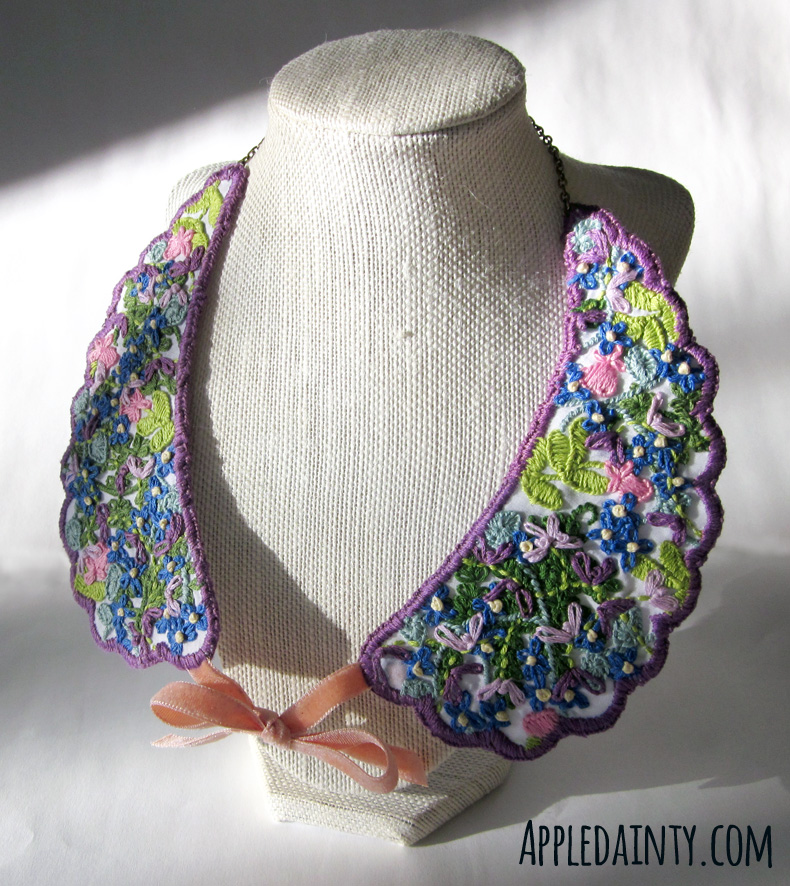 Part of that effort is paring down my wardrobe, and centering my personal style. I am going to purge my closet of old, worn pieces and pick up a few new pieces. I want to try and focus my look more toward a mori girl feel, which has a focus on a natural, layered woodsy aesthetic with lace and vintage details.  Since I live in a place where it snows and is generally freezing more than half of the year, I feel like lots of layers are good.
Another thing I really like about the mori girl style is that the look gravitates toward handmade. I purchased some new clothing items, which will hopefully come in the mail soon, but I have been thinking about ways to customize my clothes. One of the easiest ways is to make accessories – and that's where I started.
My first accessory project for the year is a hand embroidered collar necklace with a freehand wildflower design. Here is a step-by-step breakdown of how I crafted this collar.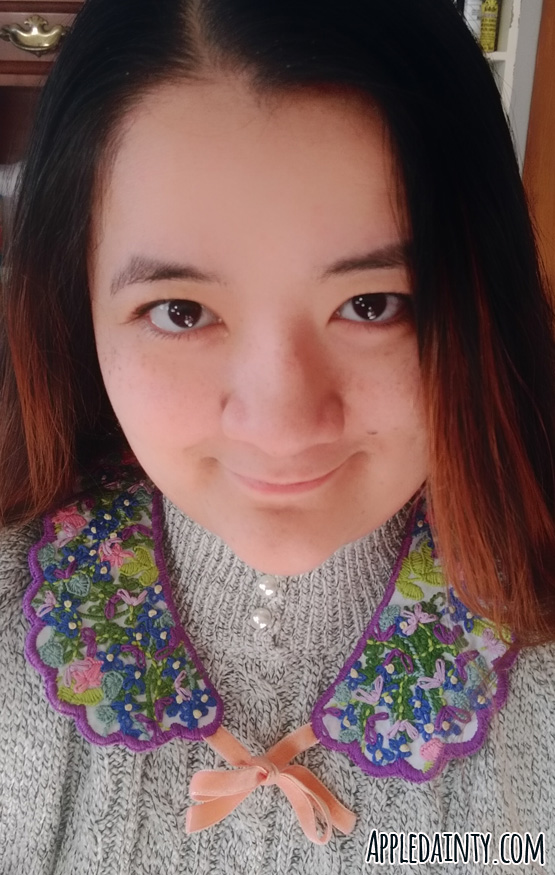 Materials: Cotton material for embroidering on, stiffened felt, mod podge or similar craft glue, embroidery floss, necklace finding (chain & closure), ribbon
I probably could have drafted my own collar pattern, but since it's not a complicated one, I saved some time by searching google for one that I liked. I found this tutorial with a scalloped collar pattern I really adore.
I drew the pattern directly onto white cotton quilting cloth using a lightbox, and embroidered in the lines of the design.
Once the embroidery was complete, I trimmed the excess cloth away leaving about a 1/4″ (maybe slightly smaller) allowance, pinned the chain findings and peach velvet ribbon in place, then glued the cloth to a piece of stiffened white glitter felt.
To finish, I trimmed the excess felt away then used a chain stitch to bind the edges of the felt and cloth together.
Overall, I think it turned out pretty well. It's a little stiff, and I am considering giving the felt backing a gentle rinsing with water to get it to soften it up. Other than that, I'm probably going to redo the bow; it hangs a bit limply since I tied it kind of loose, and I think I can get it to sit more nicely.
I really enjoyed completing this project, and I'm looking forward to working on new personal accessories and clothing customizations
Anyhoo, that is all I've got for this week's blog post. I hope you check back again next week for more art, craft, and cookery!