This year Dave and I have experienced a great deal of loss. We're certainly in the age group where our older relatives are passing away. But life, as ever, loves to give you the unexpected.
A few months ago we found out that a good family friend, Lauree Abramowitz, was dying. It was unexpected, but she faced the news with a sense of peace and acceptance.
Lauree had lived a full life; two lives if you asked her about it. Her first life was as a concert violinist in New York City, where she played in Carnegie Hall, helped create music for movies and musicals, and where she met the love of her life – Jonathan Abramowitz, also a musician. Her second life was as a psychologist in Jacksonville, FL where she helped countless people live happier, healthier and more fulfilling lives.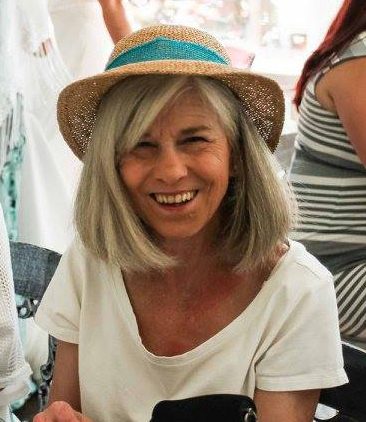 She was diagnosed with MS in her middle years, and was the happy recipient of one of the first service dogs specifically trained for people with multiple sclerosis. Felix the golden lab was her stalwart constant companion and protector for more than a decade.
Although I will miss her lively conversation and keen insight, I know that she has happily been reunited with her Jonathan on the other side.
This illustration is for Lauree, and is being used as the invitation for her celebration of life party that my family is helping organize. Lauree didn't want a funeral or a memorial; she believed loss was part of life, and she wanted us to celebrate how beautiful her life was instead of being sad about her being gone from ours. That's just what we are going to do.
My Mom asked me to paint a night sky with stars. Night was the best time for Lauree. She had a hard time with the Florida heat, but once the sun was down it was much easier for her to go out and about. I added Felix, because he was always with her. She didn't like the color green very much, so I went with a blue/purple/pink palette with just a little yellow. I am content with how it turned out. It's not perfect, but nothing is.