Dave and I don't drink very often, but I wanted to make sure that we at least had a set of wine glasses in the event that we had company and wanted to drink. I also had an antique cabinet that was left to me by our good family friend, Lauree, and was the perfect size for this space in our open space living/dining/kitchen area to make into a bar cart.
This project was pretty simple.  First, I took a piece of leftover counter top and cut it to size. I faced the raw edges with wood grain contact paper in a similar color, as actually counter top edge banding was expensive and I was trying to keep costs low with this project. I used mod podge to secure the contact paper, as the adhesive that came on the back wasn't sticking well to the raw edge of the board.
Once the contact paper dried, I applied decorative copper tone corners, and Dave was kind enough to screw the casters to the bottom of the board. I cleaned and applied a wax sealer to the cabinet, screwed on some wrought iron handles to it, and then set the cabinet onto its new moveable plinth. The antique bar cart was born!
But, there wasn't enough space on the bar cart for the drinks tray, wine rack, and a set of wine glasses. So, I took an Ikea shelf, spray painted the brackets a coppery brass to better match the color scheme, and attached some rose gold wine glass racks to the bottom of it. Once it was up on the wall, I unpacked our bargain glasses ($10 for 8 at a local rummage sale. Was pleased to find them at the fancy home goods store for $15 for one glass. Winning!)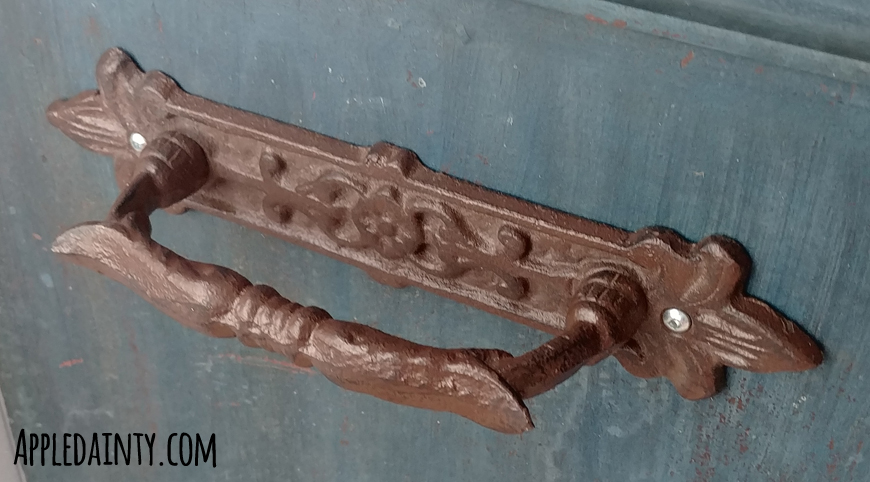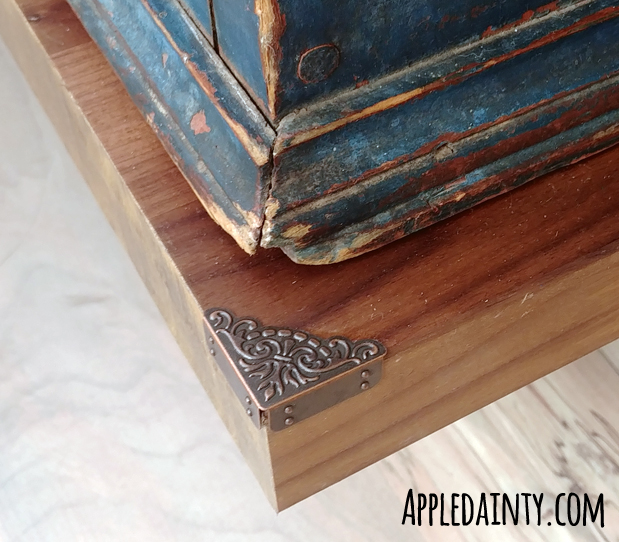 I wanted to give this little space some personal decorative touches, of course. So, I added the D&D tray that I painted ages ago, a hexagon wine rack, and assorted glasses. I wanted to make sure that Lauree had a special place of remembrance, so we picked up a frame for the illustration that I made for her celebration of life, and positioned it on the shelf above her cabinet.
I also added my favorite vase, and a small apple shaped bud vase that I got from Natural Kitchen when I was living in Japan. We don't have any flowers in them yet, but I was thinking about picking up some dried lavendar. I think it'll look nice against the green and white, and Lauree's favorite color was purple.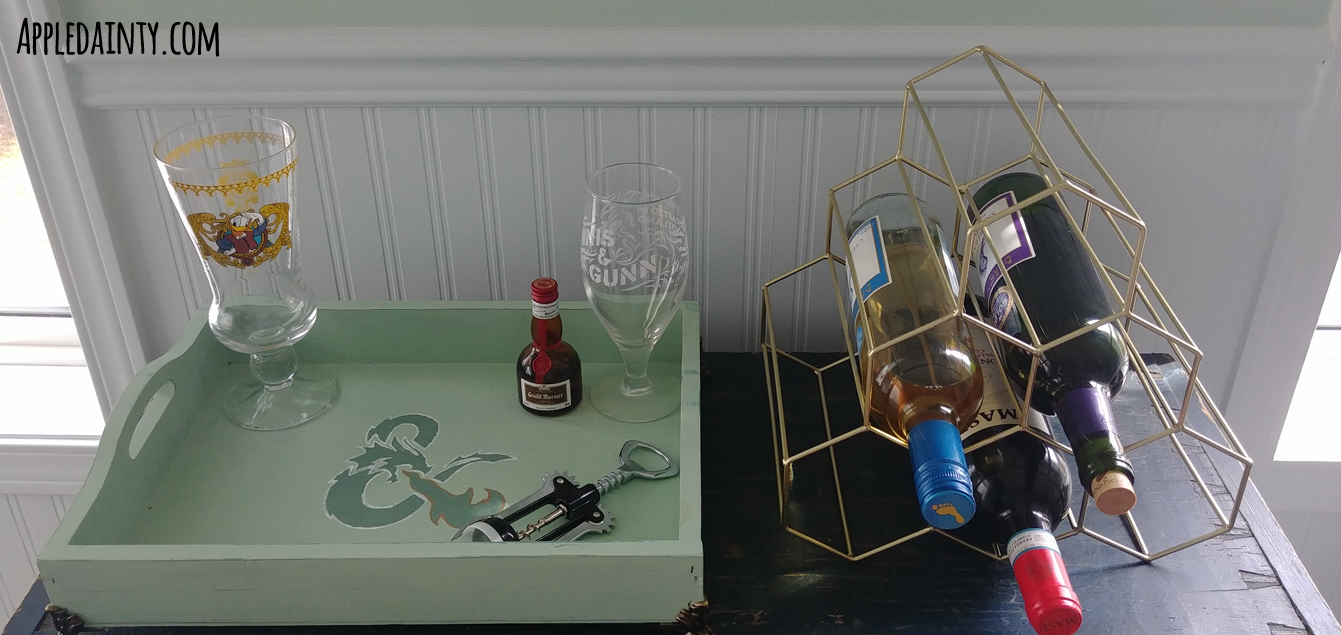 Overall, I think this decorating effort went really well. Nothing was too difficult, other than waiting more than a month for my stemware racks to arrive.
If you like what I've done here, here's a list of some of the items I used and where I got them from:
That is all I've got for today's blog post, but I've got lots of new projects in the works, so check back soon!
Anyhoo, if you like this blog and want to help support it, consider buying me a coffee. Your support is greatly appreciated, and I hope that you check back again soon for more art, crafts, and creativity!