Today's post is coming in a little later than I usually like, but better late than never, eh? This weekend I worked on a couple of new paper dolls with a gothic/sweet lolita theme.
It's been a while since I've made paper dolls, and it was a nice change from the other projects I've been picking away at lately.  For the first doll, I had started off kind of generic with my sketch, but it evolved into a more bunny-themed sweet lolita. I have a pair of T.U.K. green velvet bunny shoes, which I'm obsessed with. I added the bunny shoes to the sketch at the end, and when I got to the inking phase I realized it would be more fun and interesting if it had more bunny details.
I was debating how much of this doll to articulate, and ended up deciding not to articulate the arms – just the legs. I'm not sure if I like two articulated joints better than four; I feel like if I did it again I would articulate the arms instead of leaving them stationary.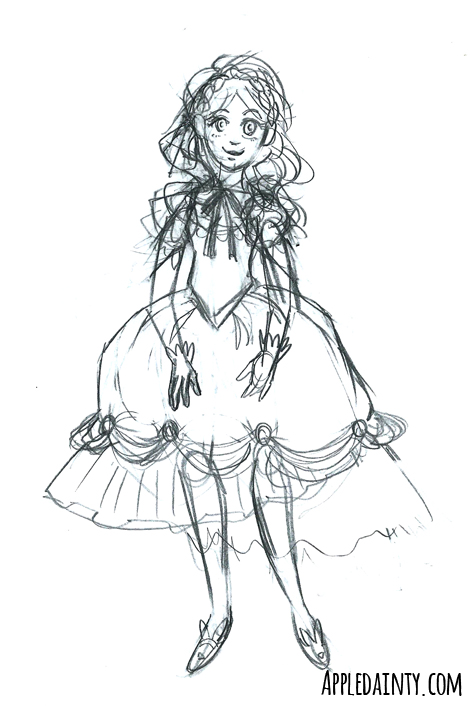 For the second doll, I wanted to bring in a little diversity. You see a lot of pale lolitas, and being tan myself I thought it would be nice to have a lolita with the same skin tone.  Also, I've been on a bit of a purple kick lately so I went with mauve-y purple colors. I gave this doll four points of articulation with star shaped mini brads – arms and legs. Although, the arms don't have a large range of movement.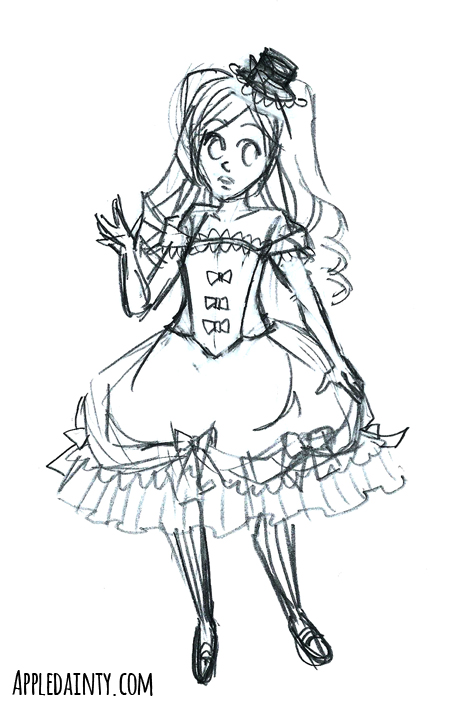 I kind of wish I had done a little more with the design on this one, I feel like the top hat is a little generic. But, in the end I feel like both dolls turned out well. It's always a good feeling when something comes out the way you had planned – or if not, that it turns out even better than you had originally intended.
Anyhoo, if you've been looking to adopt a new friend, the dolls are now available in the Shop.
I think if I ever start attending conventions regularly again I'll need to get or make myself a lolita outfit. I own a number of accessories, but haven't had a full outfit since early college.  I definitely think of myself as more of a sweet lolita than a gothic one. Or, perhaps, a pirate lolita. When we visited Japan a few years ago I picked up a fabulous pirate chest purse from second hand shop Closet Child on Takeshita Doori. Goth loli outfits tend to be pricey to buy, so I try to buy second hand first – especially for accessories, which tend to keep a little better than clothes.
When I was living in Japan I was a big fan of Putumayo – which has a bit of a punk flair – and Alice and the Pirates.  Most Japanese clothing didn't fit me, but I managed to snag a few t-shirts.
What about you? Are you a fan of Japanese street fashion?