This weekend is Otafest in Calgary, where I'll be giving a presentation on tsumami zaiku. You can find me on Sunday, in Telus 103 from 3-4 PM. I'll be talking about kanzashi, doing a demonstration, and giving away a small door prize. I hope to see you there!
But, aside from giving a presentation, we are excited for Otafest because Matt Mercer will be there!  I've been working hard on Critical Role related projects in preparation for this event, and this week I've finally wrapped up the last few pieces. This week, I'm sharing this Keyleth & the Raven portrait.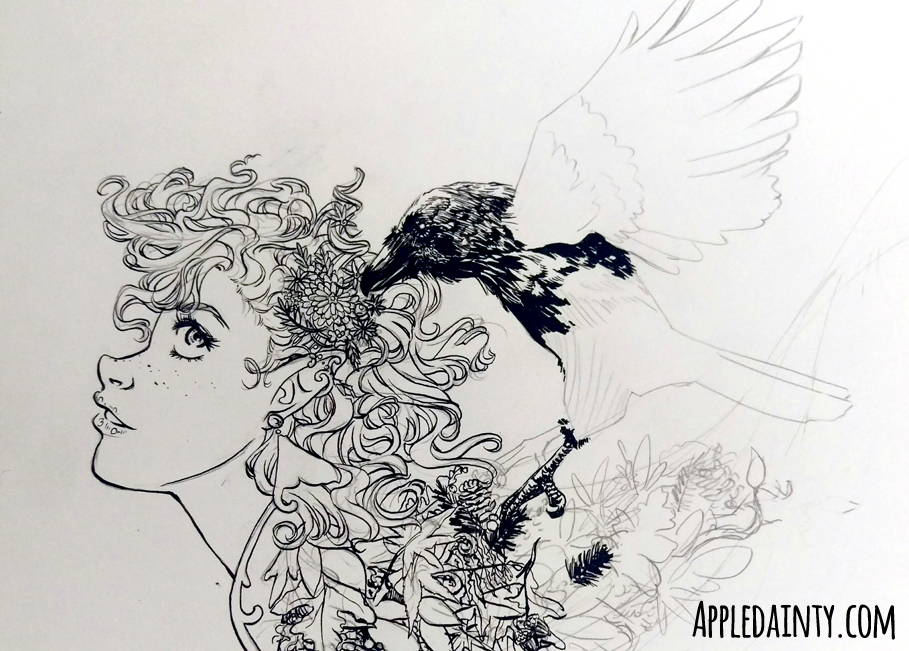 If you follow my Instagram or Twitter, you may have seen my progress posts. If not, I highly recommend giving me a follow there as I occasionally post tidbits on those accounts before putting together a full blog post here.
I'm crafting a series of relics (and reliquaries) inspired by the band of adventurers known as Vox Machina, and each reliquary set comes with a character portrait. This one has been floating in the back of my head for over a year, and it felt very good to finally get it down on paper. I pencilled and inked it over the course of three evenings, with the raven being the most difficult and time consuming part.
I've always particularly enjoyed drawing animals, and have always found ravens particularly interesting. I got to see them quite often when I was living in Japan – usually whenever I visited Meiji Jingu – and was amazed at how large they can be. They always had a very knowing look in their eye, a keen sense of intelligence.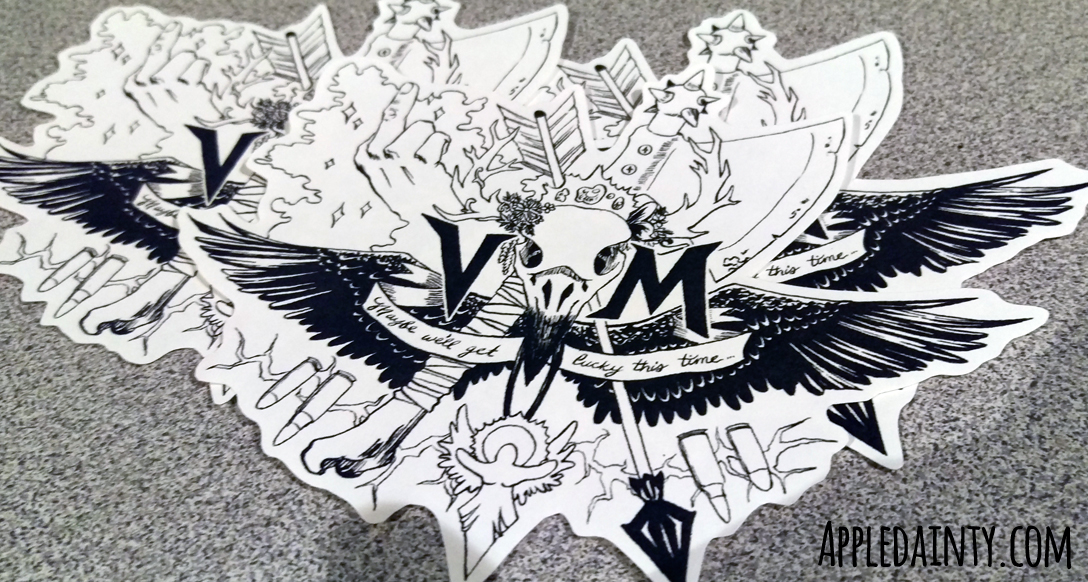 I also made my own version of a Vox Machina logo, which was supposed to go on the back of a scroll that goes with the reliquary set. It didn't quite work out for the scroll, so I printed some sticker versions instead. They're not the greatest quality, and I cut them by hand instead of using my cutting machine, but they're not too bad for a quick home-made version. Maybe I'll have some nicer ones done up at a later time.
I'm not a particularly great colorist, so I decided to concentrate on doing this Keyleth & the Raven piece in black and white. I might think about doing some colors later, but for right now I'm pretty happy with how it turned out. Maybe I'll do a zine of all the reliquary things once I've done them all.
Anyhoo, that is all I've got for this week – but next week is the big reveal of The Voice of the Tempest Reliquary!
I hope to see you in Calgary this weekend, but if not I hope you check back here on the blog for more art, crafts and cookery. Have a fantastic weekend and stay safe out there!