Last week was a bit hectic over here. I saw an announcement that Mamechiyo would be a guest at Anime North this year. She's my favorite kimono designer, so I made the snap decision to fly to Toronto for the event. I'm still waiting on confirmation for a few things, but I will definitely be there, and hopefully I'll be doing a panel and/or workshop. I've also already got a little table space in the art gallery, so there will be a small selection of kanzashi available through Gallery Momiji – and maybe a few Critical Role prints as well.
Aside from this announcement, I'm pleased to share with you some new completed pieces. They've actually been done for a while, I just haven't remembered to get photos of them. First up is a small water lily brooch; it's about 1.5 x 1.5 inches in size (not including the mizuhiki swirls).  I'm thinking about keeping this one for myself, because it's cute.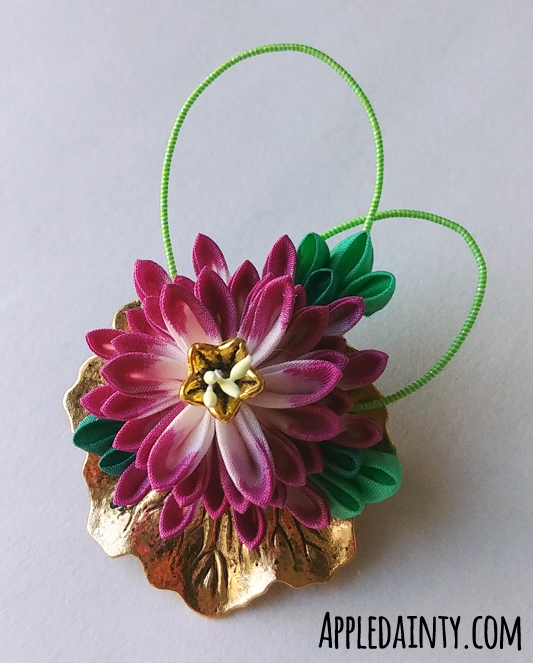 My stock was pretty exhausted after Sundog last year. I only do a small selection of barrette style kanzashi (I try to have 3-5 available), so this was one of the first things I started restocking. I tend to try and restock the lower quantity kanzashi styles first, then move on to doing batches of hair pins, clips and lapel pins.
Adding Anime North to my schedule means I'm probably going to be a little pressed for stock when Ganbatte Con comes up, as I'm squeezing it in between finishing large pieces for art exhibitions and Ganbatte Con in the summer, but hopefully I'll be done with my exhibition pieces soon and I can focus on a doing some restocking.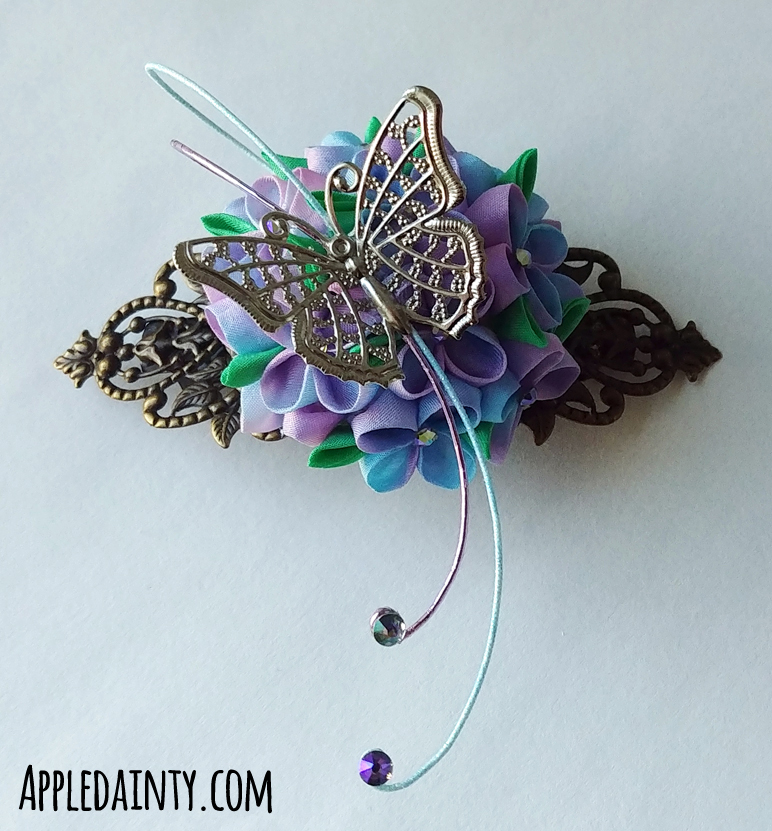 Overall, I'm really pleased with how these two clips turned out. I thought the butterfly would be my favorite, but after editing the photos this weekend I think I've come to appreciate the simplicity of the burgundy swirl a bit more.
I like the metal butterflies, but I think this one might be a bit too large for the hydrangea. It kind of drowns the hydrangea out a bit. If I were doing it again, I might select a smaller butterfly or do a small resin butterfly.
That's one of the things I like best about looking back at pieces after having a little time away from them. Now that the strong emotional attachment has gone, I can think critically about them and see where I could do better.
Not that I dislike this clip in any way; it's still a good piece of work, but I feel like you start to lose the plot when you no longer want to improve yourself or your work. I can be happy to have finished a piece and still want to move forward and make something better.
Anyway, that is all I've got for this week. If you're going to be at Anime North, feel free to let me know what kind of kanzashi you want to see and I'll try to make that happen! I'll be bringing both my own work and kanzashi that I purchased while living in Japan for the panel (assuming I get in!).
Anyhoo, that is about all I've got for this week. If you like this blog and want to help support it, consider buying me a coffee. Your support is greatly appreciated, and I hope that you check back again soon for more art, crafts, and creativity!