This weekend is the big Etsy Made in Canada Market! I'm going to be in the center aisle of the Saskatoon Farmer's Market, and if you are going to be in the area I hope to see you there. It's also going to be my last set of kanzashi for a little bit. Much as I love making kanzashi, it'll be nice to take a break and work on something else.  But, I'm really excited to share this set because it features everyone's favorite symbol of Japan – the cherry blossom!
I was ambitious with my cherry blossoms and made three cherry blossom trios and a larger cluster with hanging falls (shidare).  I have made shidare before, but this is the first time I've made long ones. They have jingly little bells on the ends, which probably gets annoying after a while, but are also kind of cute. Like wearing a wind chime. I think overall, they turned out really well, but they aren't quite perfect. I will definitely be trying them again, but maybe not for a while.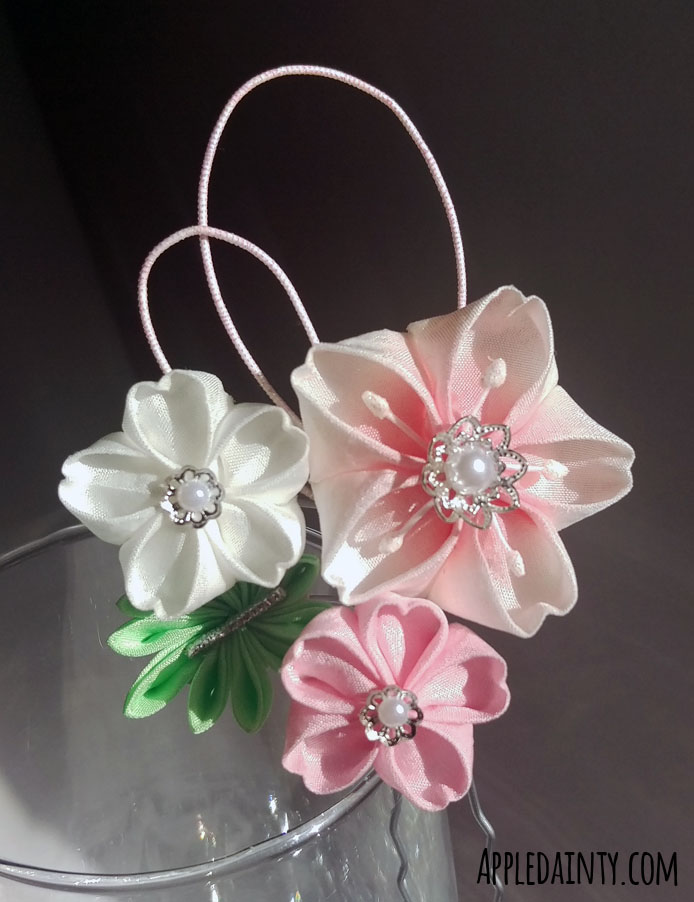 So, what kind of art can you expect from me now that I'm not gearing up for a craft market?
Quite a few varied things, actually. I have a bunch of half finished projects that kind of fell by the wayside when I was selected for the market. A few of my favorite projects include a latch hooked rug, a tulle skirt with hand embroidery and a bunch of new paper dolls. I'm also developing my first D&D character, Ellie the Barbarian, and planning on making a short introduction video.
It's been a good long time since I've worked on drawings in earnest, so I'm also excited to try and pick up where I left off on one of my comic concepts, but I don't expect to have anything I can show off in terms of comics until early next year. I want to try and go to one more craft market before Christmas, but it's going to depend on how much time I have and how much stock I have to replenish after this weekend.
Anyhoo, that's all I've got for today guys. I hope you get to come to the Etsy Made in Canada Market this weekend and check out my table as well as all the other awesome folks who are going to be there!