I think I've mentioned it before, but one of my goals for my art during quarantine has been finishing my long list of half-finished projects. For almost two years I've had some unfinished base pieces for cranes on my desk, and although I haven't finished all of them I did get one of each style done.
Japanese cranes are famous for their dance-like mating displays. I've done several flying cranes, but I've always wanted to do one in a more dance-like pose. I made base pieces for both crescent-moon like flying cranes and cranes with an uplifted dancing pose.
Japanese cranes also have lovely black feathers on parts of their wings and crane kanzashi often depict them as having dark tail feathers as well. I decided to use grey and purple to achieve the darker feathers while still giving them a bit of color variation.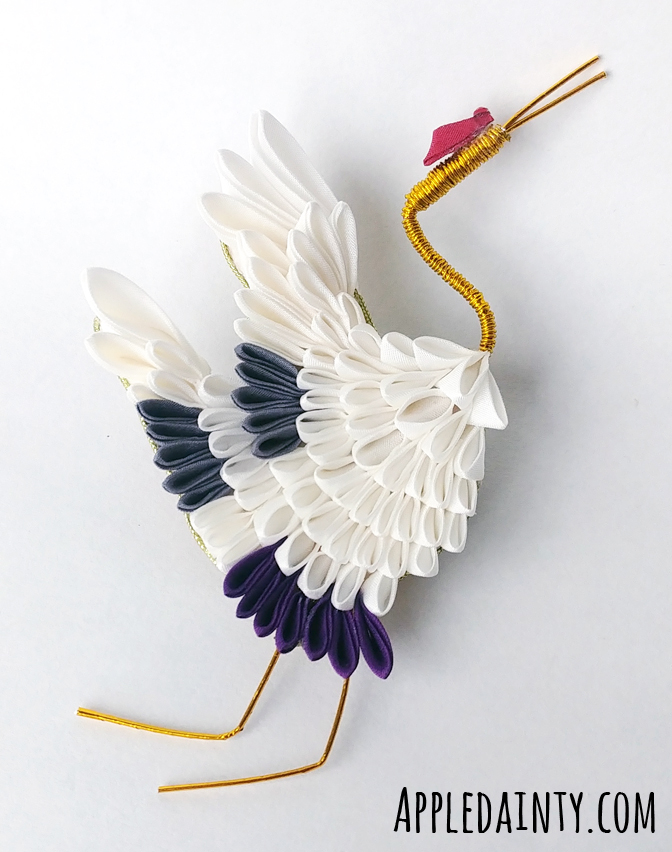 I ended up doing two different styles for the red crests on the cranes. The dancing crane has an inverted pointed petal with a small red rhinestone, while the flying crane has a regular pointed petal for his crest.
The beaks and legs are made of bright yellow gold foiled mizuhiki, or paper strings, but I wrapped the neck and head with foil wire in a similar tone to the mizuhiki.
For these pieces I was really trying to work with different sizes of petals (or in this case, feathers?). I have a tendency to use the same size petal for everything, which starts to get monotonous when you look at my portfolio of work as a whole. The bodies of the cranes are made up of smaller round petals, while the wings, tail feathers, and wing tips use pointed petals in different sizes as needed. The largest petals on the wing tips are made from 2.5 inch squares!
Both of these cranes are obidome, decorations meant to slide onto an obijime that ties around your obi when you wear kimono or yukata.
I'm really quite chuffed with how these obidome have turned out, and think they will probably be one of the first additions to my shop when it opens back up. I plan on doing a few sets of these as brooches as well, but after doing a phoenix and two cranes I think I'm going to need a little break from feathered friends.
I'm still working my way through the big wave and koi fish fascinator, but I aside from that large piece this week I am concentrating on using up the silver toned frames I've had in my stash of metal stampings for more than five years. I have three left, and I'm planning to do some dandelions and maybe a nice burgundy chrysanthemum brooch with sweet lacy details.
If that sounds interesting to you, I hope you'll join me tomorrow, on Twitch where I'll be hanging out with Hissabelle and making art! Come for the chill crafty times and drop a follow to find out when I'm live.