I have a habit of buying lots of art supplies and not using them up in a timely fashion. In an effort to try and clear out some of my older materials, I've been focusing part of my crafting time on using up all of one type of supply, a process I've dubbed supply busting. I'm proud to say that I've now used up all the silver tone frame stampings that I've had in my supply cache for more than three years! Hooray!
It's dandelion season here in Saskatchewan, and they are everywhere – doing their part to feed the bees and help sustain local agriculture.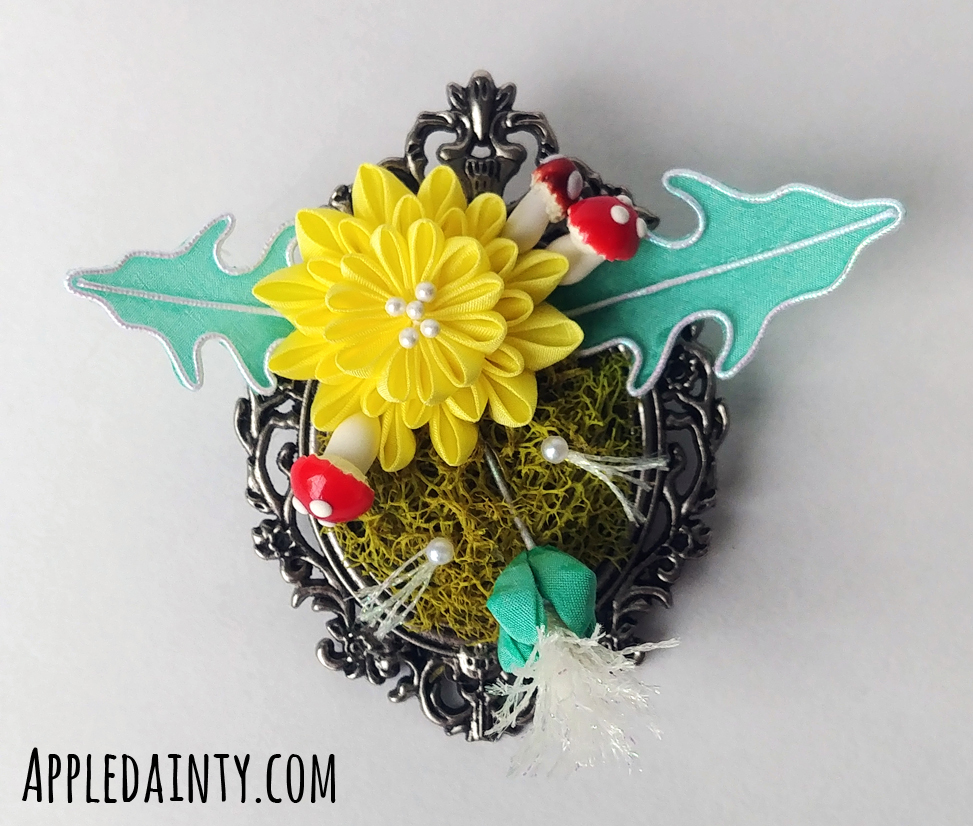 I've always loved dandelions – I'm even planning to do a strawberry and dandelion embroidery design on one of our sofa pillows – so it felt like an opportune time to work on some dandelions. They also fit, in my mind, with the themes of hope and resurgence that I've been trying to express in my work throughout this time of quarantine and, now, civil unrest.
It is a strange time to be a US expatriate. There is part of me that wants to be protesting with my friends, part of me that is thankful to be in Canada and not in close proximity to the violence – while still recognizing that Canada also has its own problems – and part of me that is afraid for the protesters because of the risk of contracting COVID-19. I think the most important thing I can say is that I am proud of everyone making their voices heard, and hope that we Americans can find a way to come together and shift the balance of power and justice in the right direction. To be clear – Black Lives Matter.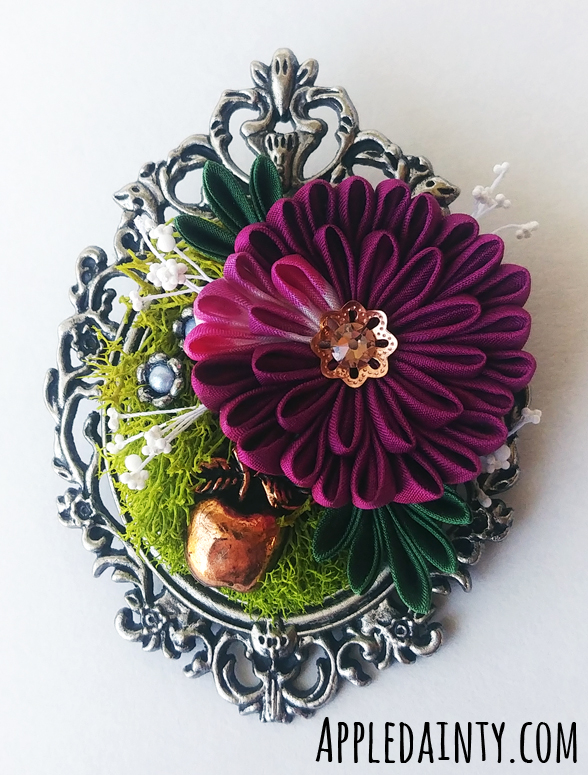 Aside from dandelions, I also crafted a burgundy chrysanthemum brooch. This is more of a fall or winter motif, but I was in the mood to work with pink and magenta – and I really love my vintage apple cabochons. I haven't had the chance to use them very often, and I've always thought I should make something for myself with them – so maybe that's something I should add to my never ending list of projects.
I've always said that for a person who spends so much time making hair accessories and brooches, I don't really spend very much time doing my hair or wearing jewelry. It's not that I dislike fashion, but I've always prized comfort above all else; I spend most of my time in pajamas or jeans.
I like to say I'm less fairy godmother and more fairy bog witch – but I've always thought that maybe if I started dressing in clothes that I really love that I'd make more of an effort.
Probably not, because wearing makeup, doing hair and wearing non-elastic pants sounds like work to me, but maybe I can make small steps – like wearing matching pajamas or something.
In all reality, I think instead of trying to change my personal style I'm more interested in developing the Apple Dainty east-meets-west brand aesthetic. I'd like to do a look book/art book for all my cool accessories with accompanying illustrations and write ups, and maybe dabble a bit in couture fashion pieces or home goods as well.
This week I'll be working on a piece of tsumami-ga koi art, and a watercolor hydrangea hairclip. We had some internet difficulties last week, but I'll be starting up my stream again tomorrow – so if that sounds interesting to you, I hope you'll join me tomorrow, on Twitch where I'll be hanging out with Hissabelle and making art! Come for the chill crafty times and drop a follow to find out when I'm live.