Last year was a pretty solid year for me in terms of kanzashi making. These iris kanzashi are 'new to you,' in that I crafted them last year, but am only now getting around to posting about them here on the blog.
I hope you still enjoy them despite my lateness. These irises were my first foray into the May kanzashi. A lot of irises kanzashi that I'd seen examples of were either pastel shades or deep purple, and although I generally favor deep jewel tones I thought it might be good to push myself a bit and do pastels. Two-tone petals always require a bit of extra work, since I dye the petals one at a time, but I feel like the effect achieved is worth it.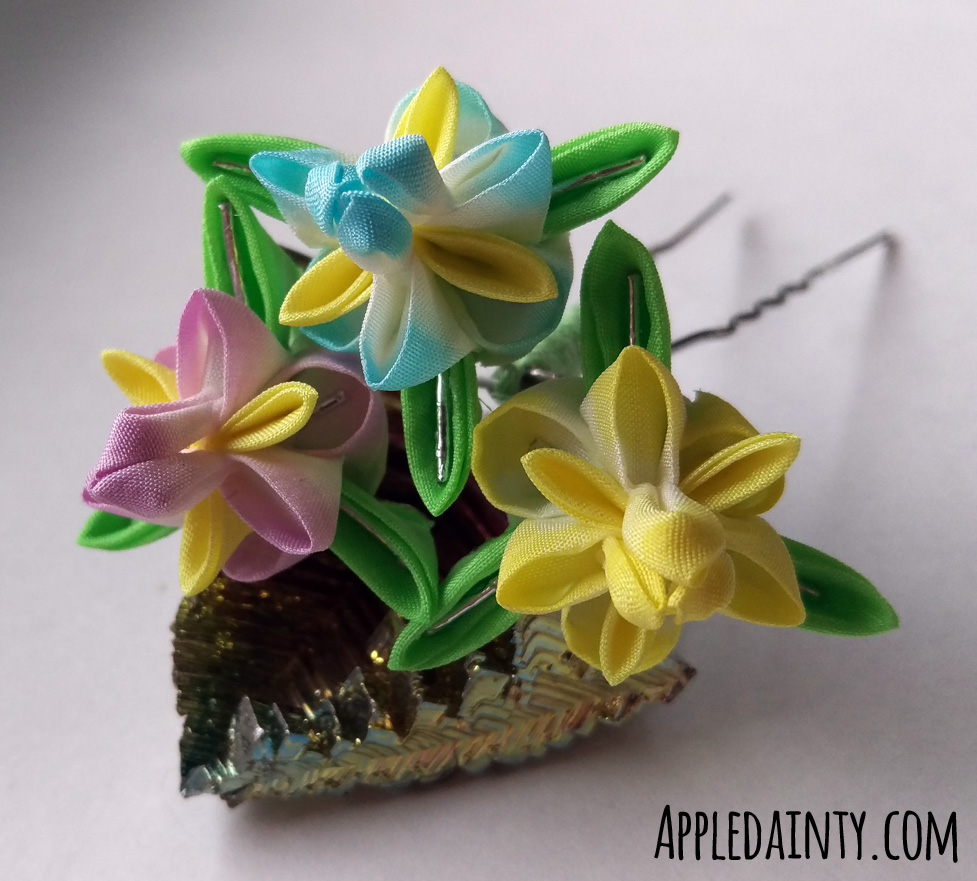 These irises are complex, requiring several three different folds – your standard round and pointed, plus an inverted pointed petal for the three standing petals in the middle.  Because they are constructed in layers, they have a certain dimensional quality that other types of kanzashi just don't have.  The first time my husband saw them, he told me they were his new favorites because of how different they were.
I'm working my way through replenishing stock in preparation for this year's conventions, and I just finished up new sets of iris hairpin duos.  I've only got a few more sets of hairpin duos to go, and I'll have them all done – but of course, I'll still have to make hair clips, medium hairpins, and so forth.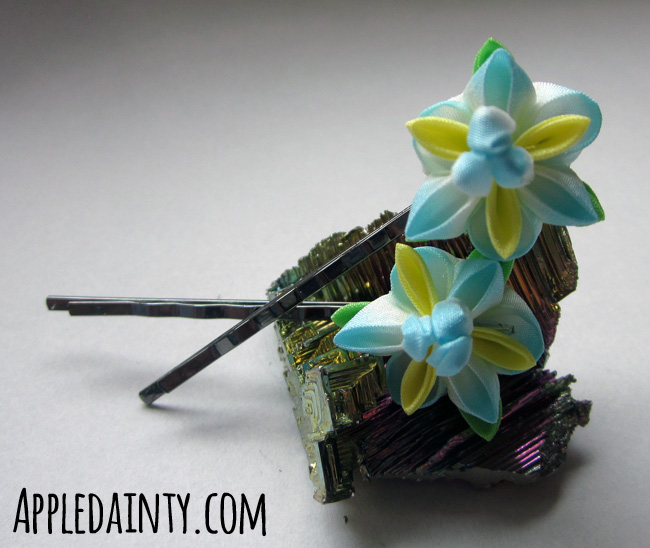 Meanwhile, my husband and I are also in the process of buying our first place. We're super excited, but also very stressed – which has dampened my productivity a bit. I'm just hoping everything continues to go smoothly from here on out and that I'll be able to concentrate on my work once things have settled down a bit.
I think what I'm looking forward to most is having some dedicated studio space, and more organized storage for my plethora of art materials – plus the chance to put my personal touch on a living space. I have all kinds of plans for customizing furniture and decor, but I should probably clear off more of my current project list before I attempt anything new.
Anyhoo, that is all that I have for this week's blog post. I've got some exciting new projects coming up over the next few weeks, so I hope you check back in next week for more art, crafts or cookery!