The COVID-19 pandemic has disrupted all of our lives in countless ways. For some of my clients, that has meant cancelling or pushing back their wedding plans. My client Kati reached out to me recently because she had to push back her wedding ceremony. She commissioned a piece for her ceremony previously, and wanted to request a new piece for her event this summer so that her original kanzashi set can stay unique to her big day.
I was more than happy to work with her again and after a few eMails she asked if I could create a purple version of the spider lily and wisteria piece that I made for my friend Virginia. I always feel a little hesitant to recreate a design, even one of my own – as I want each bride to have her own unique piece. In the end I felt like the shift in color was enough to make it feel different, and the matching single pins in this set aren't similar at all the ones I made for Virginia.
The blue-purple color shifting pigment I used on these spider lilies kind of makes me think of the chameleon paint I sometimes see on cars, haha.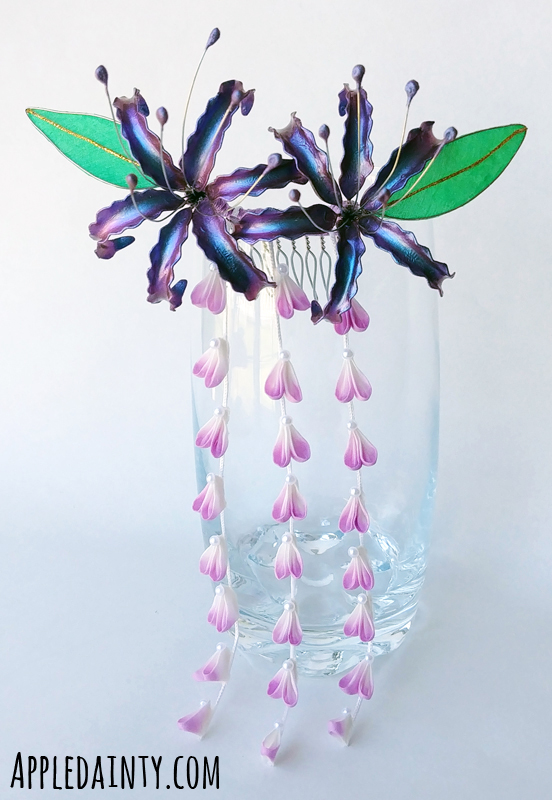 I am fairly pleased with how this set turned out. Because I created a similar piece recently, I felt like it was easier to work my way through this one. I was nervous about getting strong layers of coloration with the blue-purple pigment, since I'd never used this kind of pigment before, but it went on just as easily as the pigments I've used before.
Some of the petals have a bit of crinkling that I wish was a bit smoother, but just part of the way the dip resin works, especially for smaller pieces that have lots of scalloped bits.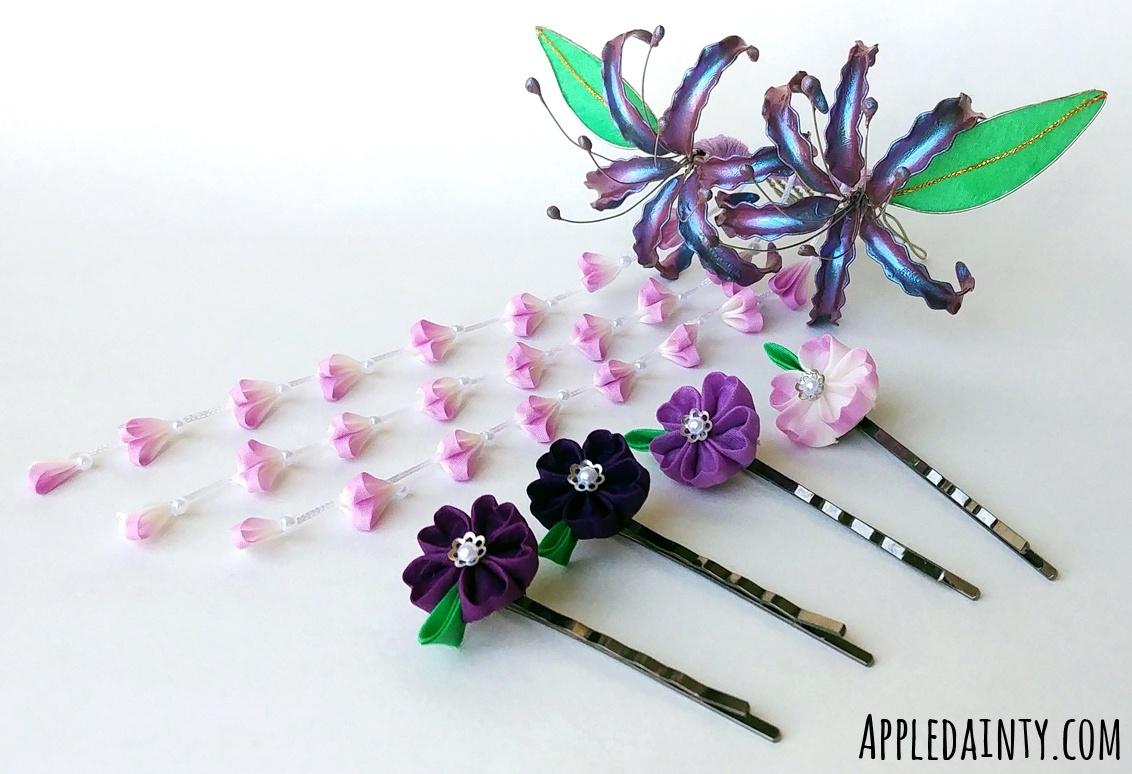 I dyed a lot of purples last year, and actually had to dye another light purple to complete this set. Just when I thought I was finally moving away from purple, it finds away to bring me on back! I normally do my flowers in their natural colors, but it is kind of fun to craft purple cherry blossoms instead of white or pink ones.
That said, the last week and a half on my stream has been more of an exploration of modern and traditional techniques with a focus on yellows and oranges. I've been crafting a fascinator featuring a resin and holographic film wave with an orange and white tsumami craft koi fish. I wrapped up the koi today, and plan on adding some flowers to the piece and finishing it up in the next few days.
If that sounds interesting to you, I hope you'll join me tomorrow, on Twitch where I'll be hanging out with Hissabelle and making art! Come for the chill crafty times and drop a follow to find out when I'm live.