When I was a child, my parents used to take us to the Byodo-In Temple in the Valley of the Temples, Hawaii. This temple is a replica of a Japanese temple built over a thousand years ago in Uji, Kyoto. We would spend time looking at the peacocks and feeding the humongous koi that live in the reflection pond surrounding the temple. We left Hawaii when I was seven, but my memories of the temple were so fond that it became my favourite place to go when we're visiting the islands and I always make the time to stop by the temple and feed the fish and the birds. Last time we were there I got to show my Mom how to get the birds to perch on her finger, like a princess. It was a magical moment in a magical place.
This tiara is my ode to fond memories of the water, water lilies, and koi . I've never made a koi before; I started one last year but got discouraged part way through and never finished the piece. This time I felt like I was ready, and even though I encountered a few difficulties, in the end it all came together as planned.
The wave is a combination of iridescent organza for the foam, holographic film and resin for the blue parts of the wave. I embedded some bubbles into the resin, lots of flat backed faux pearls on the lower section of the wave, and added aqua and pink a/b flash rhinestones to the organza foam for a bit of sparkle. I actually had to take the organza out three times because it kept getting damaged. I know now that I should wait until I'm done with resin work before adding organza, haha.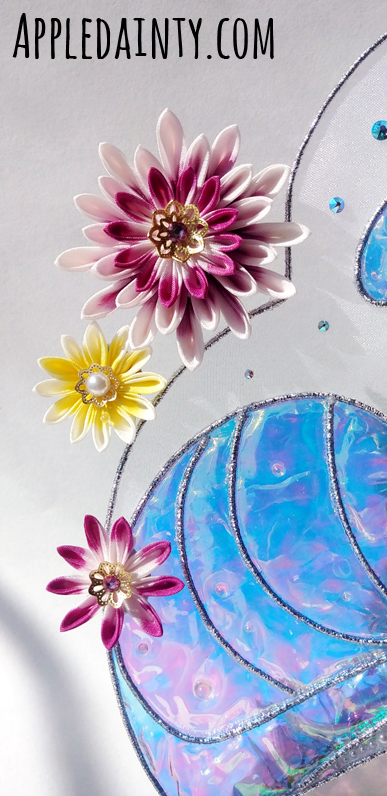 I also wanted this project to be another step forward in shifting the focus of my artistic practice from traditional methods and motifs to an exploration of combining eastern and western methods, motifs, and influences. In creating the shape of this tiara, I was referencing eastern European tiaras – Russian kokoshniks, specifically. Kokoshniks come in many shapes and are often adorned with beadwork and metallic thread embroidery. I formed the shape of the wave from silver glitter wire and included a section of pearls as a reference to these elements.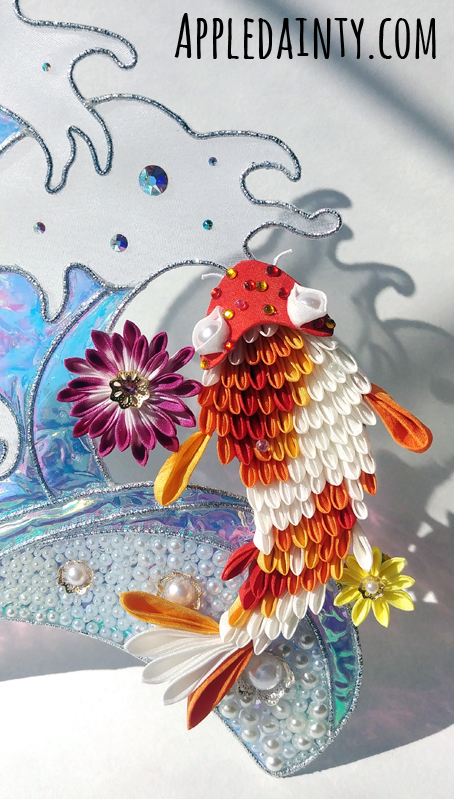 It's not quite as big as I'd originally intended; I wanted it to wrap a bit more around the sides of the head. But, as I was forming the wire for the wave I became concerned that if it wrapped too far to the sides it wouldn't be able to fit a large noggin. UV resin dries hard wouldn't be able to flex to fit different sized heads like the cloth that's normally used to make the base of kokoshniks. I was also concerned that if it was too large it wouldn't fit well on the comb I planned to mount it to.
I really enjoyed putting together all the flowers, but especially enjoyed working on the fish. I dyed two different orange dye lots for the koi. The face I feel especially fond of. I wasn't sure about the red and yellow rhinestones at first, but I do feel like they successfully read as sparkling scales. The eyes are not how I'd originally planned to do them, but I think they are my favorite part of the fish. I was thinking I would wrap the petal around the pearl to make the eye, but this way is better.
I do think I could improve how the tail was done. I was thinking that next time I do a fish I would vary the petal sizes to create a fuller tail, maybe give the tail pieces more of a curve.
At the end of the day I'm so proud of how this tiara turned out. The stained glass effect of the resin wave is something I want to explore further, and I've already picked up some new supplies to continue down that line – just waiting for them to come in the mail. I'm really looking forward to making more projects on this scale, or maybe even larger – and am especially interested in doing my own version of a Ukrainian vinok, or floral wreath headdress.
This week I'm working on a new commission for a koi and water lily tsumami-ga art piece, a bunny of the moon hair pin, and the last of my framed mossy brooches. If that sounds interesting to you, I hope you'll join me tomorrow, on Twitch where I'll be hanging out with Hissabelle and making art! Come for the chill crafty times and drop a follow to find out when I'm live.