Like a lot of my flowers, I've had this one sitting in a storage bin for more than a year. This was actually going to be the centerpiece of my DIY bridal bouquet. I ended up going with live flowers, but wasn't quite sure what to do with all the flowers I had made. After using some on boxes and turning a few more into hair pins, this is one of the last remaining flowers!
Large single chrysanthemum hair forks like this one are traditionally worn during the month of October.  My Mom is a big fan of fall colors, and her birthday is in October, so if and when I make another one of these, I think I'll go for a two toned yellow and orange one in honor of her.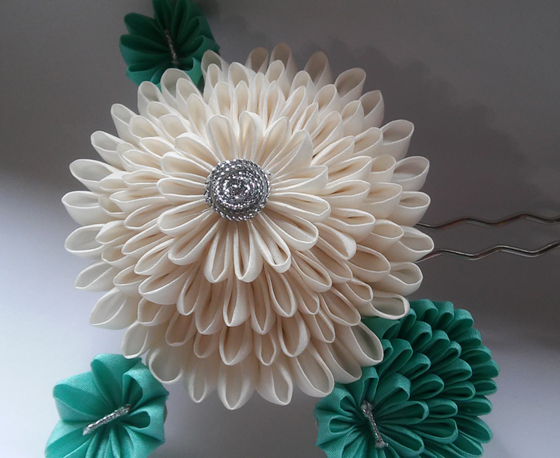 The center piece and the foliage for this hair fork are all new. The glitterwire/mizuhiki (Japanese paper cords) centerpieces are kind of a new thing for me. I have always been partial to bead cap with rhinestone or pearl center pieces, but I've been trying to push myself to try new styles.
If you like this chrysanthemum hair fork, it's now available in The Shop.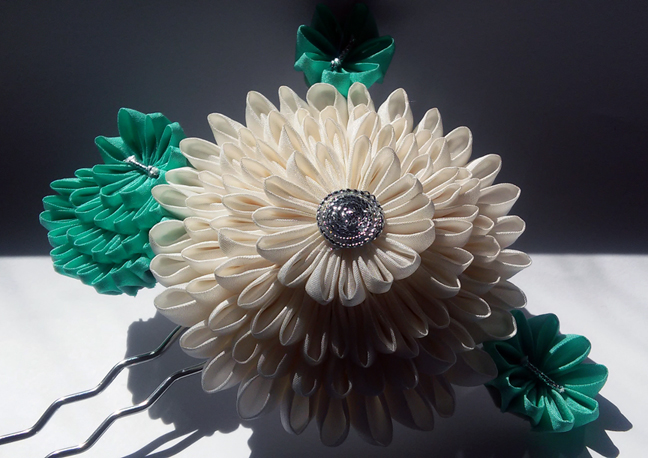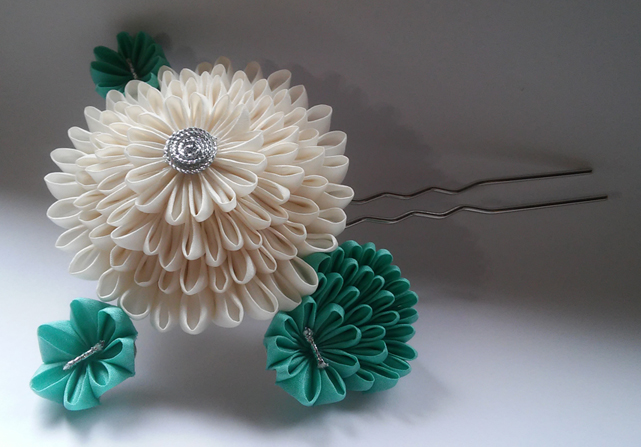 I dyed some new greens, yellows and pinks a few weeks ago, and will probably be dyeing some new colors – blues, purples and two-toned versions of each – this weekend. There is something so satisfying about dyeing your own fabric.  Even when you think you know what colors you're mixing together, and you have an idea of what you'll get, the end results are always just a little surprising.
What colors would you like to see more of?