I've spent a lot my time over the last couple years making kanzashi. For friends, family, for my Etsy shop and to sell at craft shows and conventions. I designed a set of kanzashi to reflect my personal aesthetic, but that it turned out I didn't really enjoy wearing.  I needed something that I could wear for our photoshoot last October, and that's when it occurred to me that I should do a headband.
Headbands have always been my favorite hair accessory. I used to wear them all the time; so often that some of my headbands started falling apart. My most favorite one was a blue, hard plastic, wide headband which I had to stop wearing because the paint started bubbling and peeling up, but I couldn't bring myself to throw it out.
That hesitance ended up working out in the end. After digging the old girl out of its hiding place, I started by lightly sanding down the rough paint. I repainted it with a chalk finish eucalyptus colored paint that I used on a previous project. Even though I knew the paint would end up being covered in kanzashi, I thought it would be a nicer color to have peeking through than the mottled and crumbling navy blue color that the headband had originally been.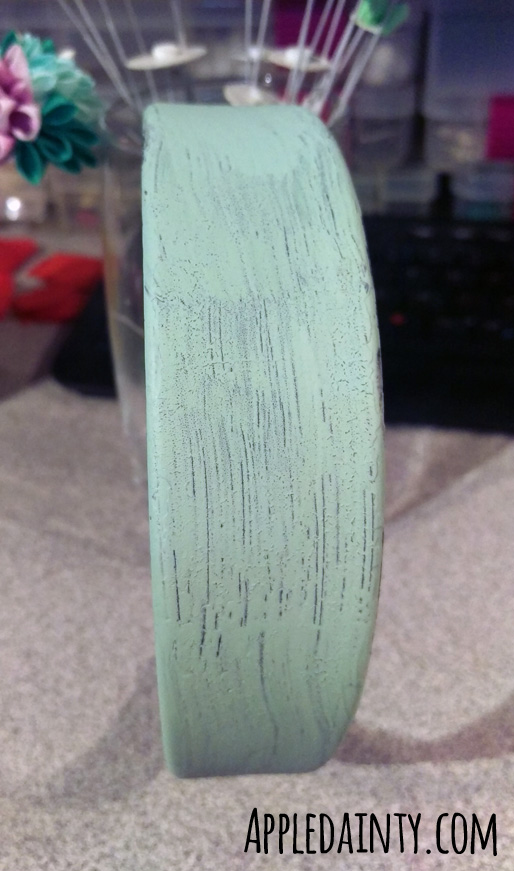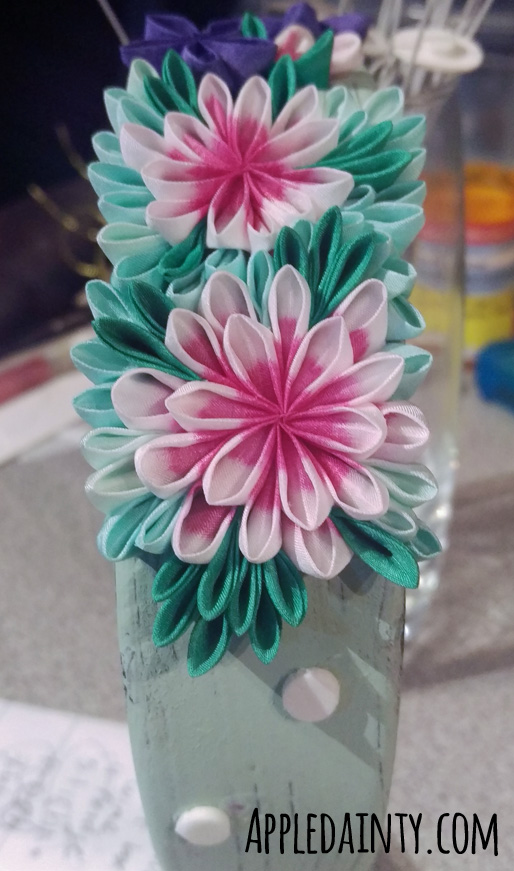 After giving the headband a quick coat of paint, I started adding petals. I started out by doing the central flowers – two tone magenta and white peonies. Since my birthday is in February, I wanted to do a February flower. I also added some purple bellflowers to reflect the February birthstone – amethyst – which is purple. I was going to add some smaller yellow flowers, but after adding one I thought it clashed too much with the other colors and removed it.
I still had lots of pale aqua colored petals in varying shades that I made when I thought I was going to do my own wedding bouquet, so I decided to use that as my 'filler' color between the flowers. I've still got some of the aqua petal squares left, but I finally used up the bulk of them. It only took four years! Ugh.
If you stopped by my table at SaskExpo last September you probably saw me working on this headband. It took roughly 30 hours to complete over the span of a couple weeks. I could finish so many smaller pieces in that amount of time, but the results were totally worth it.
In the end I am really proud of how this headband turned out. I took something old and, instead of throwing it away, I made it better than new – and I finally made a kanzashi piece that I wanted to wear myself. After hunting for the perfect dress to match my headband, I wore it for our anniversary photos in Hawaii last October.
Maybe I'll share a few photos from the shoot in my Valentine's blog post next week!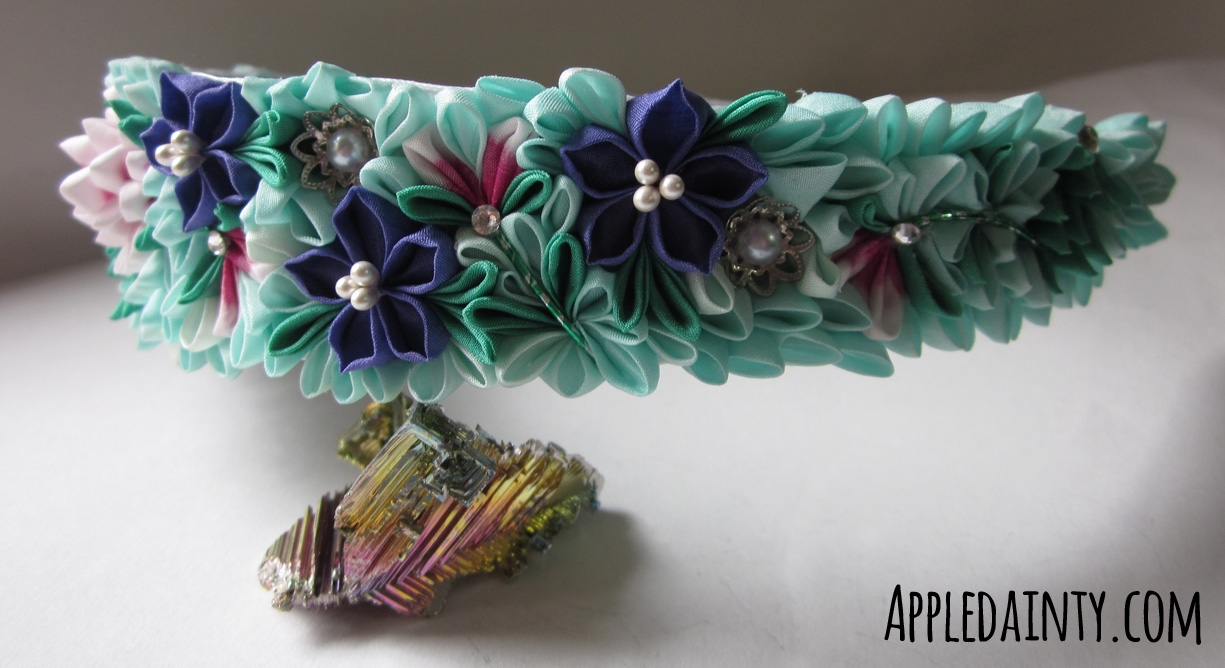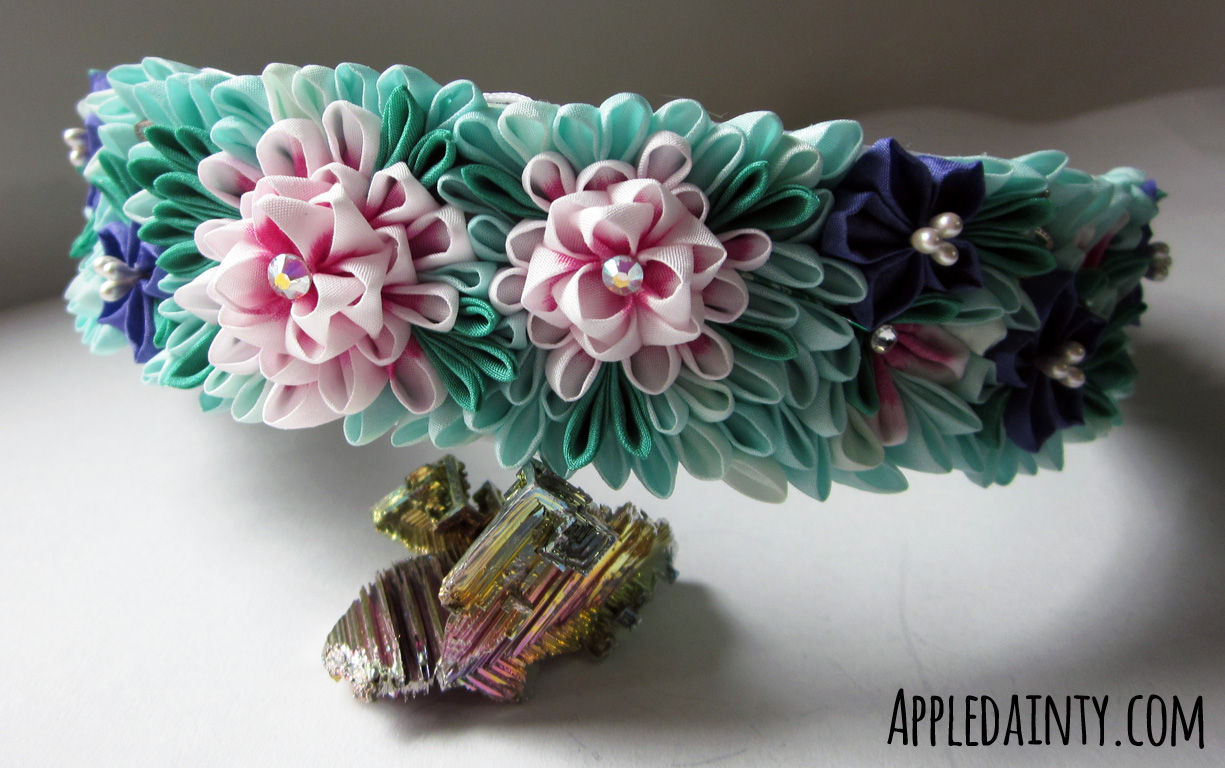 Anyhoo, that is all I have for this week folks! Thank you so much for reading my blog, and I hope you check back next week for more for the freshest art, crafts and cookery!