Over the last couple weeks I made several dragon holographic film and resin dragon flies. I had originally intended to create brooches and obidome with them – and I did craft two brooches, like the one pictured to the right. But, when I got to the last dragonfly I thought it might be more fun to do something a little different. I'd been planning to do a pampas grass piece for a while, and pampas grass is often paired with dragonflies. It seemed like a prime opportunity to do my own riff on a traditional August motif.
I've made a lot of different kanzashi, but pampas grass is new to me.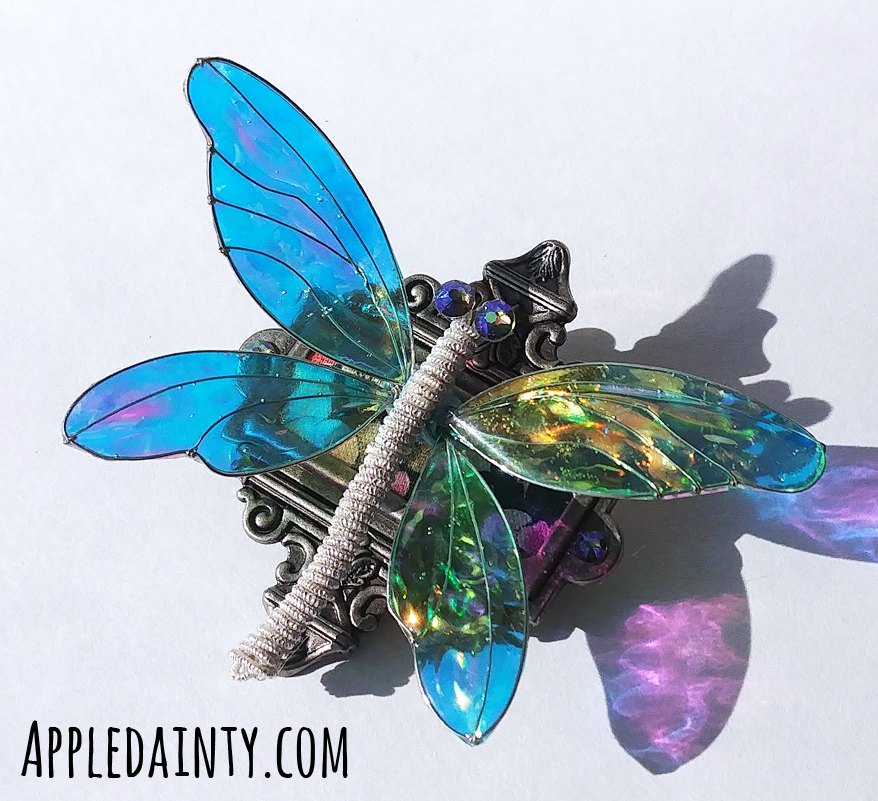 Pampas grass kanzashi are often made from silver paper backed with pink so that the lower silver layers of petals reflect back some of the pink. This is meant to evoke the almost iridescent quality that fluffy pampas grass has. I've also seen them made with organza, and since I've been working on my fabric backed wirework, and I still have quite a bit of this shimmering purple/pink/green/yellow organza, I thought I would go down that track.
My original design was going to be one very large pampas grass with a smaller dragonfly. But, the dragonflies I made were somewhat large and a little heavy, and I thought it would look better om a comb – so that's what I ended up going with. I think it was a good choice. I do wish I had made the pampas grass a little bit bigger, but I'm still pretty happy that the dragonfly gets to be the star – and I can always make a new pampas grass later that looks more like my original design.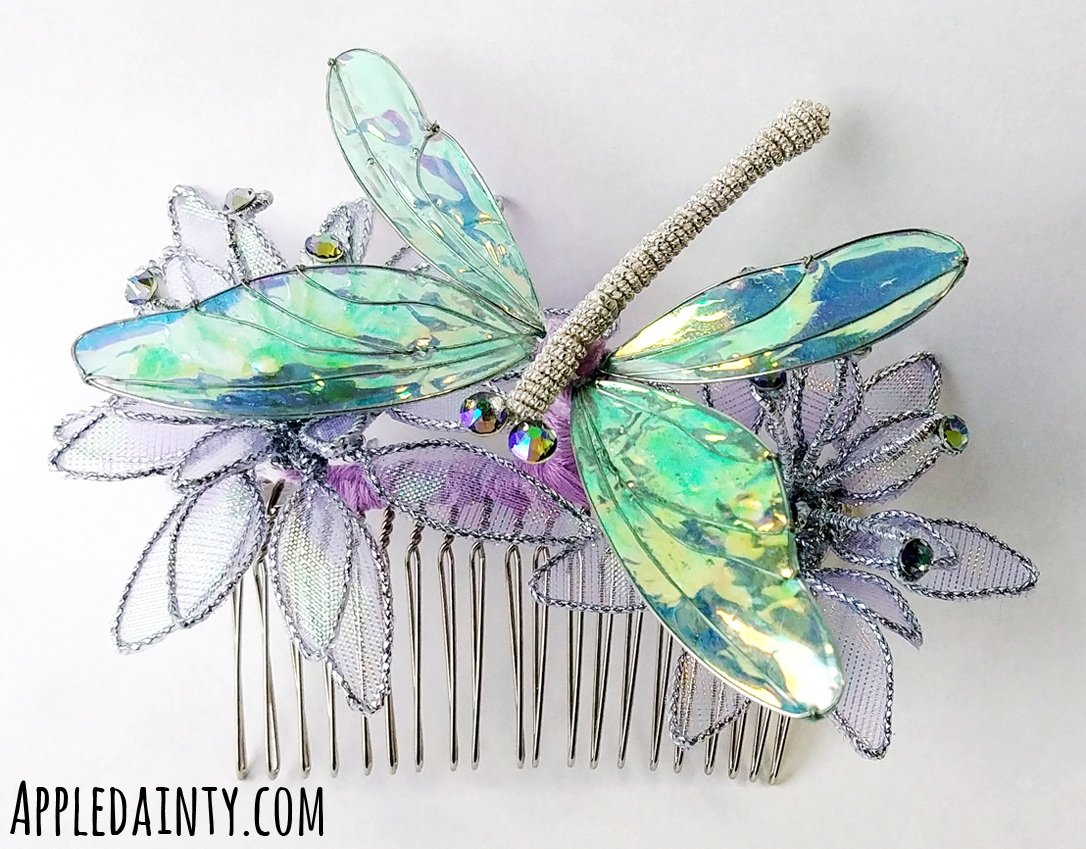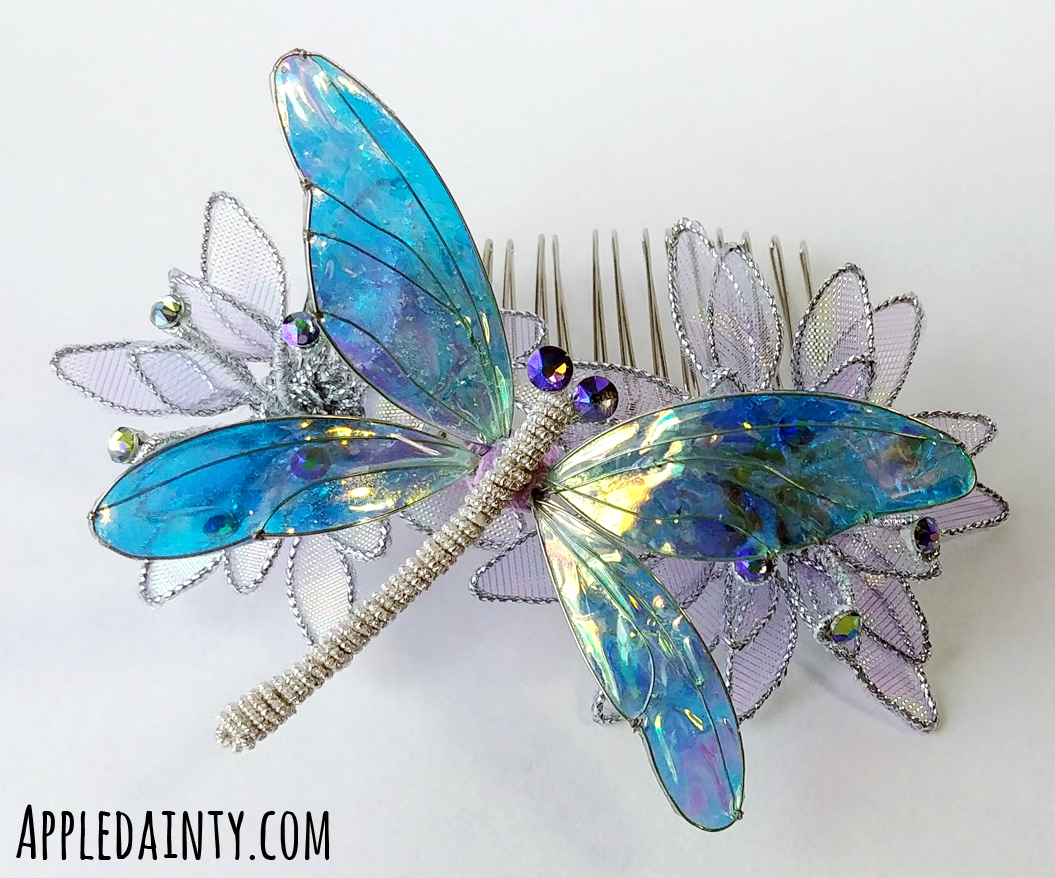 I'm pretty pleased with how this piece turned out, and in general with the number of projects I've been able to work on since I started streaming. Even though quarantine has been hard, it's really given me the time to create some dream projects that I don't think I would have gotten to this year otherwise.
I've got an interview for a new job today and I need to work on some off-stream prep work – dyeing some new shades of orange for this week's major project. I won't be streaming today but I'll be back on Friday. I started on the big wave & koi fascinator on Monday and I'm excited to see how it progresses.
If that sounds interesting to you, I hope you'll join me tomorrow, on Twitch where I'll be hanging out with Hissabelle and making art! Come for the chill crafty times and drop a follow to find out when I'm live.