When I was planning my wedding way back in 2014, I was very disappointed to find out that peonies were not really available in the fall. But, even though I didn't get to have peonies for my wedding, I take distinct joy in crafting peony kanzashi now. They are a traditional motif in the month of March, and one of my favorite flowers.
When I started brainstorming ideas for a large peony hairpin, I wanted to do something a little different. I decided to try and achieve the crinkled appearance of peony petals by crafting petals of different lengths and making a base in a petal-like shape rather than plain round shape. I like how it turned out, but I think I might try it again with additional layers of petals as well, or by shaping the petals in different ways.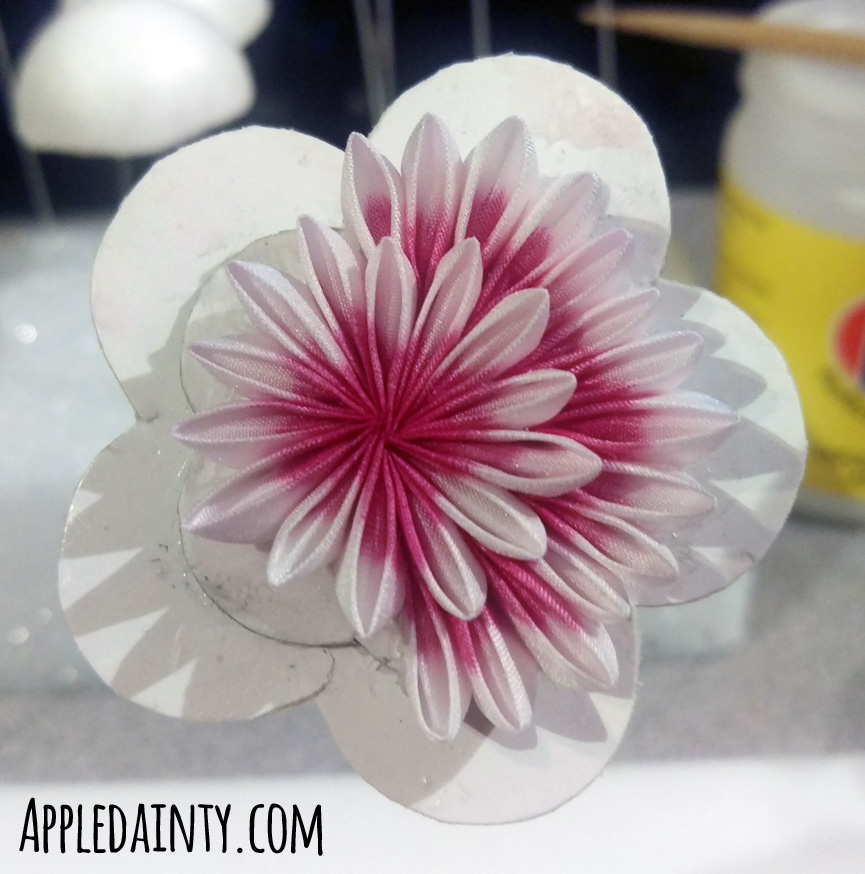 That's one of things I love best about working on kanzashi. Although kanzashi often follow traditional seasonal motifs and use ancient crafting techniques, there are endless ways to express those motifs. No two kanzashi are exactly alike.
This piece also marks the first time I tried making a branch piece. I crafted the branch by bending a few pieces of wire, taping some pips to them, then carefully wrapping the wires with embroidery floss. I was debating using brown or green embroidery floss, but decided on green in the end as peonies don't really grow on trees more than bushes. I'm excited to use branches on future projects – maybe some branching cherry blossoms?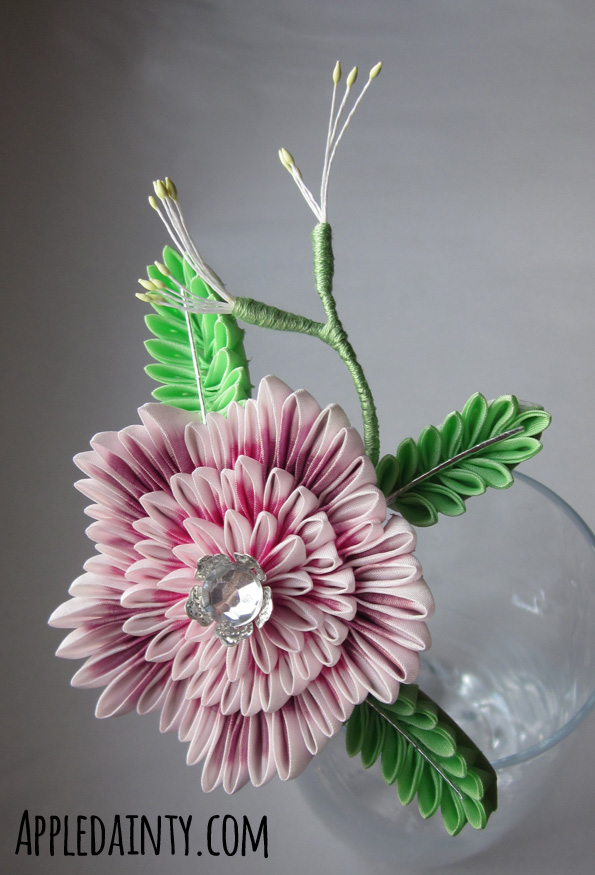 I've been wanting to do a large cherry blossom piece with lanterns, and even bought a miniature lantern that lights up. The battery pack for the lantern is a bit large, so I'm not sure how I'm going to incorporate it into a wearable piece. Maybe I'll try a piece of wall art instead and combine two things I've been planning on doing but haven't gotten to yet.
Sometimes I feel overwhelmed because of my never ending list of projects. New ones appear so much faster than older ones get completed. I've had some projects on my list for more than three years, some sitting in the back of my mind – not even making it to a list – even longer than that. But, I try to tell myself that's a good thing.
On days when I don't feel especially motivated or like I don't have any good ideas, I look at my list. I have had some dark days, months, even years where nothing was easy and I could barely touch a pencil without feeling ill. It might be a stereotype that artists often struggle with depression, but it's also true – or at least it is for me.
But now I work on art every day – even if it's just a tiny bit, even if I'm tired or in a bad mood – and more often than not it makes me feel good. I still have times when I feel like nothing I do is good enough, but those times come far less often now, and my list and this blog are a reminder of how far I've come and how much I've accomplished.
Anyhoo, that is all I've got for this week. Thank you for reading and I hope that you check back again next week for more art, crafts, and cookery!