Spring has finally sprung here in Saskatchewan, and I have been hard at work in the studio working on lots of new projects. Streaming every day on Twitch has really helped me get a handle on my schedule. Even though it's just a few hours a day, I've been far more centered and productive since I started. In this first week, I finished a number of new pieces – including this wedding set for my friend Virginia's Japanese garden themed wedding.
Virginia requested white spider lilies with trailing wisteria. She originally wanted all white, but I did a version with two toned purple and white wisteria first and she ended up liking it better – so we went with the pop of color. The additional hairpins and lapel pins were my gift to her, and I created fall themed pieces, since her wedding has a fall motif.
As usual, I found the shidare (petal falls) challenging, but I'm pleased with how they turned out at the end. This is also bound to a large clip, instead of a comb or prong pin, which is what I usually attach my larger pieces to.
I was really glad to work on these pieces, because they had a nice mix of my newer techniques – like resin and stamen making – and tried and true tsumami craft.
The lilies are dip resin coated with several layers of silver-white powder, then sealed with a thin coat of UV resin on top. The leaves are wire frames with silk, and the single hairpins and lapel pin are all Japanese silk with bead cap and rhinestone detailing, or in the case of the maple leaf – mizuhiki (paper string) and rhinestone detailing.
Virginia is happy with the look of her set and I'll be sending it her way soon – as soon as we can get out to the post office.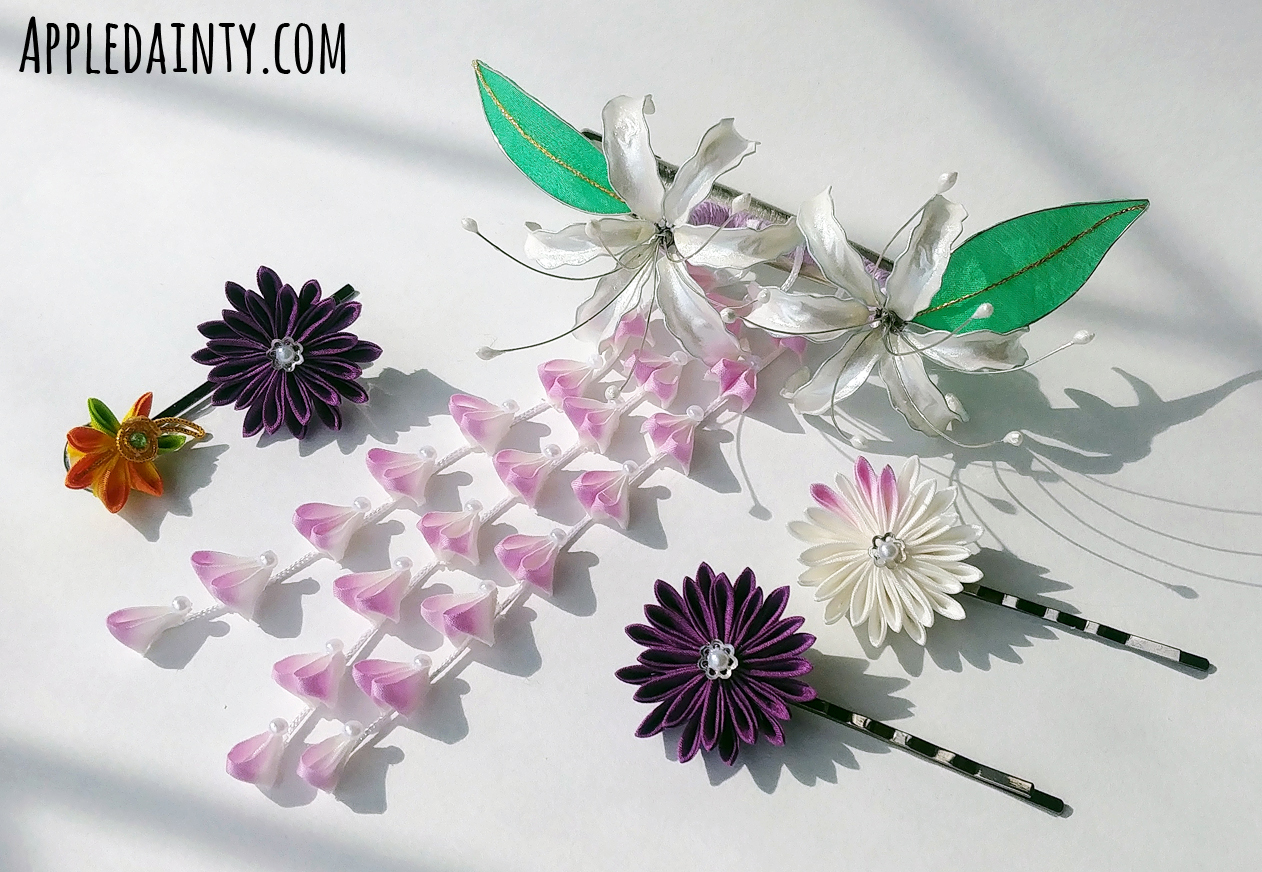 I'm also pretty pleased with how this set turned out, and I'm looking forward to working on more tsumami craft and resin projects in the coming weeks. I always have lots planned, but right now I'm working on a ho-ou, or many tailed phoenix, narcissus lapel pins, and a group of dragonflies.
If that sounds interesting to you, I hope you'll join me later today, and most days from here out, on Twitch where I'll be hanging out with Hissabelle and making art! Come for the chill crafty times and drop a follow to find out when I'm live.