In celebration of this year being the Year of the Monkey one of Spoonflower's weekly contests is to design something monkey themed.  I've always thought monkeys were really interesting animals, especially capuchin monkeys like Ampersand from Y the Last Man. They can be cute, but are also mischievous and very intelligent.
I'd seen a few dolls and so forth offered through Spoonflower, and with all my friends having babies or getting ready to have babies I thought it would be fun to design a plushie.  I wanted something that would be easy to make, and not require a lot of pieces, so I landed on a cut and sew style.
The first thing I designed was the monkey. Here's my original sketch.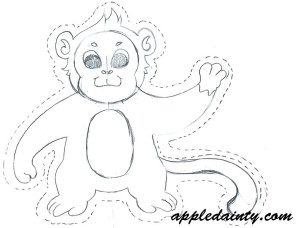 I thought it was kind of boring as just a monkey, so I made a banana to go with it. Then, I thought it would be really funny if the monkey had a piece of poo too.  Monkeys are naughty and mischievous and throw poo! I messaged my husband to get his feedback and he said to me, "If you made an otter plushie you wouldn't give him a seal companion to rape cause that's gross. Poo is gross too. No poo."
Ah, my love. How quickly your mind goes to the dark side of wildlife and how creepy otters can be.  Teaching kids that it's fun to throw poo is probably a bad idea, but kids can be pretty gross anyways, right? Hah.  I'll  leave this one up to the parents. What do you guys think?
In any case, here's what my final design looks like with a little background, some color and instructions thrown in for good measure.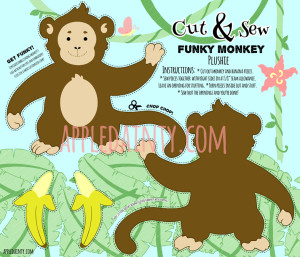 If you like the Funky Monkey design please vote for it!  You're the real MVP. 🙂
Here's a photo of my very own finished Funky Monkey and Banana.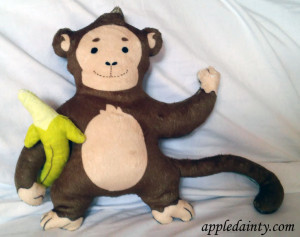 If you'd like a funky monkey of your own you can get it from my Spoonflower Shop. It's super easy to make; cut it out, sew together, stuff it and add a few buttons and stitches for it's mouth and voila – all done!  It's a great first time sewing project for kids too. 🙂