Earlier this month all my things finally arrived from my home town. Aside from being excited about finally having a decent amount of clothes (and an indecent number of shoes, haha) I have also been excited to finally have all my housewares.  We are planning to move into our own place this year, so while I can't use all my housewares yet, it gives me the chance to refinish and customize some of them while we have access to additional space and my father-in-law's tools.
I wanted to start small and see how much I actually liked refinishing before moving on to large projects. So, my first project became refinishing the chest that holds my Grandma Sarah's silver.
The box itself was a little beat up – but in pretty good condition when you consider that it's from the 1930s.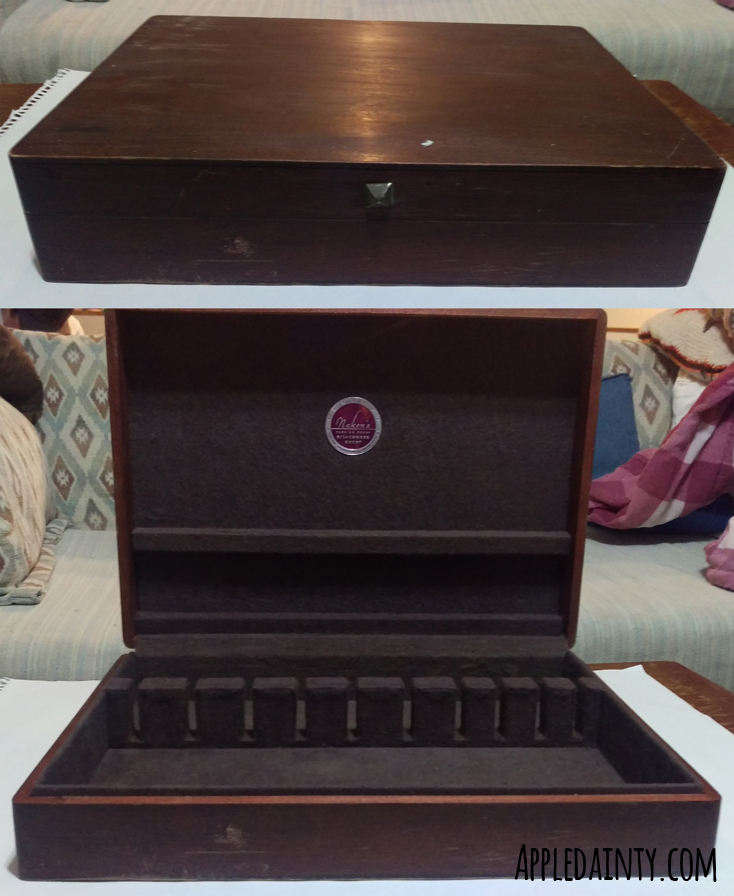 The sticker on the inside claims that the box will keep your silverware tarnish free, but my silverware seems to indicate otherwise.  The set's a bit tarnished, but I suppose it could have been worse without the special box.
I started my refinishing job by gently sanding the box. I didn't want it to be perfectly smooth, because I was intending on doing a two toned aged effect and thought it would work better if I left some imperfections. After the box was sanded down, I wiped it clean with a damp cloth.
Next I started on the painting – I painted my darker color (Martha Stewart Vintage Decor Paint in Eucalyptus if you're interested) first, followed by the lighter color (Martha Stewart Vintage Decor, Antique Sky).  Once the paint was dried, I sanded bits of the light color away to reveal the darker color underneath. Some areas had a little more sanding than others so that there are even flecks of the brown of the wood showing.
After finishing this base coat of paint, I added some stenciling. I'd been eyeballing this set of Martha Stewart stencils at the craft store for some time, but couldn't justify buying them when I had no project to actually use them on. I carefully measured with a ruler to center the stencil, then taped it down into place before applying paint. I used sponge brushes with the darker eucalyptus green paint. It was really happy with the look, and probably could have stopped there…but I wouldn't be me if I did that.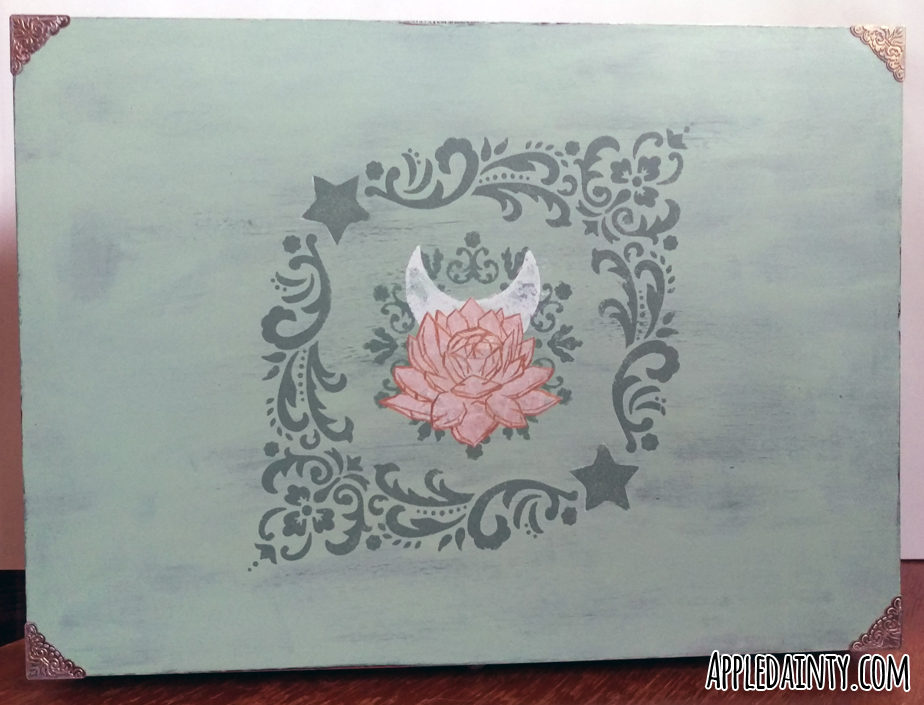 I love adding personal touches to everything around me, especially touches that refer back to one of my nerdy passions. My number one obsession is probably Sailor Moon. I've been a fan since childhood, and even have a Sailor Moon tattoo. Keeping that in mind, and seeing that this is a box that holds silverware, it seemed to me to be the perfect place to add an imperium silver crystal.
I used my Silhouette Curio to cut out some stencils – stars and the general shape of the imperium silver crystal. I did the stars in Eucalyptus and the base of the crystal in a mix of Wedding Cake white and Brushed Bronze. Once the stenciling was dry I painted the detailed outline of the imperium silver crystal in Brushed Bronze by hand. I'm not the steadiest hand at painting, but I feel like the slightly wobbly lines give it a unique feel.
Bronze filigree corners were added to the lid of the box with mod podge, then aged them a little with Antique Sky and Brushed Bronze paint. I am obsessed with claw feet, and this was the perfect opportunity to use the Tim Holtz claw feet that I'd had in my hoard of craft supplies for years. I glued the feet in place with mod podge, then my father in law tacked them down with shoe nails to stabilize them. I used the same aging effect on the feet as I had used on the lid corners.
In the end I finished the box by adding a layer of protective clear wax sealant.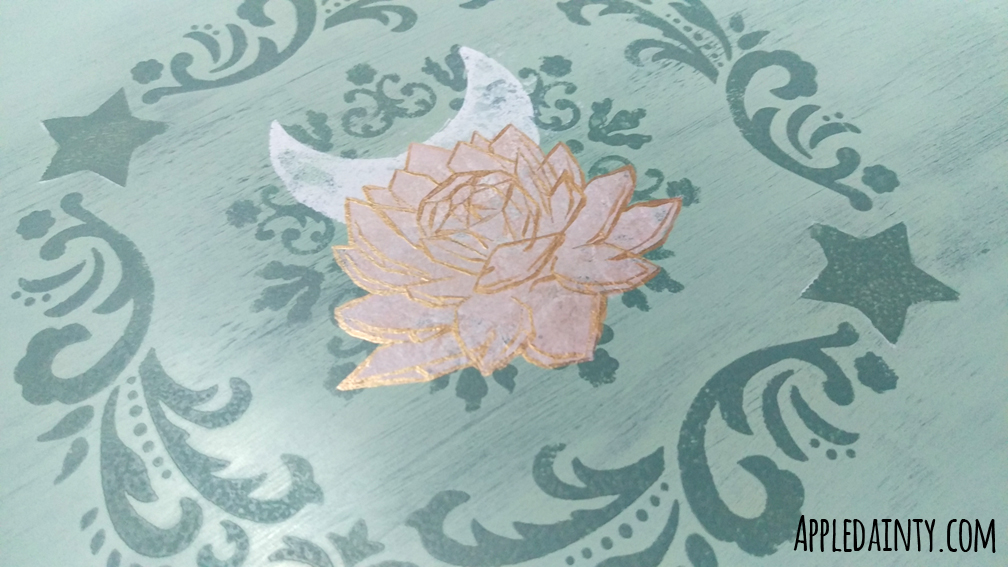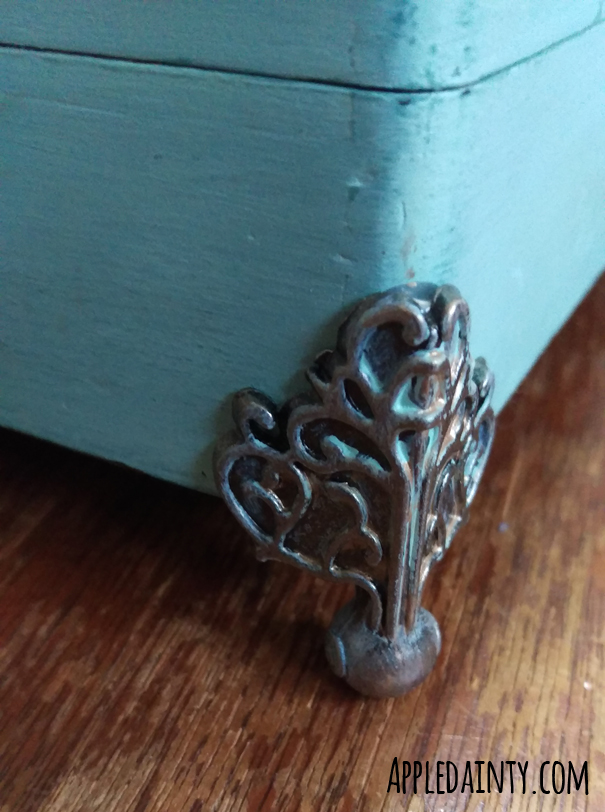 I am pleased as punch with how this project turned out, and really looking forward to doing more projects like this in the future. I can just see it now – our place is going to be filled with all kinds of subtle (or not so subtle) nerdy references. D & D serving trays that can double as dice trays, maybe a Terry Pratchett themed coffee table or a Chocobo head to go over the fireplace mantle. The possibilities are endless!
Well, now that you guys have gotten a glimpse into my home decorating madness, do you have any tips? How do you like to express your decorating style?