It feels like 2020 has only just begun, but it's already been full of highs and lows. One of the absolute highs has been planning to attend weddings for two of my very good friends – chosen family, really. The first wedding is for my friends Crystal and Keith.
Unfortunately, I don't live anywhere near my friends, having moved to Canada in 2015, so I didn't get to participate in any of the lead up to their nuptials. Knowing this, I wanted to make something for Crystal that would be similar to a bridal shower gift.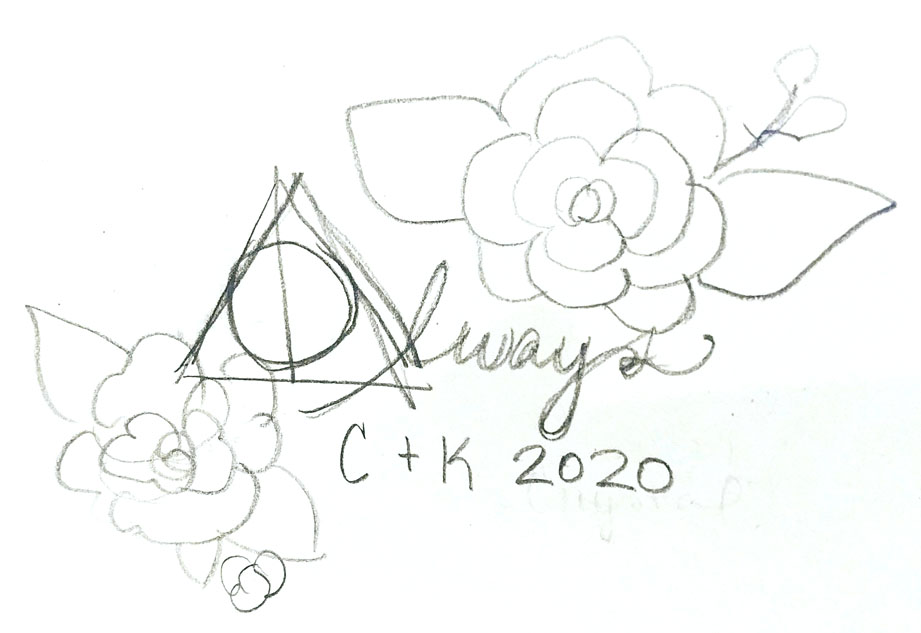 I've known Crystal since we were 12 years old, but I wasn't quite sure what would make a good gift. Our styles are fairly different; I'm very floral and cutesy, whereas she's more leather than lace. In the end, I decided to keep it simple – a bit more on the traditional side, but with a nerdy twist. Crystal and I both love Harry Potter; as I remember it, she's the one who introduced me to the series and we attended several midnight launches together. So, I thought it would be fun to do a Harry Potter design on a handkerchief, but with some of my embroidered flowers.
I checked with Keith to see what kind of flowers she likes, and landed on gardenias. Gardenias have a lovely smell, so I thought maybe I would get a perfume or something gardenia scented to imbue the handkerchief with that fragrance. I ended up buying a candle. I didn't want the handkerchief to be heavily drenched in fragrance, so I just opened the candle and packed it with the handkerchief so it would hopefully pick up a light version of the fragrance.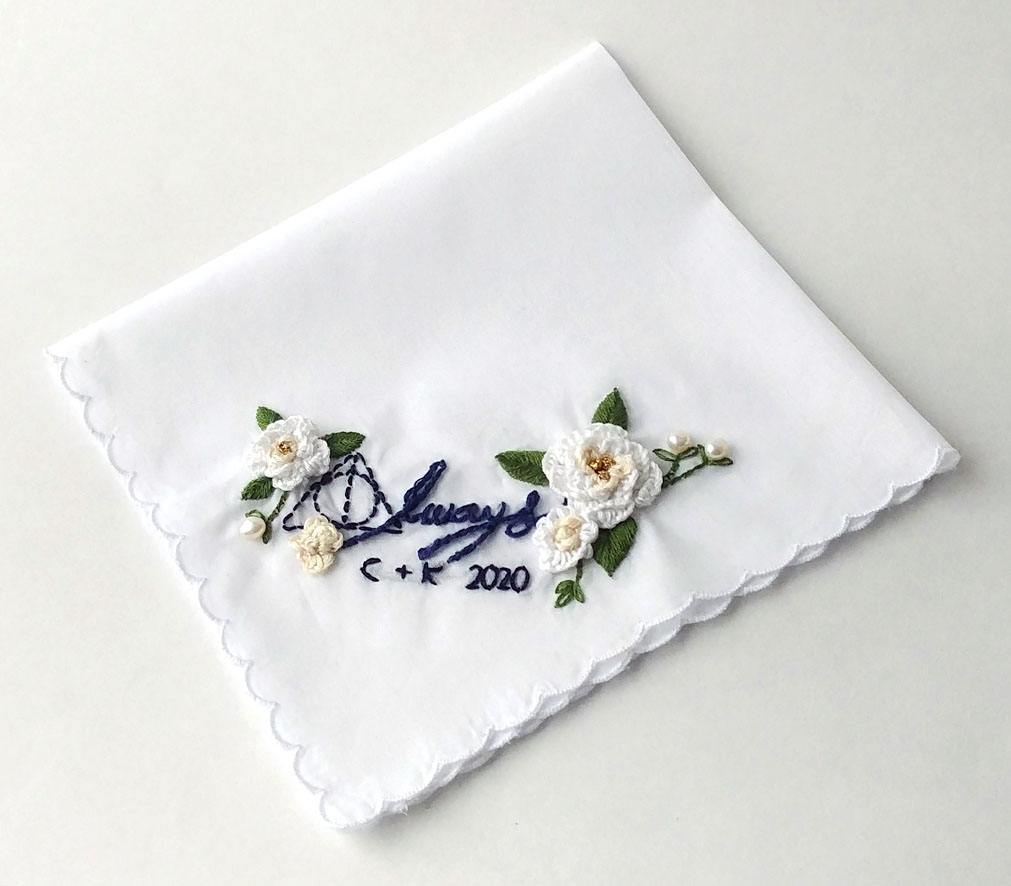 I am really pleased with how the handkerchief came out. It also has some of the same freshwater pearls that my Mom gave me and which I used on my Heart On My Sleeves elbow patches. We spent a lot of time at my house when we were younger, and Crystal is pretty close to my Mom- who is also invited to the wedding – so I thought it would be a nice touch.
Anyhoo, that is all I've got for this week. I'll be in Florida for the wedding over the next week or so, but I'll be back at the blog as soon as I'm home. If you like this blog and want to help support it, consider buying me a coffee. Your support is greatly appreciated, and I hope that you check back again soon for more art, crafts, and creativity!