Now that I've had some time to get back to cool down, I'm excited to share with you my newest tsumami craft piece – and my report from Anime North.
I've never been to a show of this size, or the city of Toronto before, so I wasn't quite sure what to expect, but I had a wonderful time. I really enjoyed getting to see so many cool costumes, the art gallery displays were excellent, and I saw so many wonderful artists.  The highlight of my trip to Toronto was the Mamechiyo and Mieko Ueda panel discussing the development of their fashion show for Anime North, Princesses in a Virtual World.
I decided to wear my newest piece – the cherry blossom and resin butterfly piece shown to the right – to this panel, and I got to speak to Mamechiyo briefly at the end of the discussion. She commented on my ear cuff, and I made the spur of the moment decision to gift it to her. She very kindly posed for a photo with my card. This panel, along with teaching my workshop, were very gratifying experiences and I am looking forward to attending again next year.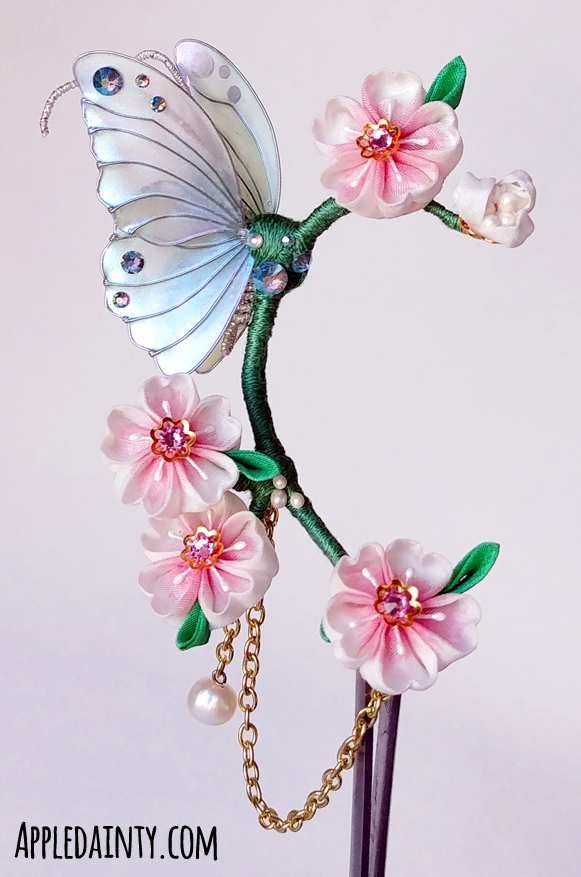 The cherry blossom ear cuff got a very positive reaction for a spur of the moment experimental piece. I'm definitely looking forward to crafting more of them, although I've got a few more things I need to work on before I can get to making more of them.
The next few weeks I plan on prepping canvases for my The Pathos of Things collection, finishing up some hair clips for Ganbatte Con, and working on house-related projects – mostly painting cabinet doors. Not the most exciting of projects, but a necessary one! I'd like to be able to unpack and organize all our kitchen items eventually, haha.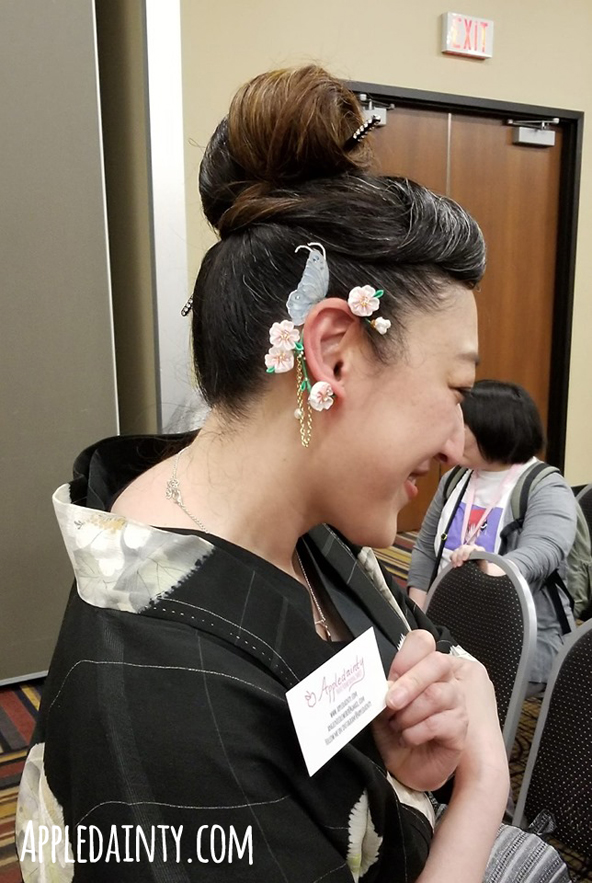 I'm also pleased that my trillium and cherry blossom hair pin sold at the All Stars Charity Auction to benefit the Toronto Hospital for Sick Children, though I am still waiting to find out how much it went for.
Thank you once again to Creative Saskatchewan for their support in making this, and many artistic projects, possible, and to the convention staff, workshops students and patrons who supported my work at Anime North! I hope to see you again next year.

Anyhoo, that is all I've got for this week. I hope to see you at Ganbatte Con in July, or back here on the blog next week! If you like this blog and want to help support it, consider buying me a coffee. Your support is greatly appreciated, and I hope that you check back again soon for more art, crafts, and creativity.