After a long absence I'm happy to say that I'm back. I've actually done quite a few projects since my last update, but the pandemic and stressful work conditions – plus my sudden desire to write a couple book series – have put a damper on my updates to this blog.
Now that I'm getting back into the swing of doing shows again, I figured it's about time I made an effort at blogging again. Next week, I'm going to be attending Anime North thanks in part to Creative Saskatchewan for their very generous support via a travel grant.
I actually completed this one a few months ago, prior to attending Saskatoon Entertainment Expo. I was not very well prepared for SEE, and was determined that Anime North would be different. In preparation for Anime North, I've been working on a slew of new projects – which I will be posting in the lead up to next Friday. All these new pieces will be available to view, bid on, or purchase outright in Anime North's Gallery Momiji.
I have always wanted to expand my tsumami craft work outside of hair accessories, and I adore clever puns. So, when I saw these clear, bubble shaped acrylic clutches I just knew I could do something fun and interesting with them.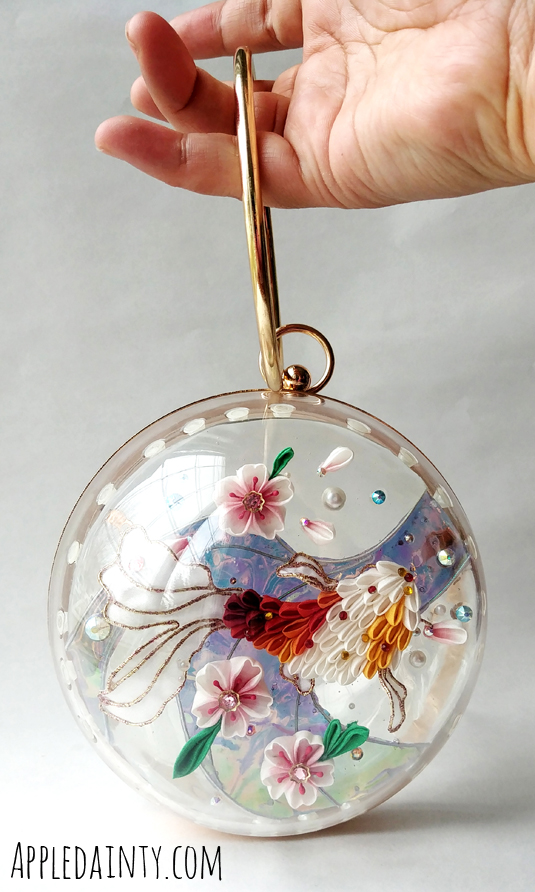 My first idea was actually to make a winter themed 'snow globe' purse, with glitter and so forth that would move when the purse was shaken. I still want to do this project, but I haven't figured out exactly how I want to execute it. Trying to get plastic that fits perfectly inside of the purse shell is a real challenge.
For this purse, I constructed the water section from a wire frame, similar to the one I made for the Koi  & Wave Tiara and Fancy Goldfish Uchiwa. The water was backed with holographic film that I trimmed down. I cut a circle of clear plastic transparency sheet to roughly the size I wanted inside the purse, carefully used a little bit of UV resin to stick the water section to the clear plastic sheet, and then flooded the whole piece with UV resin.
After everything was set, I removed the clear plastic transparency sheet, leaving me with a round resin background piece.
This was actually my second attempt at making the resin background piece. In my first attempt, I used double sided tape to stick the water section to the transparency sheet. Some of the resin got underneath the holographic film of the water, and the tape got embedded inside the piece. I ended up having to scrap that piece and start over, but in the end everything turned out pretty well.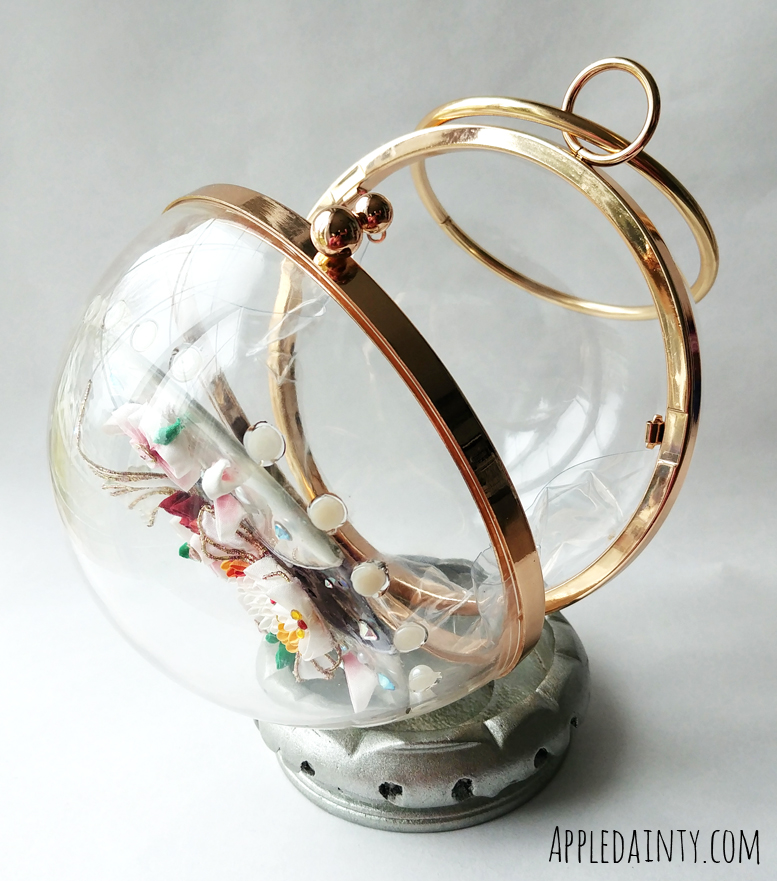 Another tricky aspect of this piece was getting the resin background, with the fish and flowers attached, to stay inside of the bowl of the acrylic purse. The circular resin background piece is not perfectly flat – it ended up curving a bit during the curing process. So, when I tried to lay it inside the purse and seal it in place with straight resin, the resin ended up leaking and making a big mess. I tried hot glue next, which was – of course – a mistake. But, as any made crafter will tell you, mistakes happen at 4am.
After having a bit of a fit and finally forcing myself to go to bed, I had the bright idea to try adhesive pearls. While laying in bed, of course. The adhesive on the pearls wasn't strong enough to hold up and they kept falling. So, I ended up carefully reinforcing each individual pearl with UV resin – which worked out.
In the end, I unfortunately damaged two acrylic purses to the point where I had to dispose of them, but I have one more empty clutch shell left and I'm super looking forward to turning it into a Fishbowl clutch as well – this time featuring a fancy goldfish. It's summer, so I guess I'm feeling the seasonal motif vibes.
I've already started working on it, and it's going to be one of the new pieces – along with this Koi Fishbowl Clutch – that will  be coming with me to Anime North next week.
I also have two pieces in the Small Quirks exhibition, currently being hosted by the Saskatchewan Craft Council art gallery, which is running through August.
Thanks for sticking with me, and check back again soon for more updates on newly finished crafty works. 🙂