The last several conventions I've attended people have asked me if I had any larger pins or brooches.  I hadn't really planned to make brooches last year, but after encountering this same question several times at Calgary Expo Holiday Market, I decided it would be a good time to add brooches to my repertoire.
Since I haven't made brooches before, and I have been wanting to update my wardrobe, I started by making a few brooches for myself. It was a good learning opportunity, and gave me time to brainstorm how best to arrange and price these brooches.
The first brooch I made was skull themed; I'm a huge fan of skulls and peacock colors. Most of this brooch was crafted at the same time as my Memento Mori kanzashi set, but at the time I wasn't sure if I wanted to make it into an obidome or a brooch.
The back of the skull obidome is pretty scuffed; messy, visible glue and so forth. For all my later brooches, I've been using stiffened felt to back them. It just gives them a clean, finished look.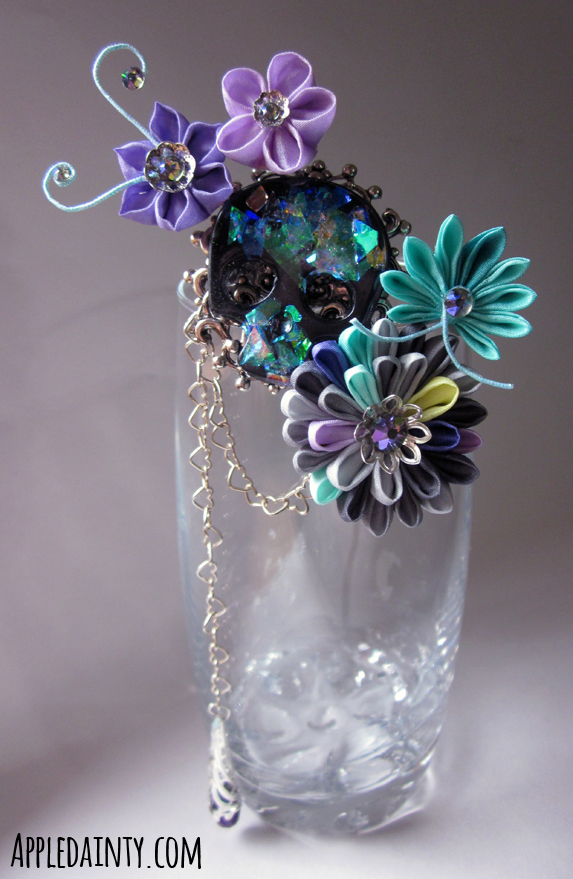 Over the years I've stuffed little sorting boxes full to the brim with bits and bobs for crafting and jewelry making. Although this has left me with messy, unorganized boxes of crafting ephemera, it has has allowed me to give many of my brooches their own special feature – a cameo, dangly bejeweled bobble, or maybe some hand crocheted lace.
I've had some of these pieces since University. Has it already been  9 yeras since I graduated? It's about time some of these things saw the light of day.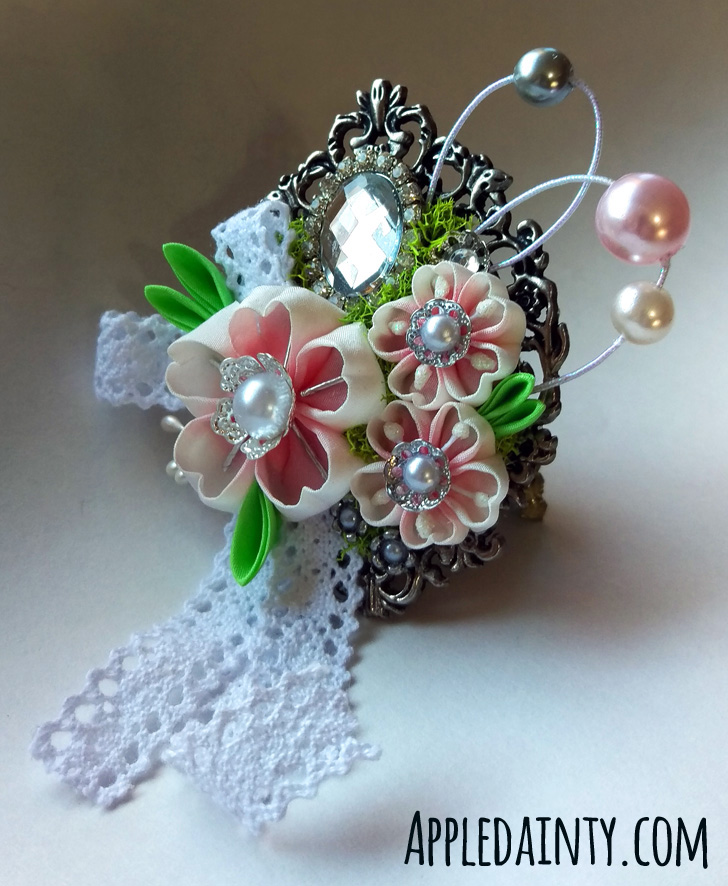 That's not to say I didn't buy some new bits and bobs for brooch making. I used a baroque frame from the Tim Holtz ideaology line for the cherry blossom brooch to the left. These frames don't have a center backing, so I made my own with black cardstock. The black cardstock is rather flimsy by itself, which is why I chose stiffened felt over regular felt. Gives the brooches a bit more stability.
I picked up several two-packs of these frames, so you can expect to see more of these type of brooches over the next few months here on the blog, in the shop and at my convention table.
This cherry blossom brooch is actually not part of my personal collection, so if you like the lovely ladylike look of this mossy cherry blossom brooch, it is available in the Appledainty Shop.
The last piece in this week's blog post is another personal piece – a rose gold glitterwire chrysanthemum with accompanying purple chrysanthemums. It's actually a two part him – a latch pinback for the larger grouping of chrysanthemums, and a simple tack pinback for the single flower on the chain. The chain is detachable, so if I don't want to fiddle with the second part I can just wear the larger brooch by itself.
I saw a number of these types of accessories – tie tacks or bouttonnieres with chains and multiple bits – when I was living in Japan circa 2010 (eons ago in fashion years, eh?) but they tended to be rather goth and were made to be worn with suits. I plan on wearing these brooches with sweaters – which make up a big chunk of my wardrobe. Brooches are an easy way to give a plain sweater a bit of a fashion fix up, and they can easily swapped out.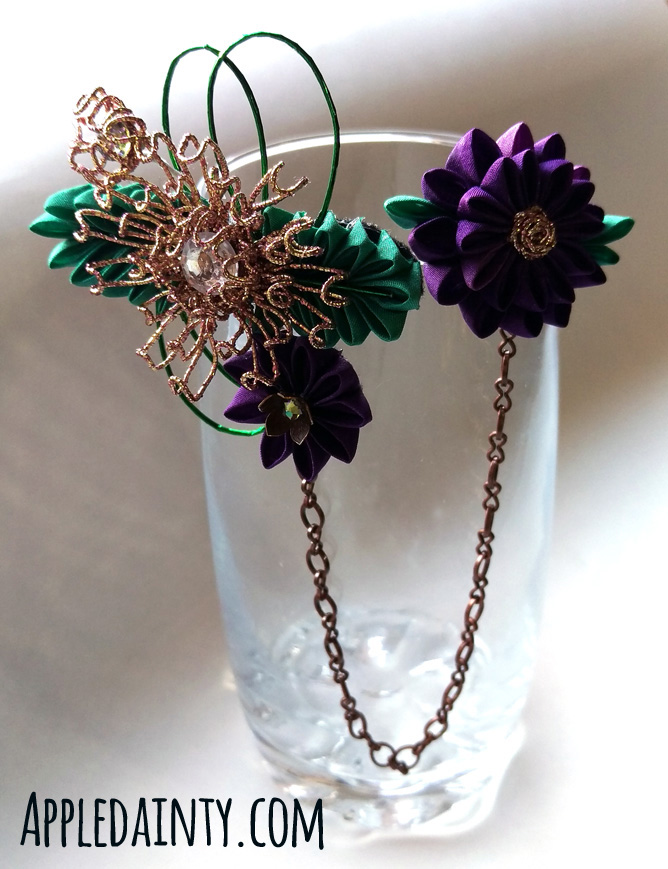 Conventions have seen a big boom in pins and enamel badges in recent years; even I have picked up a few at the last few shows. I can see my pin & brooch collection continuing to grow over the next few years. What about you? Do you collect pins or brooches? What would you  like to see more of?
Anyhoo, that is all I've got for this week.  I hope you check back again next week for more art, crafts or cookery.