The last few weeks have been very busy here! I've been working hard to try and make progress on some large scale projects, as well as wrap up some smaller ones. It's hard not to get distracted, both by video games and by good fortune; the hubby and I got to see two concerts this month. First, a mini concert at the local brewery with the band Theory, followed by a real living legend – Santana. I won tickets from the radio for both concerts – I doubt he'll ever read this, but I owe Gary from Rock 102 a thanks for liking my texts! I've been texting champ of the day three times in two years.
Aside from my unnaturally lucky streak with concert tickets, I've also been doing a lot of cooking and participating in a craftalong on Craftster. I really feel like it's helping me stay on track with all my many, varied, projects. This week I've been working on some new cooking recipes, a crochet project, a statue – and the new brooches featured in this week's blog post!  I made a few in January, finished a few more this month, and I've still got some left to do if I want to have stock ready to go for the convention season. I have a tendency to try and work on too many things at once (can you tell?) but I am trying hard to concentrate on finishing things.
First up is a new white glitter wire two-part chrysanthemum brooch. I liked the rose gold and purple one that I made for myself so much that I thought I should make a second one; I'll probably do another one in rose gold as well since that's my preferred colorway. I went with white and pink this time because it has a more vibrant spring feel – and it's good to change it up.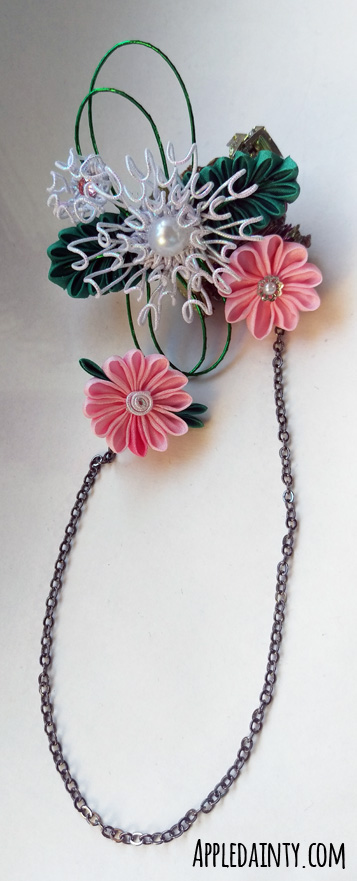 Next, I finally got to use some of the new watercolor petals I dyed last year. I absolutely love how they turned out; they are a mix of green, blue and purple dye. I can definitely see myself experimenting with the watercolor dyeing effect again. I achieved the blended 'watercolor' look by applying dye with a felt tipped dye pen, then instead of letting the dye dry overnight I ran it under some cool water, which made the colors blend together. If you're going to try this, I recommend not diluting your dye (use strong, vibrant color) since the colors will fade when you run them under the water.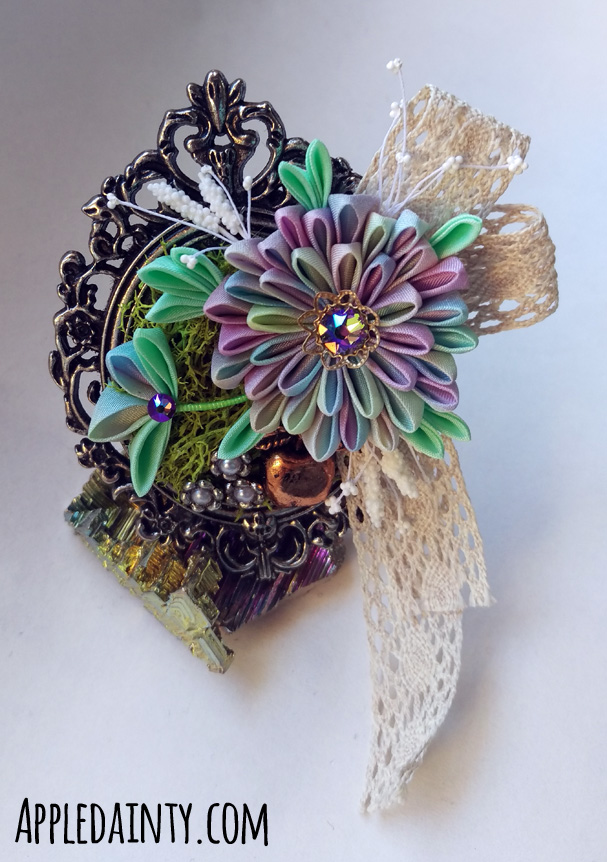 In this brooch I also got to use some silver flower bead caps that I'd set freshwater pearls into ages ago. I think I've had these bead caps since I was in university; it's good to finally see them being used. The apple cabochons are vintage 'metallized' lucite, and much lighter than you would think.  This is one for my personal collection, but I'm planning on making a second one to sell – so if you like this one keep an eye on the shop!
Even though I want to have lots of stock for the convention circuit, I also don't have a convention until summer – so I'll be posting things as they are finished to the shop and restocking as things sell. I'll be updating in the next couple weeks with some brooches and lapel pins.
The last of the brooches I worked on this week – and my current favorite brooch – is a real one-of-a-kind: a lotus blossom brooch. Lotus blossoms are on of my favorite flowers; I even have a tattoo of the imperium silver crystal from Sailor Moon, which is lotus shaped.
For years, I've been hoarding a collection of brass stampings. The frame for this brooch is one of them. I used some silver rub-n-buff on it, then sanded away some of the silver to reveal the brass underneath. I felt like the brass by itself was just too yellow to work well with the watery theme of the lotus. The background inside the frame is a blue glitter cardstock decorated with glitter mizuhiki, faux pearls, and blue rhinestones.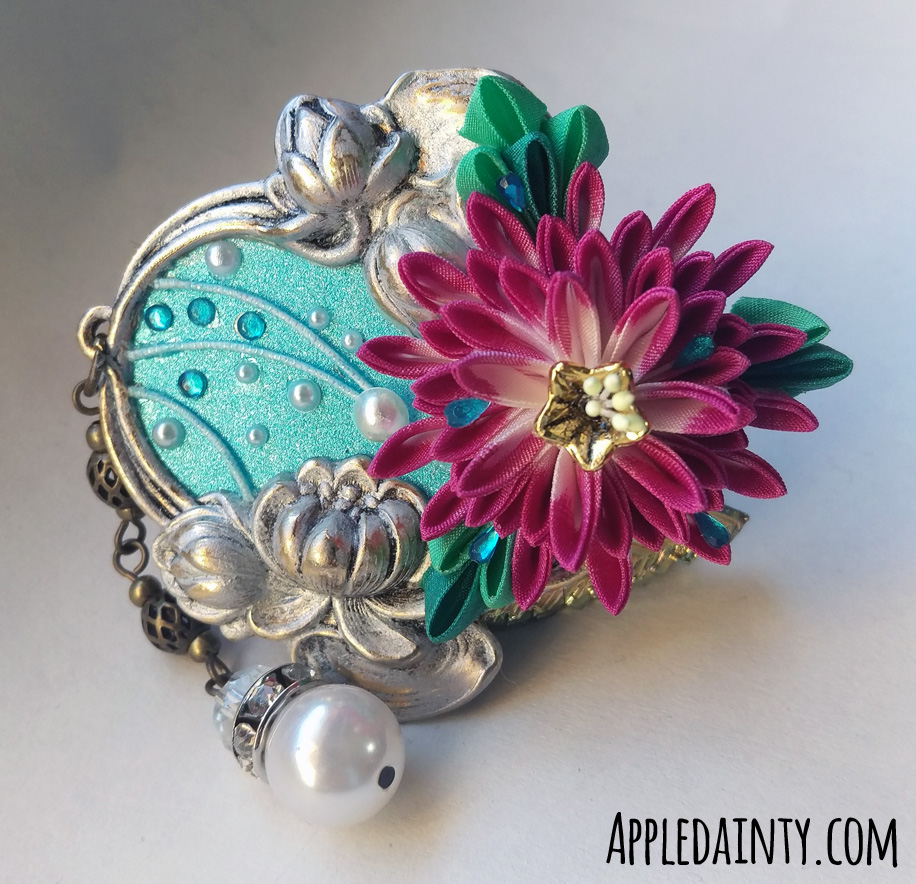 I wasn't sure about adding the tear-shaped blue rhinestones to the flower petals, but it was nice to try and the look has grown on me. I wasn't intending on keeping this brooch for myself, but now I'm reconsidering. What would you do – love it or list it?
I clearly watch too much HGTV when I'm crafting.
Anyhoo, that is all I've got for today. I hope you check back again next week for more art, crafts, or cookery!