Now that the schedule is out, I am super excited *officially* to announce that I will be appearing at Anime North next weekend – Friday, May 24 – Sunday, May 26th.
I will have a limited number of kanzashi hairpins and a few fanart prints available for purchase through Gallery Momiji, the Anime North art gallery, and will be hosting a Tsumami Craft Workshop on Sunday from 1:00-2:00PM in the Mississauga ballroom. The fee for the workshop is $30 per person, and spaces are limited (maximum of 5 participants) with tickets now available via Event Brite
If you've ever wanted to learn about tsumami craft, this workshop will be perfect for beginners. I'll be bringing a collection of both my kanzashi and Japanese-made kanzashi, books on tsumami craft, and all the tools and materials required to make two plum blossom hairpins. I'll also provide a list of suppliers that I regularly buy materials from, if you decide you want to continue your tsumami craft journey. All you need to bring is yourself!
I will also have a piece in the Anime North All Star Charity Auction to benefit the Toronto Hospital for Sick Children.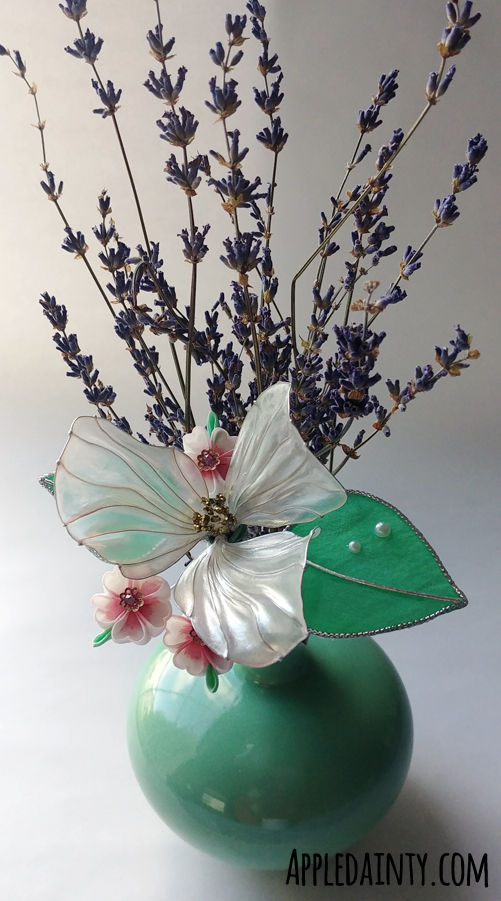 My kanazashi for the charity auction features a resin great white trillium, the provincial flower of Ontario, and two-toned silk cherry blossoms. Bit of an east-meets-west theme, which I feel really suits this convention. I spent all of last weekend working on this kanzashi, and my lovely husband was kind enough to tolerate the explosion of glittery mineral pigments that came with this kanzashi making marathon.
I am very excited to share this new kanzashi with you, especially since it benefits a wonderful cause, and I hope that you bid generously! I'll be posting updates via social media of pieces I'll have available for purchase in Gallery Momiji, but if you're looking for something in particular, don't hesitate to ask. Commissions will be re-opening in June.
I'm also really excited to see the Mamechiyo and Mieko Ueda Kimono Fashion Show being put together by Kimono Bijin. Mamechiyo is one of my very favorite kimono designers, and actually the reason why I wanted to attend Anime North in the first place. If you love kimono and Japanese fashion, Anime North is definitely the place to be next weekend.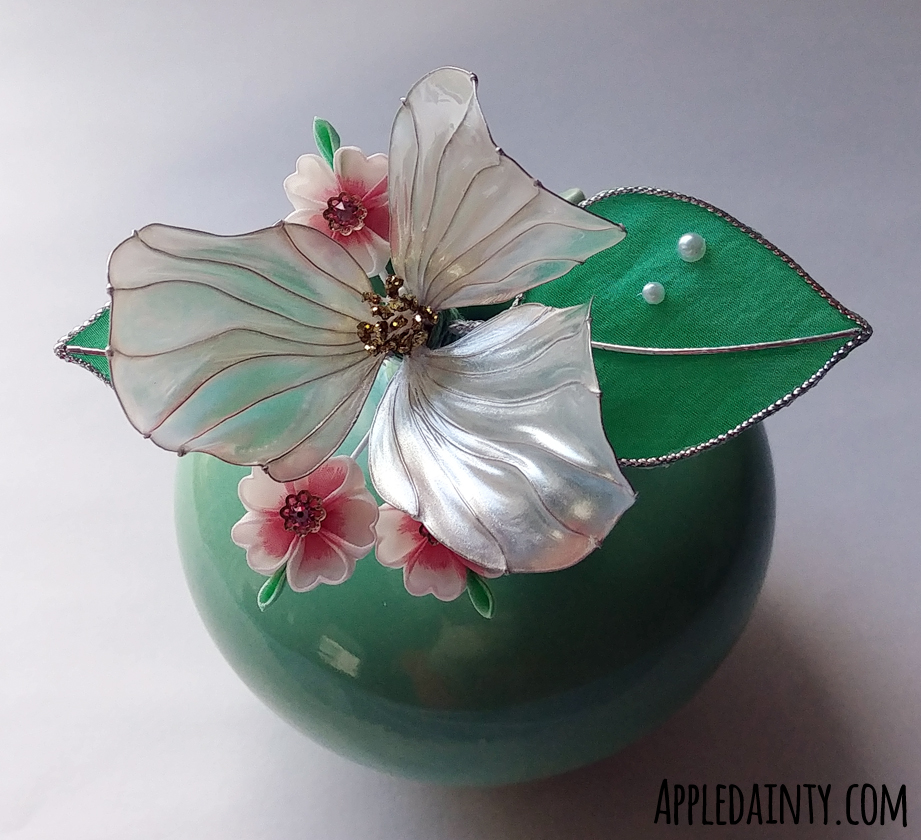 This show was also made possible for me by a generous grant from Creative Saskatchewan who have once again supported me with travel assistance.
If you have any questions about my kanzashi, the workshop, or are going to be in Toronto next weekend, let me know in the comments!