This past weekend was super busy. I've been working on a bunch of projects for the Etsy Made in Canada Market next weekend, and today I'm proud to share these two new pieces with you. I'm continuing the theme from last Friday more lovely yellow canola blossoms.
Silver butterflies are a popular pairing for canola blossoms and spring in general. In a lot of the examples I've seen the butterflies are metallic silver; but since I already had some sparkly silver card stock in my stash I thought I would make use of my Silhouette Curio cutting machine and make my own.
I cut two simple butterfly shapes for each one and glued them together. Once the butterflies were attached to the wire piece, I made their bodies from a piece of silver glitter wire, then added Swarovski crystals to each wing. I feel like they turned out pretty well, but I wouldn't mind picking up some metallic butterflies for later. Variety is the spice of life, after all.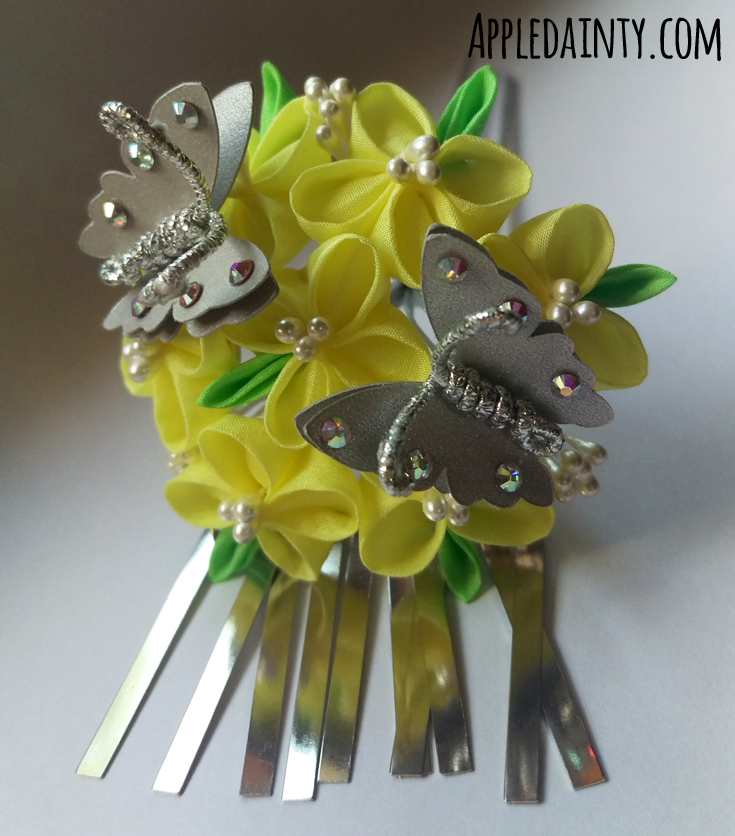 I bought a ton of glittering green mizuhiki, and it's probably my favorite thing to work with now, so of course I love how the mizuhiki looks in these pieces. It has just a little bit of sparkle and I don't know how, but I managed to get the leaves to match perfectly with the color of the mizuhiki. If you like how these pieces turned out, they are now available in the shop.
I'm thinking about learning how to make more complex knots, creatures and decorations with mizuhiki. What kind of mizuhiki creatures would you like to see?