My husband and I, if you didn't know, are big fans of Critical Role. We watch the show together every Thursday as part of our date night ritual, and two years ago we got to meet and get a photo with Travis Willingham. At the time, I had not seen any episodes of the show, but Dave asked me to draw a fanart picture for Travis to sign – so of course I needed to start watching the show.
Well, this year Otafest announced Matthew Mercer as one of their guests. We hadn't originally planned to go to Otafest, but after hearing the announcement we reconsidered. It's in driving distance for us, and since we're not planning on doing any other vacations (other than visiting my family in Florida for Christmas) this year we figured this would be fun without breaking the bank; I'm even doing a panel on tsumami kanzashi on Sunday – though I won't be in the artist's alley.
Last year I had planned on making a wedding gift for Matt and Marisha, but it didn't end up materializing. A few months ago I finished a Keyleth themed tsumami kanzashi piece (to be posted later),  but I realized it would kind of be a dick move to show up at Otafest with a gift for Marisha, but nothing for Matt.
So, the brainstorming began. I knew I wanted to make something that would match with the Keyleth kanzashi, but still be distinct. I eventually settled on a literary theme. As the DM, Matt is the keeper of the tale, the worldbuilder, so I thought this was an appropriate theme. The first piece I made was a brooch (or maybe an especially large lapel pin? boutonniere?). The frame of the brooch is an antiqued bookplate. I lined the inside with vintage french silk velvet in an iridescent purple color that reminds me of magic dust. Then, I made some tsumami craft flowers, and added a few vintage berry and mushroom millinery stamens. Last, I added a brass chain and charm. The charm says 'not all who wander are lost,' which is actually a Tolkien reference, in keeping with the literary theme. But it also has a compass symbol, which is what I was actually looking for when I was browsing the charms section at Michael's. The DM guides the players through the story, and I wanted something that indicated this.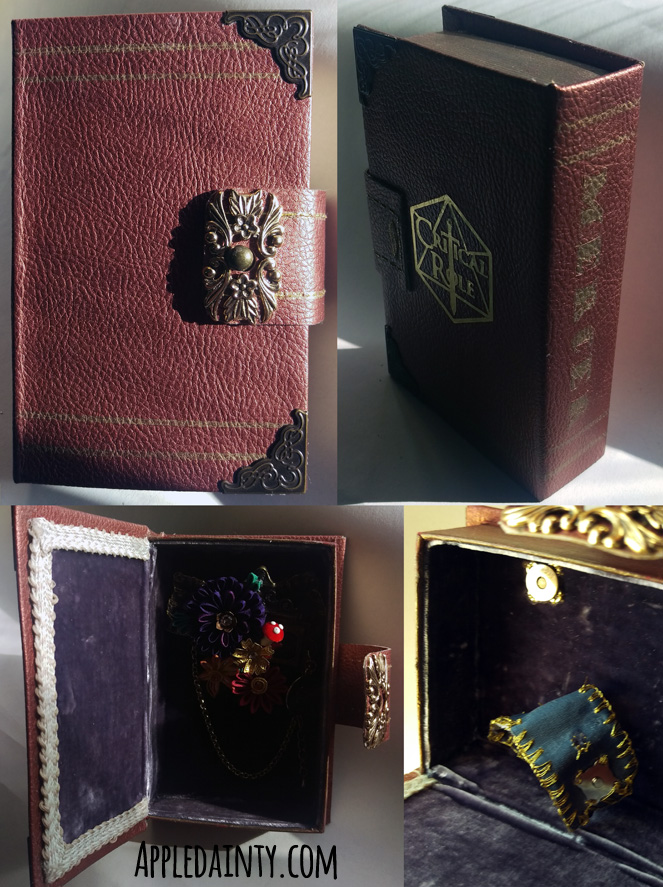 Once I finished the brooch, I thought I was done – but then I realized I had made a really cool case for the Keyleth kanzashi. It wasn't fair unless I made a case for the brooch too. And, can you call it a reliquary without a box or case of some sort?
So, I patterned and cut out a box that looks like a book from comic book backing board. I used textured paper for the sides to give it the look of pages, colored gold with wax paint, and lined the outside cover with brick red, faintly metallic, faux leather.  I added gold wax paint lines, a Critical Role logo sticker cut from gold vinyl to the back, and "Mercer" in the same gold wax paint along the spine.
I bought the vinyl for the Critical Role logo sticker from HappyCrafters.ca (there is also a HappyCrafters.com for those in the US). I should note that if you use my link to purchase vinyl, I get a small piece of the sale – but I would recommend then regardless because of their excellent product and service. I also bought the vinyl used for my Sailor Moon shirts from Happy Crafters.
The box also has a strap closure that I made with a hitch fastener, brass stamping, and pieces of faux leather I sewed together with gold thread. I also added some antiqued brass metal corners to the front and back cover, which I really think pulls it all together.
The inside of the book box is lined with the same velvet that I'd used on the brooch. I also made a safety strap that you attach the brooch to to keep it from bouncing around too much during transit. I found it was really difficult to remove the brooch from the strap if it was sewed directly into the lining, so I added magnetized snaps embedded in the box and strap so that you can more easily remove and replace the brooch from the box.
So, you might think I was done when I finished the box, but you would be wrong. For some reason, I can't resist taking a project as far as I possibly can. The box was neat, and time consuming, but it wasn't 'far' enough. I had this itch, like I needed to do more. I felt like the box needed a bookplate on the inside cover.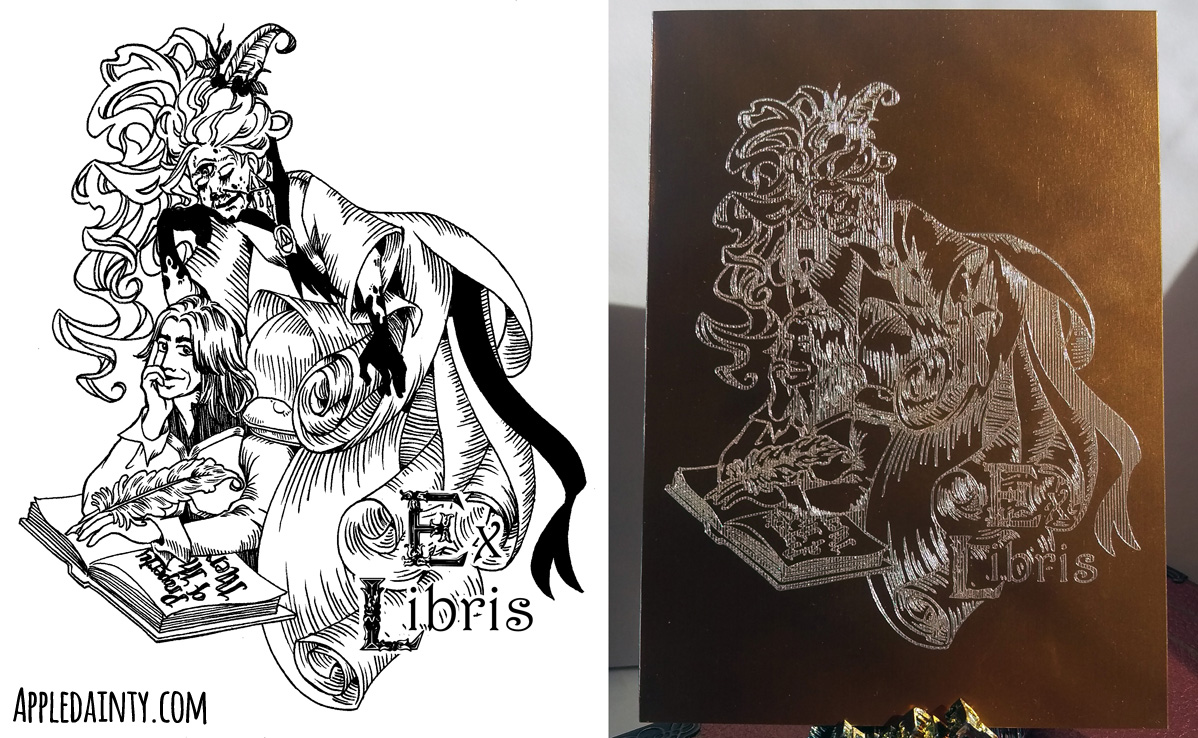 I drew two versions of a bookplate featuring Matt Mercer with a goddess who played a key role in the story of Vox Machina. I had intended on doing Ioun first, since she is the patron god of the Cobalt Reserve (a magical library establishment in the Critical Role universe), but in my artistic haze I somehow ended up doing Sarenrae first. I like how both turned out, but I feel like the Ioun one is more of my own interpretation whereas the Sarenrae one is heavily influenced by a few other artists' drawings of Sarenrae.
I wanted Ioun to be elderly and gave her some ink stains on her hands leading up her arms – and ink stains on her face as well, because whenever I use dip pens I end up with ink on my face somehow. I gave her a ribbon looking collar that recalls the ribbon bookmarks you sometimes see in fancy books, and a brooch in the middle of that collar that has a triangle sign with an eye in the middle (it also looks like a wax seal stamp). I repeated the triangle-eye symbol in her earring, and gave her a feather and berry hair accessory; more references to writing (ink made from berries, quill made from feathers).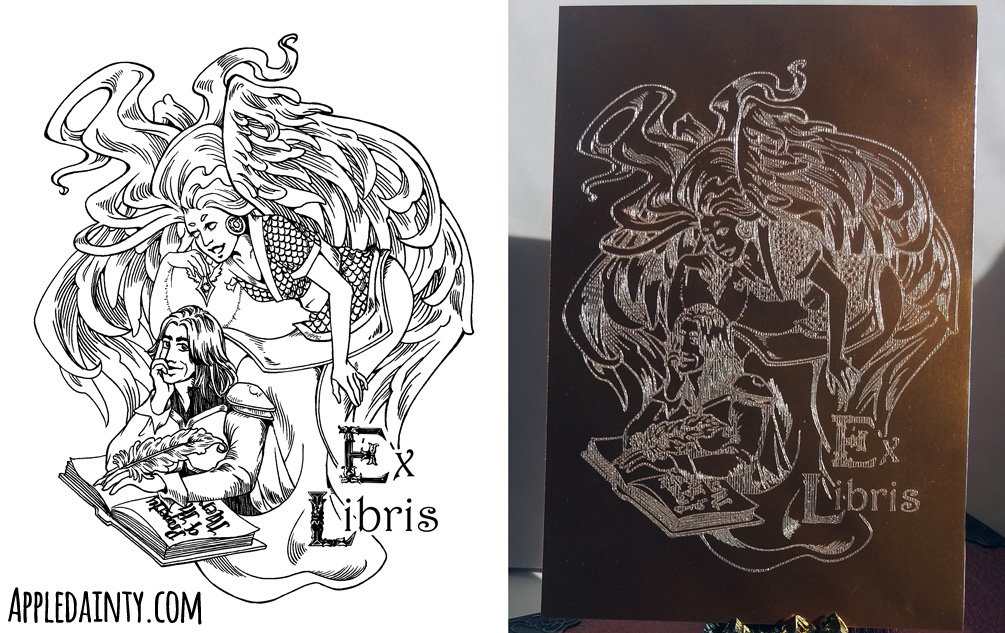 I finally got to use the etching feature on my Silhouette Curio by etching these designs into metal etching plates. It took roughly an hour and a half to etch just one of the designs. The Sarenrae one turned out better in etching form, but I like them both.
With the completion of the etched bookplates, I think I'm done. I'm good. For real! I hope Mr. Mercer likes his gifts. I'm just glad I have them done well ahead of time, and won't be scrambling at the last minute to throw something together.
…Although, I've got three more pieces to finish for Marisha's gift – which is called The Voice of the Tempest Reliquary. I'm not planning on sharing this project until after (or maybe the week of) Otafest, but stay tuned – I've still got lots of neat projects coming on down the pipeline. Some fantasy, some Sailor Moon, and lots of kanzashi. And if you were wondering, yes, I am planning to do ridiculous reliquary projects for the entire cast. I even have ideas for their campaign two characters, but I don't want to get too far ahead of myself.
If you want to see progress photos for what I'm working on, I highly recommend checking out Craftster. I am participating in the Spring 2018 round of the craftalong competition called The Nerd Games, and I regularly post progress photos in its discussion thread. 🙂 Join the revelry!
If you've made it this far, thanks so much for reading and I hope you check back again next week for more art, crafts, or cookery!