Although I am, of course, a huge fan of a lot of things (most obviously, Sailor Moon), I don't often do fanart. This has changed recently, with my husband and I's growing interest in the live dungeons and dragons stream show known as Critical Role.
This piece is the first in my Vox Machina Reliquary Collection – the Voice of the Tempest comb.
I've actually been working on parts of this reliquary set since last year. I'm notoriously slow, but since I knew we were going to see Matt Mercer (though sadly not Marisha Rey) in May of this year, it gave me a bit of a deadline. Of course, I still didn't end up finishing everything until the week of the event. I guess it's better than in college when I was scrambling to get things done on the morning-of.
This comb features hand dyed silk tsumami flowers, foliage, and a black tsumami feather, vintage  brass floral head pins and millinery stamens,  berries and mushrooms, a gold glitterwire antler, and a dangly crystal for good measure.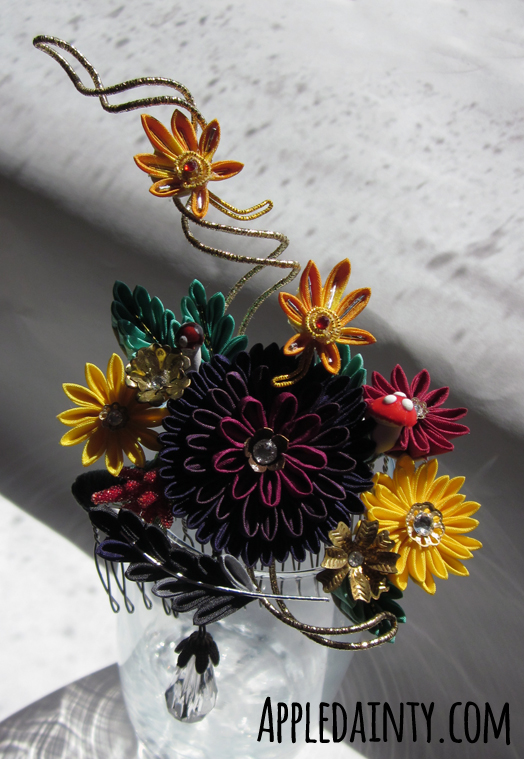 After finishing the comb, I realized I needed a case for it to go in. So, I went to Michaels and picked up a really cheap balsa wood and plexi glass box. It was a huge pain in the ass to sand this thing down and stain it; I spent a couple hours removing excess wood glue and trying to get it in reasonable shape. I think it turned out pretty well, all things considered.
The back of the case felt a little naked, so I made a gold foil vinyl sticker in the shape of a goldfish with a quote from the show. "It's fine, we're gods," were the famous last words spoken by Keyleth before swandiving to her death in the form of a goldfish. Of course, her friends were able to bring her back, but it was a pretty hilarious moment.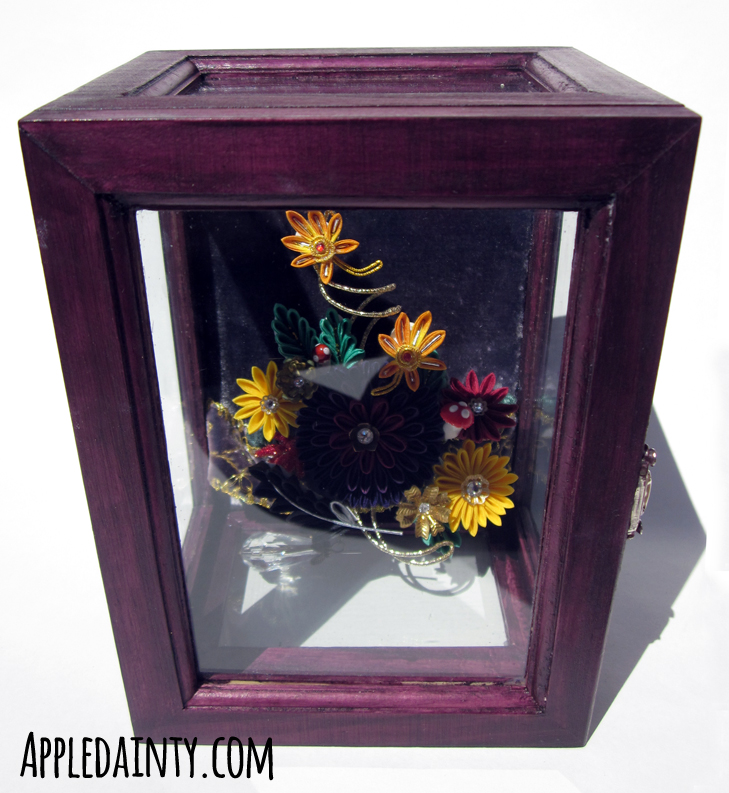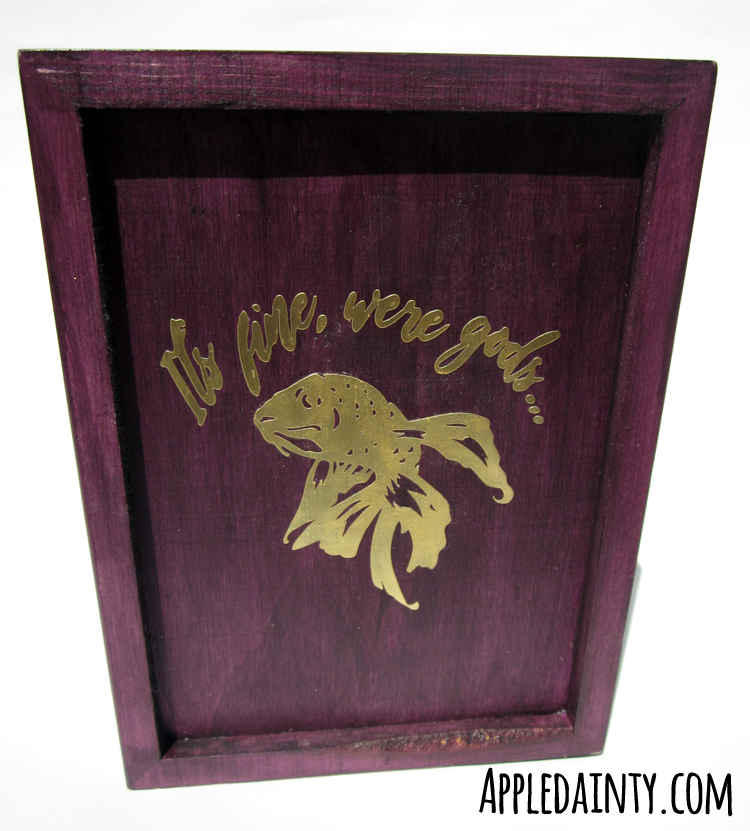 I bought my gold foil vinyl from HappyCrafters.ca – which I highly recommend. They sell individual sheets as well as larger rolls, which is really convenient when you only need a little bit of certain colors. In the interest of transparency, if you use my link above, I do get a small bit of the sale – but I would recommend Happy Crafters regardless. 🙂
Once the outside of the case was done, lined the inner back board of the reliquary with vintage French silk velvet – the same velvet that I used on the accompanying gift I made for Matt Mercer. It took me at least three attempts to get it just right; I kept seeing glue bleed through the silk, which drove me absolutely bananas.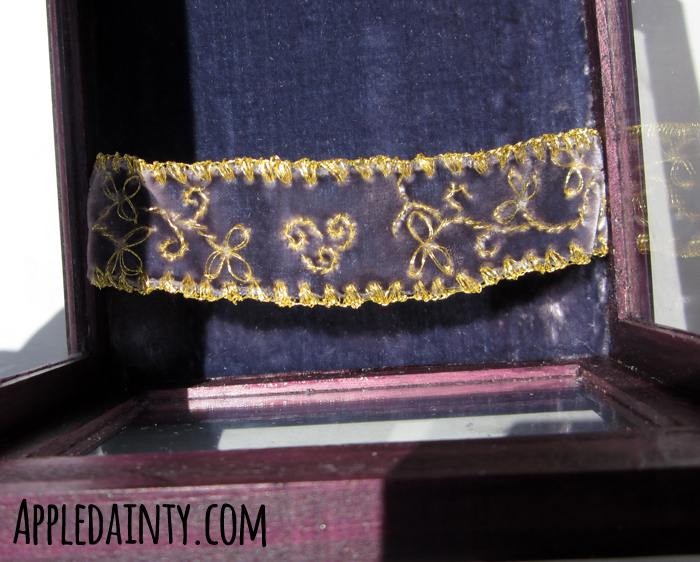 Once I got the backing board sorted, I wanted to make a strap for the comb. I embroidered a strap of velvet with metallic gold thread – doing a grouped button stitch around the edge and a series of snow drops on each side. Snow drops were the flower that Keyleth's lover, Vax'ildan, made appear before disappearing into the folds of the raven queen's robe at the end of campaign one.
I had read that the character of Keyleth was inspired by the show Avatar the Last Air Bender, and Aang's journey to master different forms of elemental bending. So, I embroidered a small air nomad symbol in the middle of the strap.
Last week I shared the portrait of Keyleth & the Raven that I drew as part of this reliquary project. I ended up doing some spot colors on the drawing just to highlight that the drawing features the kanzashi I made. I like how it turned out, and I hope that Marisha Rey will also enjoy it.
The final touch for this project is the Scroll of Authenticity. I started on the scroll by aging a piece of deckle-edged calligraphy paper that I picked up from my local stationary store – Soul Paper. I used coffee on both sides of the paper, speckled a little salt on the 'front' side, then baked it in the oven at a low temperature until the paper dried. Once the paper was dry, I wiped away any remaining excess salt, and started writing.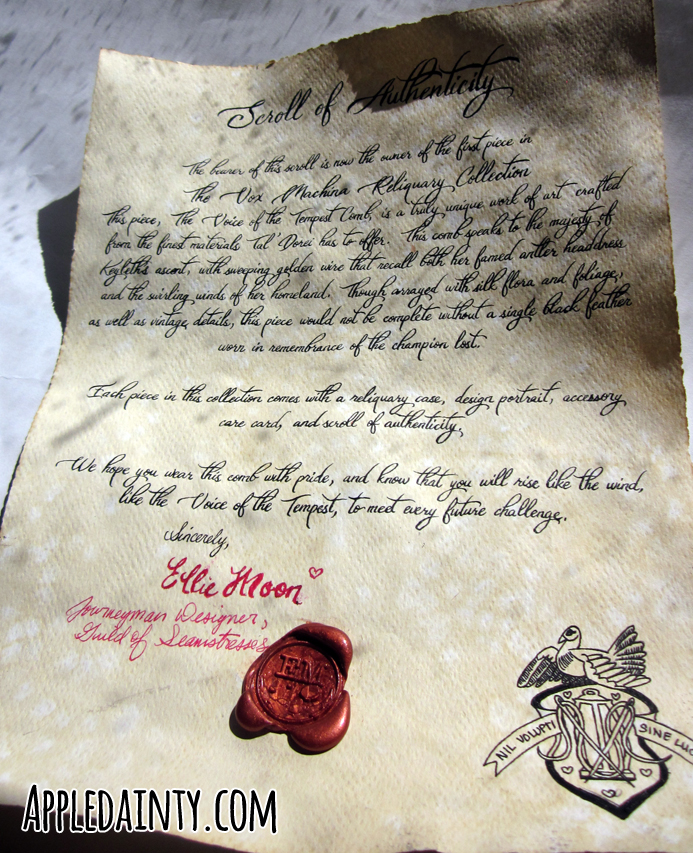 I wrote it by hand with the same crow quill that I use for drawing, in character as my dungeons and dragons Barbarian, Ellie Moon.  I cheated a bit by tracing over a print out I made with a calligraphy font in the computer. That's what lightboxes are for, right? Haha! To finish the scroll off, I also had a moon shaped wax seal made with the initials EM, and made my own version of a Seamstress's Guild coat of arms (which is a Discworld reference, of course) to go in the bottom right corner.
You may have noticed that I made one antler instead of two; this was on purpose. I could have made a second one, but I've been toying with the idea of doing it as a charity auction to benefit 826 LA – Critical Role's favorite charity.  I'm not quite sure how that would work, but if there's enough interest in it I might give it more serious thought. If you enjoy this project, I hope you consider donating your time or money to this amazing charity, or really any charity that's close to your heart.
Anyhoo, that is all I've got to share with you this week. Thanks for hanging in there with me, and I hope that you check back again next week for more art, crafts, and cookery!