It's been a pretty quiet week here, quiet but busy. Aside from working on new kanzashi, I made the decision to lend my support to Tsumami-zaiku Ichirindo's campaign to raise funds to make up for losses sustained during the COVID-19 pandemic. Tsumami-zaiku Ichirindo is one of the only schools of tsumami-zaiku in japan, which of course makes its mission very close to my heart.
Their mission is to educate the public – Japanese and international visitors alike – about this 200 year old traditional craft form. I have wanted to take classes there, and hope that once the pandemic comes to a close I will be able to attend a master class and maybe achieve teaching certification in tsumami-zaiku.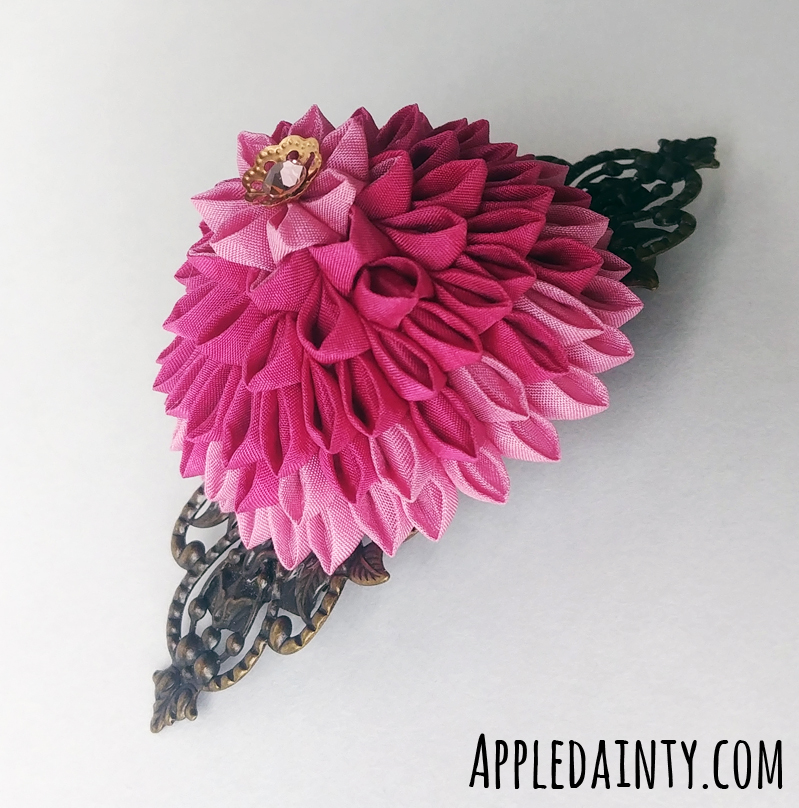 Last week I wrapped up these two large single-flower filigree hair clips – one of which has a gradiated dahlia, and the other a water colour hydrangea.
When I was thinking about what colours to use, I thought I would try to contrast between rich, highly pigmented colour for the dahlia and more of a washed out look for the hydrangea – reminiscent of antique hydrangeas.
It's been a little while since I've done water colour dye technique, so I'm glad I got to use it again – and I have some watercolour petals leftover for future projects. I'm pleased by how light and airy the watercolour petals turned out, and how cleanly the colours blended together.
Both hair clips turned out well, and I finally used up all the large filigree hair clip bases that I've had in my supply cache for the last few years. Once I get through the three major pieces I'm working on right now – a cherry blossom ear cuff, an Uchiwa + Goldfish kanzashi hair pin, and the Choi Fish Tsumami-ga shadow box.
If that sounds interesting to you, I hope you'll join me tomorrow, on Twitch where I'll be hanging out with Hissabelle and making art! Come for the chill crafty times and drop a follow to find out when I'm live.